NigeriaAt59: We will observed Nov 16 as national holiday to honour Zik's input ― Obiano tells Buhari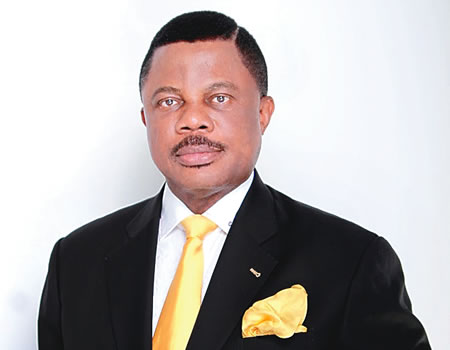 Gov. Willie Obiano of Anambra State has called on President Mohammadu Buhari to honour Dr Nnamdi Azikiwe, the first executive President of Nigeria, by declaring November 16, his birthday every year starting from  2019, as public holiday for his contribution to the peace and development of Nigeria or he would take it upon himself to commemorate the day with the people of the state.
Obiano made the call at the 59th Independence Anniversary at Dr Alex Ekwueme Square in Awka on Tuesday.
Obiano, who read President Muhammadu Buahri's address before the congregation, identified corruption as key problem standing on the path of progress of the country.
He called on other Nigeria philanthropists to emulate the likes of Air peace boss, Allen Onyema, Alhaji Aliko Dangote and Chief Innocent Chukwuma on their quest for National growth if Nigeria must move forward.
He enjoined the people of the state to keep faith with the Nigeria project and shun divisive tendencies at all time.
Meanwhile, the spiritual leader of the All Progressive Grand Alliance APGA, Chief Remmy Ezeonwuka, who also called on the president to honour Dr Azikiwe on his patriotism,  advised Nigerians to always eschew bitterness in their dealings with one another.
He equally advised Nigerians to be proud of their culture and train their children in the way of Almighty God.
ALSO READ: NigeriaAt59: Deltans defy sun, rain to celebrate independence
He said that the key problem militating against the development and peace was sin which among others include hate speeches.
"We must as a nation pray and fast for God to intervene in the challenges confronting our country, that is the only way we can make progress as one Nigeria,'' Ezeonwuka said.
Also speaking during the event, the chief of staff to governor Obiano, Hon. Premius Odili, urged Nigerian leaders to deploy available natural resources in the country to create jobs for the teeming youths and to allow the young one between the ages of 30-35 years take off the affairs of the country, like President Buhari, Col. Gowon, Col. Ojukwu did during their youthful days.
He said that the country has been blessed with enough natural resources which if well harnessed by our leaders would create a viable economic growth for the betterment of the people.
TribuneOnline gathered that the celebration was peaceful with march past by men of Nigeria Police Force, school children and other uniform organisations in the state.