THE grand award ceremony on October 11 won't come fast enough for Jude Idada, Dunni Olatunde and Oyehmi T. Begho whose works have been shortlisted for this year's The Nigeria Prize for Literature.
Idada's 'Boom Boom', Olatunde's 'Mystery at Ebenezer Lodge' and Begho's 'The Great Walls of Benin' emerged finalists from a long list of 11 announced in July.
"These books are highly didactic, yet coated in an absorbing and engaging narrative," began Chair, Advisory Board of the prize, Emeritus Professor Ayo Banjo while announcing the finalists on Wednesday, September 4 in Lagos. "The style of writing exhibited in these books is suitable for children and gives clarity to the vicissitudes of life, spurs healthy curiosity, builds problem-solving skills as well as promotes the role of oral literature as an effective tool for disseminating knowledge to children," he continued.
BREAKING: Uduaghan floors James Manager as Tribunal orders rerun in…
The Advisory Board Chair, who read from the report of the judges, Professor ObodimmaOha, Professor Asabe Usman Kabir and Dr Patrick Oloko, also gave brief descriptions of the three works being awarded for children's literature.
Idada's 'Boom Boom', he said, "gives Sickle Cell Anaemia immense clarity in an absorbing and engulfing narrative. The main proposition of the novel is that nature inflicts pain, but has also made provision for its succour and cure. This solution is, however, hidden in a complex web of natural and social circumstances that human beings must unravel. The novel is an experiment in pursuit of this objective."
The judges also praised Olatunde's 'Mystery at Ebenezer Lodge'because they saw "links or intertextual relations between the work and that of The Famous Five, a popular children's thriller and adventure series by the renowned English author, Enid Blyton. However, the book cleverly domesticates the plot and temperament of Blyton's series, taking existing and dominant stories out of their familiar western terrains, resetting and localising them. The book is suitable for children as the actions can easily be adapted by children to suit any situation. The storyline can help children to create a sense of right or wrong."
Begho's 'The Great Walls of Benin' was also hailed for promoting indigenous knowledge"by focusing children's attention on myths of origin. The book upholds the role of oral literature as an effective tool for disseminating knowledge to children. Using origin myth as a tool, the author creates an imagery setting which carries one into a world of fantasy that can be understood and appreciated by children. It, among other things, preaches unity, trust, togetherness and understanding."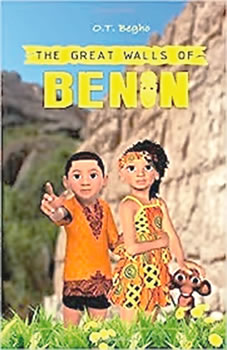 With the glowing testimonials for the three finalists, the literati are hopeful that a winner would emerge at the award ceremony on October 11. This would be contrary to what happened in 2015 when none of the entries was considered worthy of winning the prize that rotates yearly amongst prose fiction, poetry, drama and children's literature.
The pedigree of the finalists also makes many positive that the prize would be won this year. An accomplished author and screenwriter, Idada studied Theatre Arts at the University of Ibadan. He previously made the Prize for Literature shortlist with his stage play, 'Oduduwa – King of the Edos' and was on the longlist in 2015 when no one claimed the prize. Idada's other works include 'A Box of Chocolates', 'Exotica Celestica', 'Didi Kanu and the Singing Dwarfs of the North' and the stage play 'Sankara'.
Begho, who joined July›s CORA book party for longlisted writers via skype from Saint Kitts in the Caribbean, holds a BSc. in Computer Science and a Masters in the use of ICT in Education. He is an ex-teacher, IT consultant, author and illustrator passionate about children, education and life-long learning. He is the creator of 'The Obi and Titi' series that aims give Nigerian children a better understanding of Africa, its people, culture and history.
Olatunde, who lives in Canada with her family, is a public speaker and the author of ‹Lilies Among Thorns.› She is keenly interested in the enhancement of literacy skills of young children.
Theatre scholar at the University of Ibadan, Soji Cole won last year's prize awarded for drama with his play, 'Embers.'