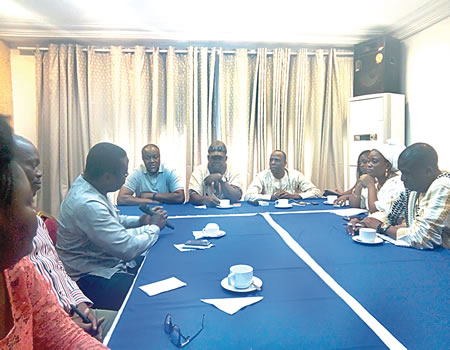 The yearning for regional tourism economy collaboration between stakeholders in ECOWAS to enhance economic development and business advancement has finally reared its positive head in Cotonou, Republic Du Benin on Sunday, 6 January, 2018.
In a formal ceremony held at Benin Royal Hotel, Cotonou, tourism stakeholders from Nigeria and Republic Du Benin agreed to collaborate in what tourism observers described as novel concept in the history of tourism business in West – Africa and a giant leap in the tourism sector to test run a joint back to back tourists traffic movement christened Destination Ouidha on January 20, 2018 in Cotonou.
Giving the collaboration a vent of sustainable economic endurance is the synergy of possibility infused by the Union Bank of Nigeria PLC, at powering the initiative and ensuring its success.
Ambassador Wanle Akinboboye , President , La Campagne Tropicana Beach Resort and Grand Promoter , Motherland Beckons , who led the Nigerian delegation  which include Mr Anietie Bassey , Head , Business to Business, Union Bank  of Nigeria PLC  on one hand,  His Excellency Ambassador Wabi Dauda, Chief Executive Officer and President, DreamBeach, Mr Bouraima Dine, Chief Executive Officer, Benin Royal hotel and President General, Consortium of Tourism By A Million and  others stakeholders from Republic Du Benin on other hand agreed to jointly ensure the success of Destination Ouidha.
In his speech , Mr Bouraima described the meeting of the stakeholders from the two countries as one of the finest moments in the history  of ECOWAS in relation to tourism 'Here we are , we members of the private tourism practitioners from two countries without any government officials breathing down our necks collaborating on a mutually benefiting initiative"
He assured "we solemnly promise to  do all that is necessary at this end in terms of security , good hotels  and we want you to tell us the preferences of in terms of food and other things :
Mr Bouraima disclosed "we are assuring visiting Nigerians of rare hospitality and wholesome human relation as we the French West- Africa are very hospitable:
Ambassador Akinboboye highlighted the reason for the initiative as "We are creating a platform for the enhancement of being a soul mate of different father but of the same mother. If you study the history of ECOWAS, from Futa Jallon Highland to The Gambia, Cote de D' Ivoire, down to Gold Coast and the area called Nigeria, you will notice the variables of intermingling and inter relationship which is now on the threshold of being extricated either by the vicissitude of religion and politics or by sheer failure of ourselves not taking the advantage of our advantages. We all know that we cannot advanced doing things in this way. Hence our resolve now to add water, sugar and flavour to our lemon turning it to Lemonade "He revealed "We are initiating  a global platform of integration  with  packages  honed enough to lure the over 1,2 billion West – African  in Diaspora to  visit their mother's land "
He sequentially outlined the four cardinal points of Destination Ouidha "i must quickly mention the four target mission of destination Ouidha which are , Corporate Africa Eco Retreat , CAER , seek to lure Corporate Africans from each country to explore the tourism valuable in each country ; Camp Africa for Children, CAFC, which is solely for  an inter-regional  cultural and tourism visitation of West – African Children , Youth Africa Tourism Expedition (YATE), designed for newly wedded young Africans, couples to explore blissful and romantic sites to consummate their matrimonial relaxation and Recreational Tourism (RT), for those who just want to feature leisure tourism.  If these four-target point of that apply to inter- regional movement under the Motherland Beckons gospel".
He commended the Union Bank of Nigeria Plc for its epochal and historical initiative of being the first bank in Nigeria which has since discovered the untapped fortune in the tourism sector and coming boldly to encourage the full enhancement for the benefit of the people  by establishing  a tourism  portfolio and designing  dynamic tourism  packages .
Ambassador Akinboboye exposed the essentials of the Union Bank Tourism Portfolio  which include, Generous Discount Offer, GEDO, Instalmental Payment  Offer, IPO, Spread Over Payment Option, SOPO,  and Travel Agents Bargaining Option, TABO. All packages are of win-win, mutually conducive options  for the parties.
Confirming the Union Bank Nigeria PLC posture , Mr Bassey said " Union Bank Nigeria PLC has seen the  economic potentialities of  Destination Ouidha , the Motherland Beckons Tourism Initiatives and is ready to provide the financial  soft landing   and  credit lubrication  for those who do not have enough money at one payment  or who do not want to tie down their capital at pursuing their tourism dream. Union Bank is out to help in facilitating and making its customers tourism dreams a reality without financial stress."
His Excellency, Ambassador Dauda, who owns the biggest entertainment outfit in Republic Du Benin, commended Ambassador Akinboboye for his continental building tourism initiative specifically by ensuring the making of Destination Ouidha a reality.
He specifically lauded Union Bank of Nigeria PLC for thinking out of the box and coming out with customers-friendly tourism packages, adding that "This initiative has endeared Union Bank Nigeria PLC to businessmen and women in Republic Du Benin and we shall ensure the full optimisation of the offers and other areas of linkage with the bank".
The summit was sealed with the stakeholders from the two countries visiting some tourism sites in Republic Du Benin and resolving to go back home, tie their loins and ensure the success of the test run of Destination Ouidha slated for January 20.