Nigeria @ 57: Aregbesola urges Nigerians to eschew violence, ethno-religious conflict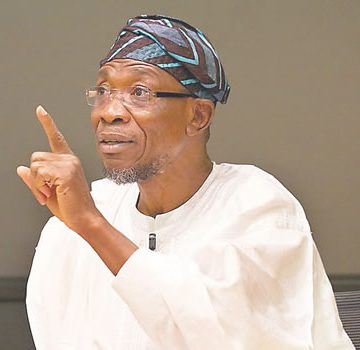 As the nation celebrates its 57th independent anniversary today (Sunday), Osun State governor, Mr Rauf  Aregbesola, on Saturday implored Nigerians to shun any form of violence, ethno-religious conflicts and other behaviours capable of threatening the peace and unity of the country.
This was contained in statement signed by his media adviser, Mr Sola Fasure, felicitating with Nigerians at home and in the Diaspora over the nation's independence.
Aregbesola, who said though the country had witnessed several challenges since independence, it has nevertheless made significant progress in its almost six decades of independence.
While enjoining Nigerians to continue to tow the path of peace and always promote positive values that would move the country forward, the governor said Nigerians need to wake up to their responsibilities and take their destinies in their hands.
According to Aregbesola, "the era of over-dependency on rent economy foisted on the nation by oil is gradually winding down and, as such, Nigerians should imbibe the culture of hard work and gainful productive activities".
He urged "all governments at the federal, states and local governments to put 50 million Nigerians to work and where each earn at least N25,000 from real productive value, N1.25 trillion will be generated in the economy every month, a development capable of catapulting the country into a superpower within two decades".
"I congratulate Nigerians and the people of Osun on this year's independence anniversary and I call on us all to continue to work for the unity of this country. Our strength lies in our unity.  We should therefore avoid anything that will destroy our unity and corporate existence.
"I urge Nigerians to cultivate the habit of hard work and high productivity in order to create wealth, stimulate national prosperity and the growth of the economy.
"We had experienced the best in crude oil dependency as we are currently living the worst of it. It is obvious now that a mono-economy based on crude oil can no longer sustain us and take us to where we should be as a country. Therefore, diversification and improved productivity should be the driving force to revamp our economy", Aregbesola remarked.