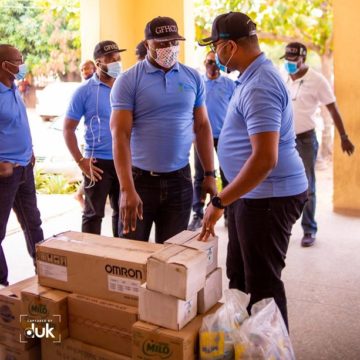 Global Foundation for Hope, Care and Development (GFHCD) has carried out two different outreach events at Kuje General Hospital and Gwagwalada General Hospital both in the Federal Capital Territory, Abuja where they donated several hospital equipment, materials.
GFHCD also paid the hospital bills for several children who needed help and assistance.
GFHCD is a Charity Organisation founded in 2015 by a Group of Friends with the primary aim of assisting vulnerable Children who need aid and help.
At the outreach event at Kuje General Hospital, the Foundation donated several items including Paediatric Weighing Scales, Phototherapy Bulbs, Pulse oximeters, Glucometers, Strips, Latex Gloves, Digital thermometers, Provisions, Baby Toiletries and also cash donations to some mothers of some of the babies admitted at the Paediatric Ward.
While at their Outreach Event held at Gwagwalada General Hospital on Saturday 20th March 2021 the NGO donated some items such as Pulse Oximeter, Baby Pampers, Provisions.
The group also paid part bills for the Oxygen of five premature babies. Some hospital bills of 3 Children at the Paediatric Medical and Surgical Ward were also paid by the NGO.
The Chairman of the Foundation, Mr Christopher Mmakwe who spoke on behalf of Members of the Organisation while donating the items to the Management of the hospitals expressed the good intentions of all Members of GFHCD towards helping vulnerable and less privileged children in society.
He said they believe that the children are the future generation of tomorrow and they shall continue to carry out their mandate as they have carried out several other charity events for children in the past.
He also appealed l to the public for donations either monetary or equipment as they found that most hospitals attending to the most vulnerable children and babies are in dire need of special medical tools in order to improve on their work.
YOU SHOULD NOT MISS THESE HEADLINES FROM NIGERIAN TRIBUNE
Nigeria Recorded 1,114 COVID-19 Infections Last Week, Lowest In Four Months
In the past two weeks, Nigeria recorded 3,414 new COVID-19 infections, which is the lowest the country has recorded since the beginning of the second wave of the pandemic in December.
In the penultimate week, (March 7 – 13), there were 2,300 cases, a reduction when compared to the 2,817 recorded in the previous week's (February 28 – March 6)..NGO donates medical equipment to Kuje, Gwagwalada general hospitals
NGO donates medical equipment to Kuje, Gwagwalada general hospitals