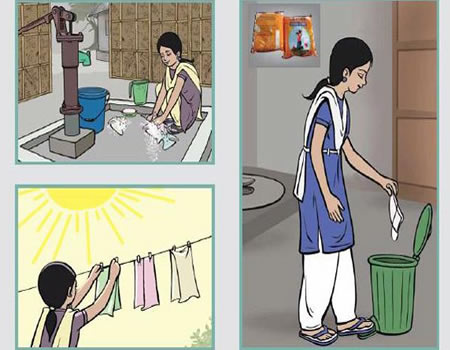 Medical personnel believe that menstruation is a natural and normal physiological development among adolescent girls and women, involving a monthly cycle of blood discharge from the lining of the womb.
Experts note that while menstruation is fundamental in reproductive health of girls and women, there is a growing concern about beliefs in many societies that it is a shameful and dirty development.
Apart from this, they also express worry about the limited access of women and adolescent school girls to care and information at home and in schools that have, in many occasions, resulted in embarrassment of the concerned.
As part of its efforts to address this challenge, the taboos, shame, stigma and the poor menstrual hygiene management among female school girls, the United Nations Children's Fund (UNICEF) organised a workshop on menstrual hygiene management for secondary school girls in Osun.
UNICEF notes that the workshop which also took place in Anambra and Katsina State was aimed at educating adolescent school girls on how to manage menstruation both in schools and at home.
Speaking during the workshop, Prof. Nkadi Onyegbegbu, the National Coordinator of UNICEF Wins 4 Girls Project in Nigeria, underscored the need for adolescent girls to have environment that would be conducive for menstrual hygiene management in schools.
He said the challenges which adolescent girls faced during menstruation in schools were enormous, observing that research in some selected schools in Nigeria showed that there were no enough facilities for menstruating girls.
She noted that the lack of functional segregated toilet, washing facilities, affordable and hygienic menstrual products, were some of the problems that menstruating female students faced in most schools.
She, therefore, called for the provision of functional toilets with water, soap, mirror and affordable sanitary pads for adolescent girls during menstruation.
Onyegbegbu also called for the teaching of menstrual hygiene management for adolescent girls in schools in the country.
"Menstruation means that a girl's body is growing up and is getting prepared for the future; it means that she might get pregnant and have a baby.
"However, due to religious beliefs and taboos, menstruation among girls is seen as something that must not be discussed in public.
"Adolescent girls are having challenges during menstruation because it is not
discussed in schools and this is causing serious problems.
"We have the culture of zip-up your mouth during menstruation due to taboos, religious beliefs, negative attitude and shame.
"Menstruation is not only a health problem but also a social and educational problem which must be tackled; we must say no to negative attitude of culture placed on menstruation,'' she said.
Onyegbegbu, who enlightened the girls on stages of menstrual cycle during the workshop, noted that bleeding was nothing to be scared of during menstruation, saying it was perfectly normal.
She also warned them against the use of herbs for menstrual pain, observing that many adolescent girls in the country were becoming victims of kidney problem due to intake of herbs to ease menstrual pain.
"Having intercourse as a palliative measure will also never stop the menstrual pain and many adolescent girls have contacted HIV and other sexually transmitted diseases as a result of the act,'' she warned.
She advised girls to take fruits, vegetables, plenty water, engage in exercise and also to visit a hospital, if necessary, during menstrual pain.
At the workshop, the girls were taught how to make washable sanitary pad for proper menstrual hygiene management.
In her remark, Miss Hyeladzirah Shalangwa, UNICEF representative, said the training was aimed at helping young girls to have access to affordable sanitary pad during menstruation.
She noted that many young adolescent girls could not afford the disposable pad due to its high price, noting that the training would assist them on how to make washable pads.
According to her, the training will also assist in reducing waste disposal, since the pad is washable.
She added that the training would create consciousness of menstrual hygiene management and empower the girls, saying they could even make and sell the washable pads.
"There is no doubt that sanitary pad is expensive and the quality is deteriorating but with this training on washable pad, girls are good to go,'' she noted.
Similarly, Mr Femi Aluko, a resource person at the programme, said the training would create menstrual hygiene management on the consciousness of the girls.
Aluko, a lecturer at the Department of Community Health, Obafemi Awolowo University, Ile-Ife, said since the washable pads could not be disposed, it would help in waste disposal management.
Aluko defined menstrual hygiene management as the articulation, awareness, information and confidence to manage menstruation with safety and dignity.
In his speech, Alhaji Posi Adiatu, the Programme Manager, Osun Rural Water Environmental Sanitation Agency, said the state government was committed to providing water in schools.
He said the state government had also provided 326 gender-friendly latrines in public schools for effective menstrual hygiene management.
He said "163 water facilities have also been provided in public schools towards effective health management.
"The provision of water in schools is line with global best practice to ease the burden of female students in the management of menstruation.''
To support the awareness campaign on menstrual hygiene management, participants at the workshop called on traditional rulers, governments, parents and school authorities to address traditions, customs and beliefs that can impede the effectiveness of the campaign.