Political parties that will be fielding candidates for the 2019 general elections have swelled from its initial number of 40 to 45. Senior Deputy Editor, TAIWO AMODU, examines the chances of the new platforms and the forces behind them.
THE Independent National Electoral Commission, (INEC) recently restated its fidelity to multi-party democracy, when it increased the choice of parties open to Nigerians. Announcing its registration of five new parties that have since been issued certificates,  Prince Adedeji Soyebi, National Commissioner and Chairman, Information and Voter Education Committee,  gave the identities of the successful parties as Young Progressive Party (YPP), Advanced Peoples Democratic Alliance (APDA), New Generation Party of Nigeria (NGP), All Democratic Peoples Movement (ADPM) and  Action Democratic Party (ADP).
Sunday Tribune checks revealed that with the newly registered parties, the number of parties in the country have increased to 45. The Commission chairman, Professor Mahmood Yakubu has also declared that more associations would be granted status of political parties ahead of 2015 general elections.
Speaking last Tuesday, when the Ambassador of the Kingdom of Norway, Mr Jens-Petter Kjemprud, paid him a courtesy visit, Professor Yakubu said that there were 105 pending applications for registration before the Commission. He said: "We now have 45 Political parties. We used to have 40 political parties, but five have just been registered, while there are 103 pending applications. We don't know how many more we are going to register, but we are a multi-party democracy and all associations that meet the criteria for registration will be registered."
The forces, their motive Sunday Tribunechecks at INEC secretariat, revealed the personalities who sought for the registration of the new parties as interim national chairmen and secretaries.  For the YPP are Comrade Bishop Amakiri and a lawyer, Vidiyeno Bamaiyi, as chairman and secretary, while the APDA has Mohammed Shittu Kabiru and  Dr Emeka Okengwu as chairman and secretary.  Dr Yakubu Shendam and Mohammed Abdu, are  chairman and secretary of  NGP while Engineer Okey Chikwendu and Idu Emmanuel hold forte for the  ADPM. The duo of Engineer Yabayi Sani, and Dr James Okoroma are the prime movers of the ADP.
While the leadership of the new parties consistently proclaim that they belong to nobody and deny insinuation that they are surrogates of certain individuals within the ruling party, the APC and the main opposition Peoples Democratic Party (PDP), discerning Nigerians remain unconvinced.
Before it was granted registration, the ADP was the touted mega party smarting to dislodge the ruling party. Sunday Tribune investigation revealed that working aggressively behind the political curtain were aggrieved individuals within the APC and certain stalwarts in the PDP, who were not willing to be caught napping as a result of the polarisation of the erstwhile ruling party into Senators Ali Modu Sheriff's and Ahmed Makarfi's factions. In the formative stage of the ADP, former Vice-President, Atiku Abubakar and former Lagos State governor, Senator Bola Tinubu were mentioned among  individuals behind the new platform. An unconfirmed source has also fingered former military president, Ibrahim Babangida, among its financiers. But, they have since denied the media reports.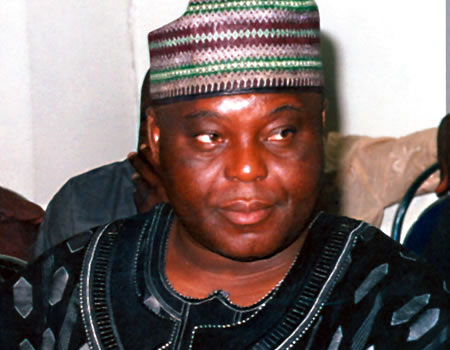 Sani, chairman of the ADP, also denied that the party was being funded by certain individuals in the APC and the PDP. ''We are a collection of concerned politicians not aggrieved members. After putting the platform in place those who feel aggrieved with their party can come. We cannot deny people entry into our party because they were not treated right in a certain party. Everybody is welcome. That is why it is an all-inclusive party. But, it is not a home for aggrieved members of the APC or the PDP; it is a party of concerned Nigerians, who want to ensure that we have a functional, dependable platform to nurture democracy so that we can address social and political issues.''
APDA, which unveiled its agenda to the public even before its registration, is known to have stalwarts of the PDP among prominent people who have openly identified with  it. Chairman of Daar Communications, Dr Raymond Dokpesi. He was in attendance on the occasion of  the formal unveiling of the new platform. Sunday Tribune checks revealed that the chairman of the party, Mohammed Shittu, was a Special Adviser to Alhaji Bamanga Tukur, a former national chairman of Peoples Democratic Party (PDP).  But a member of the party and former national chairman of Labour Party, (LP), Chief Dan Nwayanwu, at the formal inauguration of APDA, denounced its affinity to bigwigs in the polity. He said the country needed politicians with good character and integrity to address its economic and political challenges, which he claimed the APDA had come to fill.
"The party I am unveiling today on behalf of us is ideologically roofed. It seeks to address all the fundamental issues that will keep Nigerians united, with every citizen having a sense of equality,
justice, protection, belonging and fair play. We are determined to present to Nigerians a political party that will be highly disciplined, provide the level-playing field to all its members and remove every trace of godfatherism,'' Nwayanwu said.
Old wine, new bottle?
Beyond the rhetoric of ''moving Nigeria out of the prevailing political frustration and economic stagnation, '' which Shittu said APDA represents and ADP assurance ''to eradicate poverty by empowering the young people,'' none of the new five parties has been able to flaunt an ideological  construct to convince Nigerians that they will offer anything different from the dominant political parties. Speaking with Sunday Tribune, chairman of the APDA, Mohammed Shittu, however  disclosed that his party would offer a lot of welfarist programme that would inspire confidence of the electorate in the new party and  appealed to Nigerians to be patient. "We are social democrats. We are for welfare of the state. We aren't a party that will think that we are going to buy votes. I have told you that we want to deemphasize money in politics,'' he told Sunday Tribune in an interview.