New minimum wage: How NLC, TUC should tackle FG —Esele
FORMER president-general of the Trade Union Congress (TUC) and the national president of the Petroleum and Natural Gas Senior Staff Association (PENGASSAN), Comrade Peter Esele speaks on the tradition of Nigerian politicians, President Muhammadu Buhari his next set of ministers and the general insecurity in the country. KUNLE ODEREMI brings the excerpt of the interview.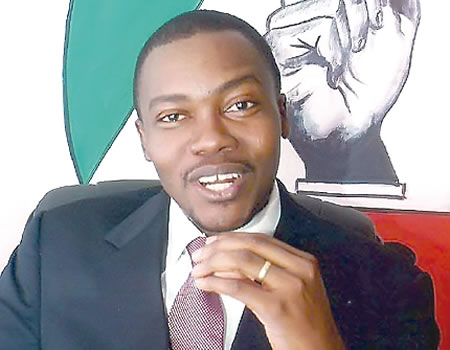 AS a former labour leader, how will you rationlisethe ongoing hide and seek between the Federal Government and the organised labour over the new national minimum wage?
I think we are in a situation whereby nobody respects their words; where nobody respects agreements and when you have a situation like that, nobody will also be respecting the law. If a government signs an agreement with workers, it is important that it sticks to the terms of such agreement. It is even better for you to be negotiating and doing your analysis than for you to go into an agreement and fail to keep it. I will tell you part of my experience. When I was the Petroleum and Natural Gas Senior Staff Association of Nigeria (PENGASSAN) president, I dealt mainly with the private sector. We could disagree for six months but once we signed an agreement, everybody stuck to it. When I became the president of the Trade union Congress (TUC), I found out that the private sector was even better than the government; that the government doesn't keep agreement. There is no respect for contract and it's so painful like that. Whether we like or not, our children are copying that; that there is no need to keep to anything. Political parties don't keep to their manifestoes; the governments don't keep to agreements. So, it's more like things fall apart and the centre is not holding, apologies to Professor Chinua Achebe.
Given the way things are, do you think the labour movement has got the muscle to press ahead and get what workers deserve? Besides, do you think the government is sincere  on the implementation of the minimum wage law in view of the  procrastination  on the matter for the past few months after the elections?
I still say it that for you to make your move in terms of negotiation, we were trained that two things must align: you must get your timing right and you must have the spade.  So, time and spade will allow you to maximise what you intend to get. But I think my comrades made a mistake in not maximising the opportunity they had to the fullest during negotiation. I negotiated with former President Goodluck Jonathan and moved the national minimum wage to N18,000. The election period is your best time to clampdown on politicians. Politicians all over the world behave like normal people during elections. When it is close to an election, they are afraid of losing at the poll. They want to be friends with everybody. It happens in the United States and other places, so your best time to move is when they are most vulnerable. And I think labour didn't take the maximum advantage of that. So, what you have was that at that point in time, this agreement was four years late before you started negotiating. They are in office now, they will now look at it and say, 'ok, what can you  to do to us? You go on strike?' The only people that maximise such advantage, flex muscles and get things through are the members of the PENGASSAN and the National Union of Petroleum and Natural Gas (NUPENG). But the majority of the PENGASSAN and NUPENG members are mostly in the private sector. The ones in the public sector are only in the Nigerian National Petroleum Corporation (NNPC). So, that's where the government can feel the pinch. If the government knows that you are going to shut down crude oil production, they will fret and will want to talk to you immediately. So, what you are going to have right now is that once the government knows that they keep pumping crude oil, they are not threatened because they know that money will always come because we live in a renter economy whereby whether you go on strike or not, they don't calculate the manpower loss. But if you strike where they are most vulnerable, they will take it serious. The second aspect of the question is that whether the government likes or not, in the short term they may succeed, but in the long term, we will all suffer for it. Why I'm saying we will suffer for it is because the psychological makeup of the society will be threatened. Everybody now feels that there is no need to keep to our words; there is no need to keep to our agreements; and it breeds anarchy and insecurity. You can see all what is happening in our country right now. The state of insecurity is a fallout of the complete breakdown of the system, coupled with the people's lack of trust in the system. So, they now take laws into their hands.
What does the organised labour and the government need to do on the issue of N30, 000 minimum wage in order to avert another economic shut down? What kind of compromise will you suggest to the two camps?
The way forward is that labour can still engage the government, but it must also ensure that while it brings out carrot during such engagement, labour should also hold the stick. I am an apostle of negotiation as it remains the best why to go. But, labour must be ready to use the stick that they have because there is no court in Nigeria that will rule against labour based on the negotiation that has been had. So, the labour movement has all the laws of the land in their support. They also have the wherewithal to go to any length to prove it. I am not in favour of anarchy, but I believe that the government must also play its own role and make sure that whatever that has been agreed on is respected.
Taking a look at the parlous state of the Nigerian economy in the last few years, with three quarters unable to pay workers' salaries and meet other core financial obligations, do you think it was auspicious for labour to have negotiated a new national minimum wage in the first place?
Has the state of the economy curtailed the wastefulness and recklessness in government? It's only when you are discussing things that affect the common man that people talk about the state of the economy. You are governors who have only ruled for four years collecting N200 million pension. You have governors who have only ruled you for a few years and they are telling you that you can name anywhere in the country to build houses for you.  We are talking about somebody who has worked for 25 years; who has worked for 30 years and they are not going home with anything and you are now telling us that if it is right for them to have gone into negotiation in the first place. Go and put together the security votes of the entire country, federal, state and local governments. Do you know that the local government also has security votes? Where is the security across the country? You think the labour movement that are negotiating don't know about the wastages in the system? They do. Are they not civil servants? They know everything that is going on. So, the idea of whether it is wise to even to go into negotiation is not uncalled for. As it relates to the PENGASSAN, we don't have anybody that earns N18, 000 but you have to look for that man in a gas station; you have to look at that house help, a domestic staff, you have to look at that office assistant, cleaner and conductor to fix the minimum wage. Those are people you must consider their welfare. To treat malaria for a child is N4, 500. That is the minimum you will have to spend to treat malaria effectively. So, let's take a man with four kids and his wife, how do you expect him to cope? Meanwhile, you have a member of the House of Representatives collecting a sum of N40 million as allowance and an average of N14 million every month as salary. So, when we are talking about the minimum wage, I think the inability of the governments to pay does not have to do with the economy. It has to do with the huge wastage in the system that is making it difficult. You heard of governors who left office recently having N10 billion in their bank accounts. How? That is the only one we know; there are some people that the Economic and Financial Crimes Commission (EFCC) has not discovered yet. The officials of the EFCC are doing a Yeoman's job. If they should open up on what they know, Nigerians will be shocked. There are wastages in the system. So, it is not that the governments cannot pay the new wage. If they cannot pay, the civil servants will know. Nigerian workers are no fools.
You talked about the state of insecurity in Nigeria. Why do you think the situation has remained frightening, despite official claims of making sustained efforts to check the menace?  The country has been confronted by insurgency for more than 10 years now.
The truth of the matter is that President Muhammadu Buhari is doing still his best, just as former President Jonathan did his best. But there is something in the whole battle in the sense that it strange has been commercialised. There are people benefitting from it and so, they want it to continue. What you have now is that the battle has been commercialized and nobody is ready to stand up to the Nigerian military; i know, there are professionals, and wonderful officers in the army but there are also people who also don't want this problem to end. And we need to find out those that are behind all of it. Look at the recent killing of three policemen and a civilian in Taraba State. How do you explain that? A kidnapper was arrested by the police, an order came and, they killed the even after the police officers had identified themselves, and the kidnap kingpin, you release the man. Now, nobody knows where he is. Why was the man not taked to the barracks? Does that not tell the whole world that there is more to it than meets the eye?  The reason we say we are in a democracy is because of the National Assembly and that arm of government is not calling anybody to order. There was a report in the media not too long ago that N600 million was stolen by a top military brass. What was the outcome of the investigation into the matter? Everything was swept under the carpet. Nobody is asking questions. I can tell you authoritatively that the Nigerian security personnel, whether in the military, Department of State Service (DSS) and the police, when they want to work, they are one of the best in the world and that is why I can tell you that for all of these things happening, there are people in the security agencies who are encouraging it or who are benefitting from it.
Banditry, herders' killings, kidnapping and abduction and other violent crimes have become almost a daily occurrence, with insinuations in some quarters that the government is playing the ostrich over the serious threats to national security, and stability, depriving the citizens of good governance. What do all these portend for the country?
I think the system will take it up. What I meant when I said the system would take it up is that first, they talked about RUGA. You saw the reactions of the various states. So, I think that (reaction) will help to settle the issue. When I use the expression, failure of the system, I mean a herdsman, I don't like the idea of somebody calling them Fulani; no, let's take away those names and adopt generalization, moves his cattle from Mali looking for greener pasture; he comes all the way to Nigeria. In the first place, why should you allow a herdsman to come all the way from Mali to enter your country? That itself is illegal. Some people claim we have free movement across the West African sub-region. Free movement does not meant that you can move your cattle from Mali to Nigeria. First, you have to document who is coming into your country. Tell me, who is documenting these guys? Nobody! Secondly, you have to collect their fingerprints; in essence, you have to collect the data of the people entering your country. Nobody is doing that so far. Thirdly, you have to look at the condition of the cattle they are bringing into your country. Is it healthy for public consumption? No country allows people with cattle to move freely into its territory. There is free movement between America and Mexico and Canada, but you must stop at the borders for everything to be screened.
So, what does that tell you about Nigeria's borders?
What that tells you about our system is that we are not thinking; when you don't think, this what will happen. First of all, I don't agree when they say Fulani herdsmen are behind the crisis. I don't see it that way. I don't think a Nigerian will cause the kind of havoc that these guys are committing. So, I think that majority of those people behind the havoc are Nigerians. But the fact that they are allowed into our country with so much ease and to commit atrocities also tells you about the failure of our system. Our leaders are preoccupied with building fiefdoms. What has happened is that we have abandoned Nigeria and are now descending into our ethnic tribes. We forget that without Nigeria, our ethnic tribe may not even survive. So, we should make laws that benefit Nigeria and not benefit only one ethnic tribe. I am an Eshan man in Delta. I don't want any law to be put that would favour my ethnic group because it is people who are shortsighted are people who do that.  Today, if you make a law that will favour your ethnic group, when another ethnic group comes to power, they will also make laws to favour their tribe and Nigeria will be at the receiving end. But if you make laws that will be beneficial to everybody, you will find out that in the short and long terms, everybody benefits. So because we are narrow-minded, that is why we stay in the ethnic cocoon. And I do not believe in the ethnic cocoon we have all boxed ourselves into. But the politicians enjoy it; they divide us into bits and pieces to benefit their interest. When politicians are sharing money, they don't say who is a Muslim or a Christian; who is Fulani, Yoruba, Hausa or Igbo? No, but when they want to oppress the people, they will tell you that this person, no matter how competent, he is, is not from our ethnic group. But when they are looting the treasury, they are partners.
Given the experience of Nigerians under the Buhari administration in the last four years, do you envisage a paradigm shift in performance rating  in the next four years, especially in view of the kind of individuals that have be screened for ministerial appointments by the Senate? How?
What I will say is that the buck stops on the table of the President. He must know that a second term is used for defining legacy. Right now, if anybody does not shape up, the President has to ship them out because if things work, from my own little experience, it is for everybody. If things are bad, it is only the President that will be abused and criticised. So, the President must step up his own agenda. If he is taking us to the next level, that level must clearly defined; defined to his minister; he must spell out the key performance indicators. If you say you want to respect the rule of law, you must make sure that everything your minister do must be in accordance with the law that set up their ministries. If you say you are fighting corruption, you must make sure that the hands of the EFCC, DSS and the police are not tied. They cannot be carrying out investigations and somebody will say 'stop there.' Such action amounts to the obstruction of justice.  If you say you want to construct a road within a stipulated time, it has to be. Those are the ways you must judge the ministers. In the private sector, as the Chief executive Officer (CEO), you know what is expected of you. Once you don't deliver, you are fired. The same way of thinking must be brought into governance. To be a minister or a commissioner is not a tea party. The positions are meant for those who are ready to serve and ready to make sacrifice. If anybody is not ready to make such sacrifice, the president should ship them out.