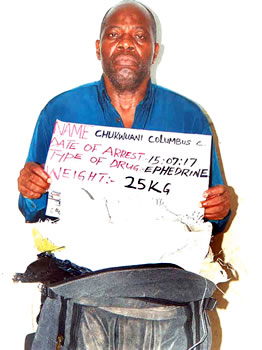 OFFICIALS of the National Drug Law Enforcement Agency (NDLEA) at the Mallam Aminu Kano International Airport (MAKIA) have apprehended a 59-year-old fish farmer, Chukwani Christopher, while trying to board an Ethiopian airline to Johannesburg, South Africa through Addis Ababa.
A total of 25 kilogrammes of substances said to have tested positive for ephedrine were found in the suspect's luggage.
NDLEA Kano Airport commander, Mr Ambrose Umoru said that the suspect was intercepted at the departure waiting lounge based on intelligence with the drug concealed in his luggage.
"The suspect was arrested following a tip-off after he had already gone through screening. When the substance was detected, it was tested and found to be positive for ephedrine. Already, an investigation had commenced into the case since the arrest on July 15," Umoru stated.
The Enugu-based fish farmer, said he smuggled drugs in order to expand his fish farming business, declared: "I am a fish farmer at Agbogugu,  Agwu Local Government Area of Enugu State.  I am married with three children and due to financial problems; my business was almost going into extinction. I decided to smuggle drugs to invest the money in my fish farm. They promised to pay me the sum of $2,000 dollars," he alleged.
The suspect attended Central School and St. Vincent Secondary School both in Agbogugu, Enugu State.
Commenting, the NDLEA Chairman/Chief Executive, Colonel Muhammad Mustapha Abdallah (retd), while reacting to the arrest and seizure, reiterated the importance of intelligence in the fight against drug trafficking.
According to him, "Effective drug control is predicated on excellent intelligence management. This case is a validation of the cardinal role of good intelligence gathering and processing. The case is being investigated and further information shall be provided to members of the public."