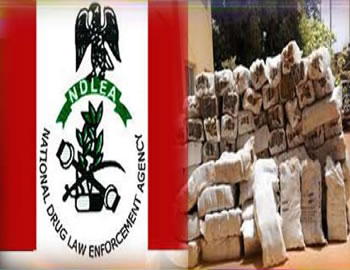 Mr Adamu Eigege, Commander, National Drugs Law and Enforcement Agency (NDLEA) in Zamfara, on Tuesday disclosed that the agency had arrested 200 suspected drug dealers and users between January and December 2016.
Eigege disclosed this while presenting some of the illicit drugs seized by the command to journalists in Gusau.
The News Agency of Nigeria (NAN) reports that the occasion was to mark the 2017 United Nation's Anti Drug Abuse Day.
"We arrested over 200 drug dealers and users out of which 55 persons were charged to court, 49 people were convicted while six persons with different cases were before the Federal High Court, Gusau within the period,'' he said.
He also said that the command had counseled and reintegrated 183 drug clients with their families, adding that out of the total number, 174 suspects were males while nine were females.
Eigege added that within the period, the command succeeded in seizing a total of 521.9 kilogrammes of various types of illicit drugs.
He said the drugs seized comprised Cannavis Sativa, assorted cough syrup and codeine.
The commander also said the seizures were made during the various raids carried out by the agency in Gusau metropolis.
He said that the event was primarily to sensitise the general public to the dangers of illicit drug trafficking and its abuse.
"As we all know, the scourge of illicit drugs does not pose danger to only the dealers or abusers but also the society at large.
"The prevalence of illicit drugs trafficking and abuse in Zamfara is a very disturbing phenomenon, more disturbing is the involvement of vulnerable groups such as women and children.
"The abuses of non-conventional and over the counter drugs such as cough syrup, codeine are equally alarming in the state,'' he said.
"We are making deliberate efforts to partner with the State Government and all relevant stakeholders to carry out advocacy activities to sensitise the public especially at rural communities to the dangers of trafficking and abuse of illicit drugs,'' Eigege said.