NBA Ikeja protests to Lagos House, canvasses for Judiciary's financial autonomy
• Let judges have a say in their own affairs ― NBA Chairman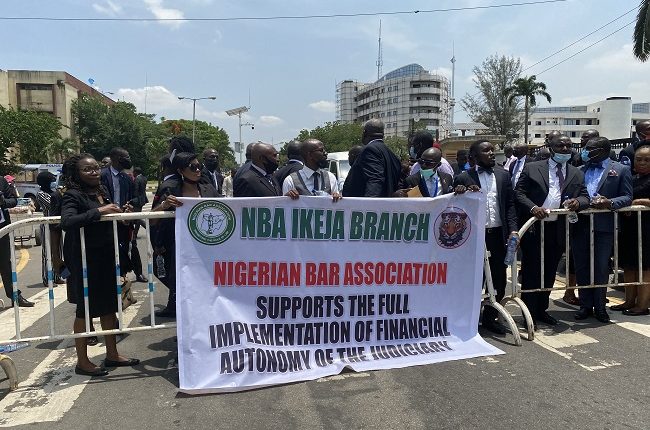 Nigerian Bar Association (NBA) Ikeja Branch staged a protest against the non-implementation of financial autonomy for the judiciary as enshrined in the Constitution in Lagos State Government House on Monday.
Tribune Online reports that the protest followed a directive by the National President Olumide Akpata to all state branches to stage a protest on Monday.
It gathered that the lawyers carried placards and took off from Ikeja Bar Centre and marched through Oba Akinjobi, into Obafemi Awolowo Way towards Alausa secretariat.
Speaking to journalists at the protest ground, The Branch Chairman, Bartholomew Aguebodo said that the protest is meant to send a message of quick implementation of financial autonomy to the Governor of the state, adding that it is a directive from the national body of the professionals.
Aguebodo stated that financial autonomy will guarantee quick and justiciable dispensation of justice and guarantee the principles of separation of powers.
He added that this move will ensure the creation of judiciary account from the Federation Account and the Judiciary will not be sending the budget to the executive for approval anymore.
"We are not here to foment trouble but here to let the Governor knows our feel over the issue of financial autonomy of the Judiciary which is essential for the justice dispensation of justice.
"It is a directive from the National Body of NBA that until the Governors yield, this process will be a continued on Mondays.
"So, the earlier they attend to the demands of the JUSUN and grant the financial autonomy, the better for everybody concerned.
"We are talking about a case where the Judiciary will not have to send their budget to the Executive for approval.
"We are talking about a situation where judiciary account will create directly from the Federation Account.
"The ideal thing should be that the Judiciary brings their own budget and manages their budget. That is not a norm for the separation of powers.
"We are saying let judges have a say in their own affairs so that judges will be dispensed without fear or Favour." He said.
YOU SHOULD NOT MISS THESE HEADLINES FROM NIGERIAN TRIBUNE
We Have Not Had Water Supply In Months ― Abeokuta Residents
In spite of the huge investment in the water sector by the government and international organisations, water scarcity has grown to become a perennial nightmare for residents of Abeokuta, the Ogun State capital.  NBA Ikeja protests to Lagos House, canvasses for Judiciary's financial autonomy  ;  NBA Ikeja protests to Lagos House, canvasses for Judiciary's financial autonomy  ;  NBA Ikeja protests to Lagos House, canvasses for Judiciary's financial autonomy.