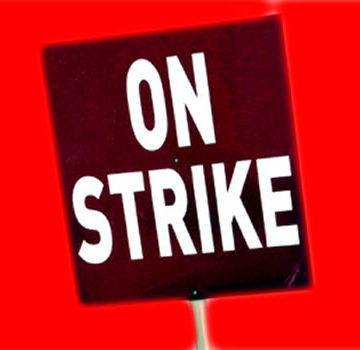 ACTIVITIES in both public and private sectors were on Thursday crippled in Ondo state following the warning strike embarked upon by the members of the Nigeria Labour Congress (NLC).
Tribune Online noticed that government offices, banks, public schools, hospitals and government-owned media organisations in the state were closed down in compliance with the NLC directives.
The Special Task Force of the NLC were seen moving around the state capital, Akure, to ensure total compliance with the sit at home order from the NLC leadership over the failure of federal government to negotiate and implement a new national minimum wage.
Some state workers from the state-owned Radio station, Orange FM along Shagari Village, and Comprehensive Health Centre, Arakale, were forcefully chased out of the station.
The situations across the state were not different in Ondo, Ore, Ikare Akoko, Owo and other parts of the state as workers refused to report to their various offices by shunning their duty posts.
All banks at the commercial nerve of the state capital in Alagbaka area of the town, closed for business while customers were seen queueing endlessly to withdraw cash at the Automated Teller Machines Centers.
The offices at the State Secretariat  High Court, National Industrial Court, Appeal Court and Federal High Court and Magistrate Court located at Oke-Eda, Alagbaka and Igbatoro road in Akure were replica of a ghost town and were under lock and key.
The  leadership of the Organised Labour in the state which included the Ondo state chairman of the Trade Union Congress (TUC), Comrade Soladoye Ekundayo, Comrade Tayo Ogunleye of Nigeria Labour Congress (NLC) represented by the state Secretary, Alhaji Adewale Sanusi and the Chairman of the Joint Negotiating Council (JNC), Comrade Abel Oloniyo, were  seen moving round offices to enforce the strike in the state.
Speaking with Nigerian Tribune, the TUC chairman,  Ekundayo,  commended workers in the state for complying with the directive on the strike, noting that public institutions/offices would remain closed until government yield to the demands of the workforce.
He called on the NLC leaders in the state to ensure that all workers stay away from their duties post until further notice.
Some member of the public who spoke with our correspondent said commercial and social activities might soon be grounded if the government failed to negotiate with the NLC leadership on time.