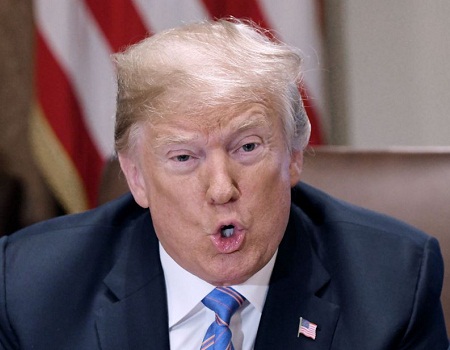 DONALD Trump has slapped down a bid by the European Union to shield European businesses from the impact of new United States sanctions against Iran.
The US president tweeted that new measures taken against the Middle Eastern country have "officially been cast", Skynews reported.
He added: "Anyone doing business with Iran will NOT be doing business with the United States. I am asking for WORLD PEACE, nothing less!"
It comes hours after British Foreign Office minister Alistair Burt sought to calm UK businesses by assuring them a "blocking statute" passed by the EU would protect them from the sanctions.
He told BBC radio: "If a company fears legal action taken against it and enforcement action taken against it by an entity in response to American sanctions then that company can be protected as far as EU legislation is concerned.
ALSO READ: Exclusive: Trump considers dozens of new pardons
"It is a commercial decision for companies whether they continue to work in Iran."
Measures hitting key metals, such as gold, and the automotive industry came back into force on Tuesday.
German automaker Daimler announced soon after it was halting its business activities in Iran.
American sanctions on Iran had been eased for several years under the terms of a 2015 nuclear deal, which Mr Trump announced he would pull out of in May 2018.
More measures targeting Iran's oil sector and central bank are set to be reimposed in November.
Iranian president Hassan Rouhani has hit back at the move, calling it "psychological warfare".
Iran's economy has already suffered significant damage, as Mr Trump's ramping up of rhetoric over several weeks spooked investors, triggering a run on the local currency, the rial.