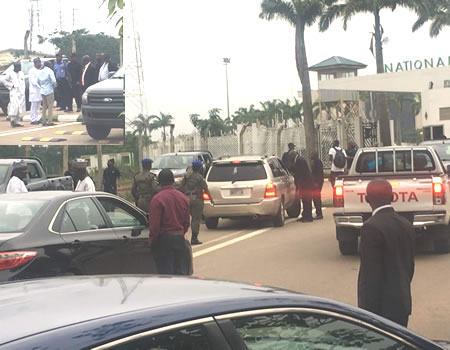 THE scheduled meeting of the Principal officers of the two Chambers of the National Assembly slated for 12 00 pm to consider the request of the Executive to reconvene for the consideration of urgent memo from the Presidency has been called off.
The Deputy Speaker of the House of Representatives, Hon Lasun Yusuff disclosed this to newsmen at the blocked entrance of the NASS complex.
ALSO READ: APC should be ready to see the anger of Nigerians in 2019 — Senator Hunkuyi
Hon Lasun stated that he was around for the Emergency meeting but was shocked to see the Siege by the operatives of the DSS on the Complex which he said prompted the suspension of the meeting.
While condemning the security siege on the NASS Complex, the Deputy Speaker declared that it would be very impossible for those behind the impeachment of the presiding officers in the two Chambers to get the required two-third Majority to achieve their mission.
This Coming just as the former governor of Kano State, Senator Rabiu Kwankaso stormed the NASS complex with some of his Supporters, hailing his arrival.
The former Governor who is a serving Senator was immediately allowed access to the Complex while his supporters stayed back.