NANTA AGM: Runsewe, Olowo, Coker task stakeholders on commitment, unity in promoting sustainable tourism
The 43rd non elective Annual General Meeting of National Associations of Nigeria Travel Agencies (NANTA) held recently at the Muson Centre, Lagos was not only a day of taking stock of the association's achievement, but also a moment of assessment of the travel and tourism industry and how members can diversify into other allied sector to boost their businesses.
With the AGM theme; Developing Strategic Policies for the Sustainability and Growth of the Travel and Tourism Industry, coupled with the caliber of guests, representing a high profile private, corporate, government agencies and other travel subsideries, speaks volume of the intensity and expectations of participants.
In his opening remarks, the National President of NANTA, Bankole Bernard who spoke with great enthusiasm on the achievement of the association , said the success recorded was wouldn't have been possible if not for the cooperations of members and support of corporate organisations in the travel and tourism allied industry.
Pro-Buhari group backs Lawan, Gbajabiamila for NASS leadership
Bernard said "in the last one year, the emphasis has been mainly on advocacy and enactment of our legislative bill (NANTA Act) at the lower house of Senate.
"It is worthy of note that our bill has move so fast to the point of consideration for a third reading. We hope this is concluded within the shortest possible time."
Speaking on the NANTA Card popularly known as the Nigeria Travel Practitioner Industry Card (NTPIC), Bernard said the ID card which was introduced a year ago to keep record of every practitioner and it has received great support from embassies, Nigeria Immigration Service and Federal Airport Authority of Nigeria in checking the validity of travel agencies with the scope of operation.
In what the participants described as mother of all remarks started with the take home candour speech of the Director-General of National Council of Arts and Culture, Chief Segun Runsewe, which did not only point the place of travel agents in streamlining developmental agenda of a sustainable tourism business, but also to redirect their energy into creating a niche market through the tourism value chain business.
"The drivers of the travel and tourism industry need assist to grow through funding support, loans and concessionary interest rates. This will greatly assist the stakeholders in expanding and strengthening the scope of their business interest."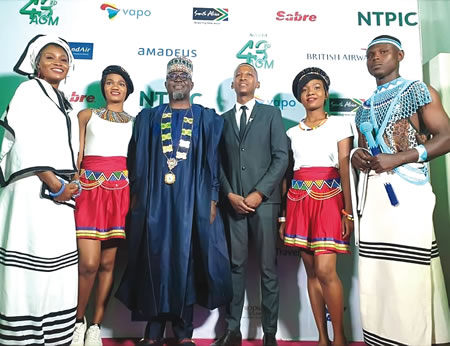 Runsewe called on Nigerians to start looking into practical ways of making tourism a mainstay of the economy by turning plans into workable actions than speaking grammar. He frawn at the manner at which stakeholders' demarketeach other, calling on them to look for a partnering venture that will promote their business.
"We should stop demarketing each other in the industry and see ourselves as partner in progress by working together for the good of each other. The tourism industry is too large for the drivers to be fighting each other. I implore all stakeholders to build the culture of partnering with each other to benefit from the value chain of the industry. "The Director-General of NCAC described the 43rd NANTA AGM as a turning point for the private and public sectors in the tourism industry to have a change of attitude towards travel and tourism in order to start making positive impact to grow Nigeria economy.
He called stakeholders to start packaging those potentialities that made Nigeria unique, attractive and sellable, adding that "in that way tourism will blossom and everyone will have somet hing to benefit from.
He acknowledged and commended the impressive Akwaaba African Travel Market (AfTM) organised by Mr Ikechi Uko, who have in the past one and a half decade build a tourism and travel show that brings foreign visitors to Nigeria for four to five days.
"This is a big plus for us all. This should be supported and be applauded because the activities that took place during this period have multiplier effects, directly and indirectly on the tourism subsector, as hotels, restaurants, recreation areas, banks, cab, travel agents and tour operators among other allied sectors will benefit from the foreign attendees vis-a-viz opening avenues for different deals be sealed.
"Actually, it is also a clear interpretation of one of those reference points of what we can vividly use to counter all the negative stories and stereotyped by the western media.
"The media needs to change the narrative on how culture is projected and interpreted. The Nigerian media, especially journalist covering the arts, culture and tourism beat must continually create awareness on the potentials in the sector and how these potential can be harnesses to our advantage."
"The sector belongs to us all and we cannot wait for the angels from heaven to come and develop it for us. Culture and tourism is a serious business all over the world. We must take it seriously and work together to develop tourism industry for our collective interest and to boost Nigeria economic status.
The Director-General of Nigerian Tourism Development Corporation(NTDC) Mr Folarin Coker in his remarks said "The future of tourism in Nigeria is in digital because every aspect of business have been digitalised, we are calling on stakeholders to step up their businesses by embracing digital world in order to move with the trend of things in the global industry.
Coker who was not happy about the image outlook of Nigeria said Nigerians must learn to speak positively about ourselves and what we have in abundance for others (western world) will start seeing us in new and positive ways.
According to NTDC DG, "it will do use a great deal of good to tell positive stories than peddling negative stories which will be more damaging to the growth of the tourism industry. so it is our duty to change the narrative by telling positive stories about ourselves.
The president of Aviation Roundtable, Mr Gbenga Olowo who gave a concise remark at the AGM raise a poser from the AGM asked the audience and stakeholders if the current trend in the travel and aviation sector viz-a-viz the NANTA card will grow the sector,.
According to Olowo "My poser is to rise from this AGM and ask ourselves the question again and again…will this grow the sector?
In his recommendation Olowo said "while NANTA effort at regulating entry and exit of would be agent is commendable, it is strongly recommended that internal credibility mechanism is set up in order to shore up airlines' confidence.
"IOSA was set up by airlines to address safety concern of its members with practices and processes that are higher than CAAs.
"NANTA Operation Cedit Audit (NOCA) rectify by CAA with higher standard than that of IATA Agency Administration remain the way forward to shore up airline confidence for sustained growth of the sector."