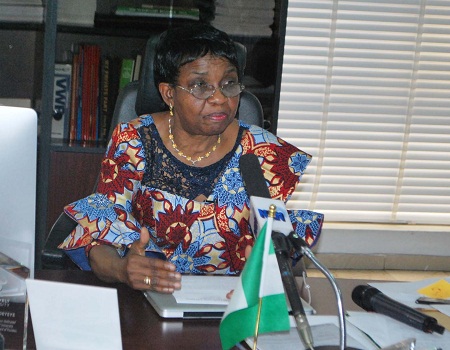 An approximated sum of N3.5 billion worth of unsafe and regulated products was set ablaze by the National Agency for Food and Drug Administration and Control (NAFDAC) in Sagamu, Ogun State on Friday.
The destruction, which was part of the agency's routine operation to clear the Nigerian market of substandard, unwholesome and expired products, involved a huge quantity of narcotics and abused drugs such as tramadol, codeine and illegally imported sugar brand.
Speaking during the destruction exercise led by the wife of Ogun State governor, Dr Olufunso Amosun, the Director General, NAFDAC, Professor Moji Adeyeye revealed that out of the N3, 508, 550, 762 value of the products confiscated for burning, the value of the Tramadol recovered from the street was estimated at N1,708, 750, 000 street value, most of which were beyond the agency's banned strength of 50mg and 100mg.
Warning about the health implications of consuming beyond the recommended strength of Tramadol and codeine especially among young people, Adeyeye said that the agency has unravelled the syndicates allegedly involved in the importation of the banned strength of Tramadol to Nigeria.
"The products being destroyed are made up of tramadol, codeine, illegally imported unwholesome sugar and counterfeit medicines, the total street value of which is N3,508,550, 762, while the total street value of the tramadol alone is N1,708,750,000.
"We wish to emphasise that only 50mg and 100mg of tramadol are approved for use in Nigeria. The banned strengths have deleterious effects on vital organs of the body including the brain. Its use has ruined the lives of many promising youths who should have been the future and asset of our beloved country," she said.