NAF acquires 3 modern electronic shooting ranges to boost personnel training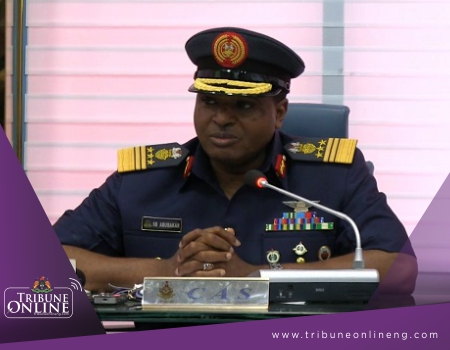 The Nigerian Air Force (NAF) said on Tuesday that it had acquired three modern Electronic Shooting Ranges to improve the training of its personnel.
The Chief of Air Staff, Air Marshal Sadiq Abubakar, said this in Bauchi while inaugurating one of the shooting ranges and other projects at the Nigerian Air Force Base, Bauchi.
Abubakar said that NAF had inaugurated one of the ranges in Kaduna while it would soon inaugurate the other in Part Harcourt.
He said that the electronic shooting ranges and other facilities were some of the latest war equipment being used in some parts of the world.
He said that the equipment would reduce mass movement of personnel to the old ranges, save cost, and enable the personnel to identify their mistakes and make corrections.
"It will also improve marksmanship, simulate multiple scenario that need to be repaired from time to time.
"Considering the current security challenges in the country, there is need to evolve various tactics to maintain the security of the country.
"The force has embarked on capacity building of the personnel to ensure that they meet the expectations of defending the country," the chief of air staff said.
He said that capacity building programme, especially on weapon handling for both ground and air personnel was necessary considering the security threat being faced by the country.
Gov. Mohammed Abubakar of Bauchi State in his keynote address, commended the air force for establishing its base in the state.
Abubakar said that the base would strengthen security in the North-East.
The News Agency of Nigeria (NAN) reports that the chief of air staff also inaugurated the Air Force Primary School and the Non-Commissioned Officers Mess.
Others are: Senior Non-Commissioned Officers Mess and Nigerian Air Force Officers Mess.