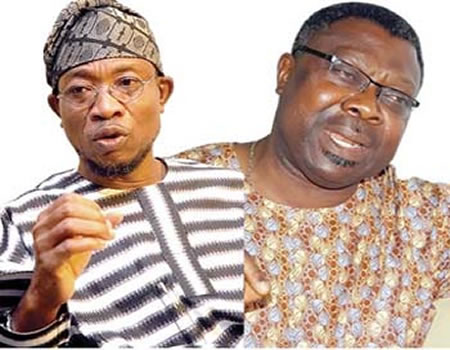 FORMER deputy governor of Osun State, Senator Iyiola Omisore, on Wednesday urged Governor Rauf Aregbesola to tell the people of the state the whole truth on how N1.6 billion Olaiya-Jaleyemi-Asubiaro-Ita Olokan road project was partly funded by UNESCO and the state.
Apparently reacting to the development in a press statement signed by his media aide, Mr Jide Fakorede, Omisore, who is the erstwhile chairman, Senate Committee on Appropriation said it is deceitful and amount to sheer propaganda for the state governor to hide under the cover of funding the project through the Osun State Conservation Fund.
The statement obtained by Tribune Online in Osogbo reads "it is an open secret and matter in the domain of the public that Osun State government had assessed counterpart funds from UNESCO, which is in excess of over 70 per cent following the designation of Osun Osogbo groove by the world body as one of the World Heritage sites for local and international tourists. This is not new and practical efforts, which climaxed in the attraction of such funds to Osun began during the regime of the Peoples Democratic Party (PDP). But, it is a statement of fact that Aregbesola received counterpart funds from UNESCO."
"While we would not assist Aregbesola and his dishonest government to disclose the actual amount received on the road project from the reputable international organisation, for the purpose of creating unhindered assess for all categories of tourists which he himself admitted publicly a few years back, we leave him to ruminate over this sacred facts as a public figure in his innermost mind. Conscience is an open wound."
APC has no specific plans for youth development ―Sen Dino Melaye
But, the All Progressive Congress (APC), Osun State chapter in press release issued signed by its director of publicity, research and strategy, Barrister Kunle Oyatomi contended that Omisore and the opposition's party position was a product of frustration, asserting that "PDP is behaving like a stupid animal, who when it failed to reach the grapefruit, in frustration, said 'the grapes are sour.' It is a pity that the PDP is talking like a frustrated animal. Everything they said about where Aregbesola got fund from to execute that road project is a brazen, stupid lie."
According to the release, "truth of the matter, when there was sufficient fund from the Federal Government, the wise and frugal government of Aregbesola was putting aside certain amount of money in a consolidated fund established by law, which the government decided not to touch for whatever reason, except in case of severe emergency. Even at that, the government needed to have approval from the House of Assembly before it could access that money."
It continued, "in 2015, when the need for part of that emergency fund arose, Aregbesola had to ask for permission from the House before he could take the money. UNESCO did not give Aregbesola one kobo for that road. Anybody who does not believe our side of the story should confirm from the House.
"PDP has no moral authority to talk about road construction or commissioning in Osun because when they were in power, instead of constructing strategic road network in Osogbo, they busied themselves revelling and commissioning hairdressing salons. Such irresponsible people have no business telling one of the best-rated governors in Nigeria today what to do about roads in Osun. Very soon, the state of Osun will be inundated with strategic information,"
Learn from Ghanian president and stop embarrassing Nigeria, PDP tells Buhari 
However, Omisore further averred that "PDP government out of its sincere commitment to boost tourism potentials and enhance the effective economic growth of the state made Osun Osogbo Groove a world heritage site so as to attract UNESCO funding assistance.
"Aregbesola should complete the seven and a half roads under construction: Akoda-Sekona-Gbongan, Osogbo Ring Road (10.5 per cent completion), Osogbo-Ikirun-Ijabe-Ila Odo-Kwara State Boundary (50 per cent completion), controversial Osun Airport, which gulped over N180 billion to date and still gulping."
"Let him urgently construct or worst rehabilitate Osogbo-Iwo road, Sekona-Edunabon township road. Ede, Ilesa, Ife, Iwo, Ikire, Ejigbo, Ila, Ifon among other roads.
"Ede Headworks need urgent attention because it supplies water to 18 local governments, not to mention water dams in Ife, Ilesa, Oyan, Ejigbo, Iwo, Ifedayo, Ifewara, Erin Ijesa, Ifewara that needs attention. Almost eight years of waste, hospitals, clinics, Primary Healthcare Centres (PHCs) not functioning.
"WAEC, NECO results of Osun students worst since state creation and workers are still being owed more than 24 months of salary arrears. Pensioners owed millions of naira being paid N100,000 each."