My wife's lover fell me with a blow after I caught them in the act —Husband
•He neglected me, left me to feed, clothe our seven children —Wife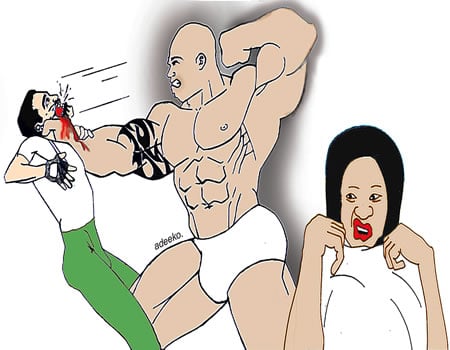 A woman, Toyin Seriki has approached Oja Oba/ Mapo Court C Customary Court, Mapo, Ibadan, Oyo State, seeking that it dissolved the 26-year-old union between her and her husband, Rasaq Seriki.
Toyin in her suit claimed that her husband cared less about her and their children.
She added that he was troublesome and was in the habit of fighting her and even their neighbours in all the houses they have lived.
The plaintiff told the court she no longer loved her husband and thus prayed that their union be ended.
Toyin also pleaded with the court if her prayer was answered to grant her custody of their seven children and make her husband responsible for their upkeep.
Rasaq did not agree to divorce when the claim was read to him.
According to him, although he had once caught his wife with another man, he was not willing to divorce her because she is his only wife.
Toyin said: "My lord, my husband is irresponsible and has failed in his duty towards me and our children.
"Rasaq doesn't care about our welfare. He doesn't know what efforts I make in feeding seven children and him in addition.
"I appear shabby and look haggard all the time because my husband has always neglected me.
"He has never been interested in our children's education while I find it a challenge monitoring their academic performance because they are a handful.
"My lord, this has resulted in our children's bad performance in school. Some of them eventually dropped out of school and had since learnt a trade.
"Rather than appreciate me for all my efforts in keeping the home going, all my husband does is to make life hellish for me.
"Rasaq is a brute and is in the habit of beating me mercilessly.
"My lord, he's also fond of fighting our neighbours and this has led to our landlords always throwing us out. We have been moving from one house to the other because of his irresponsible act.
"My lord, I want Rasaq out of my life. I don't want to set my eyes on him again.
"My plea before this court is that you separate us and hand over our children to me for care but make him responsible for their welfare," she stated.
"My lord, Toyin is going nowhere. She can't divorce me now because I have no other wife," Rasaq told the court.
"She lied that I'm irresponsible. I work in Lagos and she travels down regularly to collect our children's feeding allowance.
"We started experiencing a challenge in running the home due to a downturn in my economy. At present, I can only afford N2, 000 as feeding allowance but she has refused to understand my predicament.
"Rather than bear with me, Toyin decided to make life difficult for me.
"Being a stubborn person, she took to fighting me. She also became defiant and started relating with bad women, "Rasaq explained.
He added, "My lord, I had the shock of my life the day I caught Toyin with another man in our room.
"I was mad and went for the man. But he got up and gave me a blow which threw me off balance.
"My Lord, rather than being remorseful, my wife became more rebellious," he stated.
Giving his judgment, the court president, Chief Ademola Odunade, dissolved their marriage and handed over their children to the plaintiff for proper care.
The defendant was asked to pay the sum of N20, 000 monthly for their children's feeding.
He was also instructed to be responsible for their education and health care.
Both parties were advised to maintain peace.