My wife was constantly having sex with her ex fiancé; threatened to stab our baby —Man
•He accused me of dating all the men on my Facebook wall, has denied me sex for four months —Wife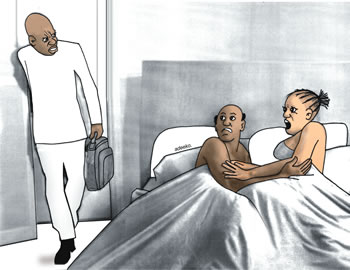 Oja Oba/ Mapo Court Customary Court, Mapo, Ibadan, Oyo State has ended the relationship between a couple, Subar Ibrahim and Rukayat Ibrahim.
Subar had filed a divorce suit against his wife at the court accusing her of disobedience and disrespect. The plaintiff added that his wife was promiscuous, violent and in the habit of monitoring him.
Rukayat, responding, did not admit to claim.
"My wife acts irresponsibly. She cultivated the habit of going through my phone immediately after we got married.
"She will go through my call log late in the night when I was in bed and asleep and will call the numbers to ascertain if they are female or male and write down the number of those who are female.
"Many times my customers tell me they missed my call late in the night. Embarrassed,  I will apologise to them.
"She is also fond of calling my office in a bid to monitor me. I explained to her that we close in my work place   at 6:00 p.m. but that we sometimes stay back to attend to customers.  My wife, doubting me, will pretend to be a customer and will call to ask for some products and our closing hour. She once called our manager who recognised her voice and expressed disappointed in her.
"Not yet done, she used my phone to send a text message to my female boss who is very close to us and almost got me sacked. She called her a prostitute. We later got to know it was Rukayat who sent the message. My boss counseled her but she has failed to change, "he said.
He went further:"My lord, my wife is a harlot. We experienced delay in having children and sought for treatment both through orthodox and traditional means. During this period, my wife went back to her ex boyfriend and started sleeping with him until the cat was let out of the bag. She confessed to me she went back to him in order that she might have a baby through him.
"My lord, from then on, I knew my life was not safe with Rukayat.
"I have woken her up in the middle of the night on many occasions to counsel her on the need to live a descent life but she turned deaf ear to me.
"Rather than change, she did away with the hijab she was wearing and started dressing provocatively.
Rukayat brings her lovers home whenever I'm out of town. She once mistakenly called my number around 11: 00 p.m. when I was out of town; she was asking the person if he had gotten home and was not too tired. She was shocked when she discovered she had been addressing me all the while and tried to cover up.
"I no longer trust my wife. She's a liar and has proved to be unreliable over the years which are my reasons for dragging her to court.
"My lord, after the first time we appeared in court, she warned me never to come near our child and threatened to stab the baby if ever I did.
"She also poisoned my water. I have the picture on my phone.
"My nieces living with us told me after I took steps to end our marriage that she was in the habit of bringing men home whenever I travelled.
"My lord, I'm fed up with my wife, please separate us, "he concluded.
"My lord, my husband is a liar. Even though he has dented my image before the court, I pray this honourable court not to separate us, "the defendant stated.
"I made a vow to my husband before we got married that I would never go into a relationship with any other man aside him.
"He's been accusing me of infidelity because he logs into my facebook and sees the men I interact with there. These are just my friends and not lovers.
"I always confess to him my misdeeds and keep nothing from him.
"Subar suddenly started avoiding me in the home. He has denied me sex for about four months now while there is no rapport between us.
"My lord, my parents have threatened to kill me if I ever divorce him. I have no place to go if he leaves me. I, therefore, pray this honourable court to save my marriage.
Giving his judgment after he had heard both parties, the court president, Chief Ademola Odunade dissolved their union.
Odunade granted custody of their only child to the defendant and ordered the plaintiff to be responsible for his welfare.
Subar was asked to pay the sum of N5, 000 per month through the court for his upkeep and be responsible for his education and health among others.