My wife stole money meant for my visa to Saudi Arabia, poured pepper into my eyes —Husband
•I didn't steal his money, he was duped by con men —Wife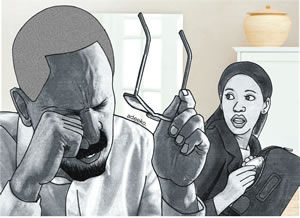 A man, Mustafa Liadi, having been fed up with his 22-year-old relationship with his wife, Khadijat Liadi, recently dragged her before Ile Tuntun Customary Court, Oja Oba/ Mapo, Ibadan, Oyo State.
Mustafa alleged that Khadijat afflicted him with bad luck and thus ruined his life.
Mustapha stated that all his efforts at making it in life had always proved abortive since he got married to his wife.
According to him, the last straw that broke the camel's back was the abortion of his plan to travel out of the country for greener pastures.
The plaintiff explained that his wife stole the money he wanted to use for this journey after which he was denied visa.
Mustapha further accused his wife of infidelity.
The plaintiff stated that the defendant confessed to him that she slept with a man who later gave her N6, 000.
He added that his wife aimed at destroying his life.
Mustapha told the court he almost lost his sight after Khadijat poured alligator pepper into his eyes during a brawl.
According to him, he spent through his nose before he could see properly again.
The plaintiff stated that the defendant was an evil wind which blew no one any good.
He thus prayed the court to end their relationship and grant him custody of their children.
Khadijat agreed that their union be dissolved.
The defendant accused the plaintiff of neglect. She stated that he cared less about her welfare and that of their children.
Khadijat added that Mustapha placed no value on her. According to her, he sought every opportunity to beat her.
The defendant stated that her husband beat her blue black when she was pregnant and almost killed her.
Khadijat further accused her husband of being an ingrate.
She explained that she was the one who connected Mustapha to her friend's husband who volunteered to help him to travel out for greener pasture.
The defendant denied stealing her husband's money. According to her, Mustapha fell into the hands of a travel agency which duped him of his money.
Mustapha in his evidence said, "My lord, Khadijat is bedeviled with ill luck. She has ruined my life.
"Things were going on well for me until I got married to her. I started experiencing setback in all areas of my life and almost went bankrupt.
"I had the plan of travelling out of the country to seek greener pasture since my fortune has nose-dived and therefore approached my wife for financial assistance.
"She gave me some amount of money out of which I paid the agent who was helping me in procuring the papers I would need in travelling out.
"I kept the remaining money in my wardrobe in the presence of my wife and one of our children, but my wife went back to steal the money.
"My lord, Khadijat stole the money and disappeared from home for three days without my knowledge and consent and failed to give any clue about her whereabouts.
"I consulted a marabout who told me my wife stole the money and that she wanted to invest it in her business.
"Khadijat initially denied stealing the money when she returned home, but later stated that she dropped the plastic bag containing the money in the pit toilet.
"I employed some youth who opened the slab covering the pit which was shallow, but we didn't find the money there.
"I reported Khadijat to the elderly ones in her family who appealed to her to return the money to me but she remained adamant.
"I was denied visa at the end of the day which obviously gladdened my wife's heart.
"She ridiculed and humiliated me and these resulted in constant brawls between us.
"Khadijat later packed her belongings out of my house and moved to her mother's place.
"She was there for a few months while moves were made by our families to reconcile us.
"She confessed to me at the point of reconciliation that she had an affair with another man who she slept with her and gave her N6, 000.
"I forgave her and she moved back to my house, but she refused that I had rest of mind.
"My wife became more unruly. Khadijat accused me of using my second wife who died after she cursed for ritual.
"Khadijat always threatened to render me useless. She made real her threat when she poured alligator pepper into my eyes during a fight.
"I couldn't see for weeks. I regained my sight only after I had spent a fortune in the hospital treating the eyes.
"My lord, Khadijat is an evil wind that blows no one any good.
"I am no longer interested in our marriage. I, therefore, pray this honourable court to end our relationship, "the plaintiff pleaded.
Khadijat in her response said, "My lord, my husband is an ingrate. He accused me of bringing him ill luck but forgot to tell the court I was the one who got him connected to my friend's husband living in Saudi Arabia, who volunteered to help him accelerate his plan to travel out.
"The best way he chose to show appreciation for my support of him was to beat me.
"Mustapha is irresponsible. He placed no value on me. He constantly neglected me and our children and always sought every opportunity to beat me.
"He once rained punches on me during pregnancy and almost killed me.
"My lord, Mustapha lied that I stole his money. He was duped by a travel agency.
"My lord, I have never enjoyed my marriage to my husband. I desire a new lease of life. I thus entreat this court to separate us, "she concluded.
Giving his judgement after he had heard both parties, the court president, Chief Olasunkanmi Agbaje stated that the relationship between both had broken down irretrievably.
Ruling, Agbaje dissolved their union.
He granted the defendant custody of their children and made the plaintiff responsible for their upkeep.
Both were advised to maintain peace.
YOU SHOULD NOT MISS THESE HEADLINES FROM NIGERIAN TRIBUNE
We Have Not Had Water Supply In Months ― Abeokuta Residents
In spite of the huge investment in the water sector by the government and international organisations, water scarcity has grown to become a perennial nightmare for residents of Abeokuta, the Ogun State capital. This report x-rays the lives and experiences of residents in getting clean, potable and affordable water amidst the surge of COVID-19 cases in the state…Fayemi has shown exemplary  Fayemi has shown exemplary
Selfies, video calls and Chinese documentaries: The things you'll meet onboard Lagos-Ibadan train
The Lagos-Ibadan railway was inaugurated recently for a full paid operation by the Nigerian Railway Corporation after about a year of free test-run. Our reporter joined the train to and fro Lagos from Ibadan and tells his experience in this report…Fayemi has shown exemplary  Fayemi has shown exemplary