My wife sleeps around, smokes 50 sticks of cigarette in a day, man tells court
•He's a brute and pathological liar; he slept with his lovers in our home —Woman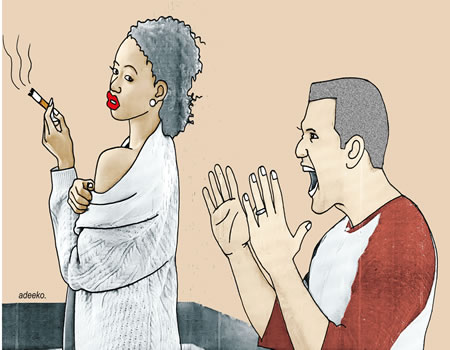 The one-yr-old wedlock between a woman, Fatimo Adedokun and Azeez Adedokun has been dissolved by Oja Oba/Mapo Court C Customary Court, Mapo, Ibadan, Oyo State.
Fatimo had dragged her husband to court, alleging that he is irresponsible and a pathological liar. She also accused him of infidelity and battery.
Fatimo implored the court to end their marriage and grant her custody of their only child.
She further appealed to the court to restrain him from harassing or fighting her at her residence or work place.
Azeez acceded to divorce claiming that Fatimo was troublesome and destructive. He added that apart from being wayward, she was addicted to smoking. According to him, Fatimo smokes cigarette like a chimney.
"My lord, my husband is deceitful and unreliable. He deceived me into marrying him and abandoned me.
"He's a pathological liar. He lies about anything and everything.  He lied about his status when we met and I fell into his trap. I got to know he was a nobody after we got married.
"He dotted and lavished money on me while we were dating. But he suddenly changed immediately we got married.
"He took to beating me. Any time we had an argument, he would pounce on me, hit and kick me till I almost faint.
"He didn't stop such maltreatment of me even when I was pregnant. He in fact became more violent.
"My lord, he abandoned me midway of my pregnancy and kept me and his family members in the dark about his whereabouts. I was responsible for the expenses of both pre-natal and ante natal care.
"Azeez didn't show up until two months after I had our baby. He was not there for the naming ceremony. I was the one who gave our baby his names.
"He showed up two months after and like his usual practice, made life unbearable for me. He forcefully took the child from me and handed him over to his mother.
"My husband added insult to injury by bringing his lovers to our home and humiliating me before them.
"My lord, I'm through with my husband. All I request from this honourable court is to make our divorce official and documented, "she stated.
Giving his evidence Azeez told the court, "My lord, the best thing that would ever happen to me is to have my union with Fatimo dissolved. I'm also through with her."
"I have never met a woman as troublesome as Fatimo in my whole life. She has always given me hell. I, therefore, have no rest of mind.
"She feels unconcerned about my welfare and that of our only child. She's self centered and happy as far as her needs are met.
"Fatimo has almost ruined me. She gets easily provoked and when she's angry, she destroys my property.
"Fatimo lacks self esteem and feels intimidated any time she sees me with another woman. She fights dirty at instances like this thus embarrassing me.
"My lord, Fatimo sleeps around. She would leave home early with our child, dump her at the day care center and mess around with her lovers. Stories of her escapades have blocked my ears.
"She's in the habit of returning home late with our child. I have complained about this to no end.
"I got fed up with her one day, went to the day care center, took our child and handed him over to my mother for care.
"My lord, one major reason I agree to divorce is that she's addicted to smoking. She smokes like a chimney. Fatimo can smoke fifty sticks of cigarettes in a day which is part of the reasons I took our child away from her, "the defendant concluded.
Having heard both parties, the court president, Chief Ademola Odunade dissolved their union and granted custody of their only child to the plaintiff.
The defendant was ordered to pay N5, 000 monthly for their child's upkeep. This according to him must be done through the court.
He was also instructed to be in charge of his education and health care.