My wife slapped me, rained curses on me —Man
I slapped him twice for holding another woman's hand —Wife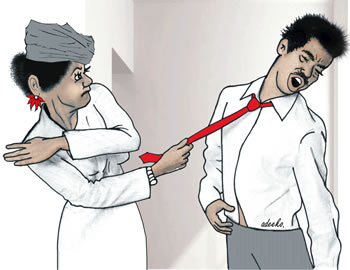 A man, Gbade Olaniyi has approached Ile Tuntun Customary Court, Mapo, Ibadan, Oyo State, seeking that it put an end to the seven-year-old relationship between him and his wife, Bunmi Olaniyi.
Gbade alleged that his wife was wicked, troublesome and in the habit of slapping and raining curses on him.
The plaintiff stated that he had had enough of his wife's misbehaviour and that he was no longer interested in their relationship.
Bunmi agreed that their union be dissolved stating neglect, infidelity and constant beating by her husband as her reasons.
"My lord, I'm not happy living with my wife. Bunmi rather than being a blessing unto me is a curse. This among others is my reason for seeking divorce," Gbade said while giving his evidence.
"Bunmi and I quarrel almost every day because she hates to see people with me.
"She makes our home unwelcoming for my family members, friends and church members. She's always cold towards them.
"Bumni does not carry out her responsibility in the house as it is expected of every woman. Rather than clean the home and cook my food, she would go to her parents' house without my consent.
"On many occasions, she would stay back for days not caring how I was faring.
"Bunmi abandoned our home for her parents' for eight months and five days while carrying our second pregnancy. I brought her back home after she put to bed but she ensured she made my life miserable.
"She would go to work and not return until it was 10:00pm. There were times she got back home around 11:00pm.
"The more I showed my displeasure at her irresponsible act, the worse she became. Rather than take to correction, she would go irate and rain curses on me.
"My lord, Bunmi has no respect for me. She does not fear me. Any time we had a heated argument, my wife would slap me," the plaintiff said.
Gbade added that "Bunmi moved out of my house and rented an apartment when it became obvious that two captains could not stay in the same ship.
"A lady in our compound came to my aid by helping me to fetch water and cook my food after my wife left. My wife got to know about this and came to fight me. Her parents also accused me of being unfaithful to her.
"I got angry and vowed to marry the young lady. My wife on hearing this brought people home to beg me. I agreed that she moved back to my house after much pleading but I later regretted doing so.
"Bunmi got worse. She took to fighting and raining curses on me day and night.
"She once slapped me for refusing to eat her food and at another time for going to work on a Sunday to source for fund to run the home.
"My lord, I have had enough of my wife's atrocities. I plead that you end our marriage today," the plaintiff stated.
Bunmi giving her evidence said, "My lord, I agree that Gbade and I go our different ways because he has never been committed to our marriage.
"He constantly failed in his role towards me and our children as the breadwinner.
"Gbade is tight-fisted. He neglected me during pregnancy. He didn't give me a dime for my medical attention when I was sick. He told me to take care of myself from the proceeds of my business.
"He never gave me anything without the consent of his family members and this I always told him I detest.
"He refused to check on me when I was pregnant and at my parents' place neither did he send me money," the respondent  explained.
Bunmi further said, "My lord, my husband is unfaithful to me. He sleeps with every woman in our compound.
"I once saw him holding hands with one of them and showed my disapproval.
"We fought over this and I slapped him twice.
"I moved to my parents' house after I took ill during pregnancy and he neglected me.
"He came to the hospital with this same woman to check on me when I was delivered of our baby.
"I was the one who decided I would go back to his house after delivery and not him.
"My lord, I went mad and fought the lady cooking for my husband when I was at my parents' house when, by accident, I came across love messages and recharge cards my husband sent to her.
"I slapped my husband after he humiliated me by slapping me twice in her presence," Bunmi stated.
The court president, Chief Olasunkanmi Agbaje, after hearing the two parties adjourned the case twice.
The case was finally struck out after the plaintiff declared his intention not to pursue the case any further as a result of their church leadership intervention.
YOU SHOULD NOT MISS THESE HEADLINES FROM NIGERIAN TRIBUNE
We Have Not Had Water Supply In Months ― Abeokuta Residents
In spite of the huge investment in the water sector by the government and international organisations, water scarcity has grown to become a perennial nightmare for residents of Abeokuta, the Ogun State capital. This report x-rays the lives and experiences of residents in getting clean, potable and affordable water amidst the surge of COVID-19 cases in the state…
Selfies, video calls and Chinese documentaries: The things you'll meet onboard Lagos-Ibadan train
The Lagos-Ibadan railway was inaugurated recently for a full paid operation by the Nigerian Railway Corporation after about a year of free test-run. Our reporter joined the train to and fro Lagos from Ibadan and tells his experience in this report…
[ICYMI] Lekki Shootings: Why We Lied About Our Presence — General Taiwo
The Lagos State Judicial Panel of Inquiry probing the killings at Lekki Toll Gate, on Saturday resumed viewing of the 24hrs footage of the October 20, 2020 shooting of #EndSARS protesters by personnel of the Nigerian Army…
ICYMI: How We Carried Out The 1993 Nigerian Airways Hijack —Ogunderu
On Monday, October 25, 1993, in the heat of June 12 annulment agitations, four Nigerian youngsters, Richard Ajibola Ogunderu, Kabir Adenuga, Benneth Oluwadaisi and Kenny Razak-Lawal, did the unthinkable! They hijacked an Abuja-bound aircraft, the Nigerian Airways airbus A310, and diverted it to Niger Republic. How did they so it? Excerpts…