My wife puts too much salt in her soup, keeps late nights —Man
•He never complained that my soup was salty —Wife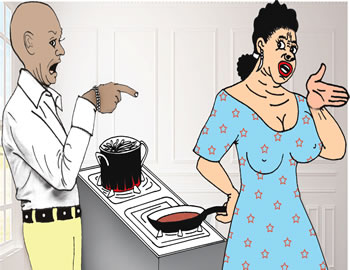 The Idi-Ape Grade C, Customary Court, Ibadan North East, Oyo State has given a lifeline to a two- year-old marriage between  Isaac Esuola and his wife, Bolanle Wosilat.
Isaac, who dragged his wife, Bolanle Wosilat to court stated that he was fed up  with her because she's fond of putting too much salt in her soup.
According to the plaintiff, the defendant was in the habit cooking salty soup for him. He added that she had a caustic tongue and was always raining curses on him.
Isaac thus prayed the court to dissolve their marriage.
 "My lord, my wife and I are not compatible and I am fed up with our marriage.  My wife has ceased to give me peace of mind. She does not take care of me and my children . She shouts on me and embarrasses me all the time.
"She keeps late nights, threatens me and uses foul language on me.
"She used to put plenty salt in her soup  and never wanted to see my children even though she has failed to bear me a child.
"I did not have sex with her for 11 months because of her behavior and I have reported her to her parents but she still did not change.
"My lord, my mind is now made up, please separate us," he pleaded.
Reponding to the claim, Bolanle pleaded with the court not to separate her from the plaintiff because  he cared for her a lot  despite not bearing him a child.
"My lord, please don't dissolve our union," the defendant pleaded with the court.
"My husband is caring. He takes care of me and my children despite the fact that I don't have a child for him. He never complained to me that my soup was salty. 
"He had sex with me in February and March  this year, I promise to change my behavior for good.
 "I noticed my husband easily gets bored of women living with him, please save our marriage.
Having listened to the claim of both parties, the court president, Mr Moses Oyekanmi, adjourned the case to give room for both parties to settle their differences.