My wife now loathes me after I taught her to cook, paid her school fees —Husband
He and his family members hate to see me —Woman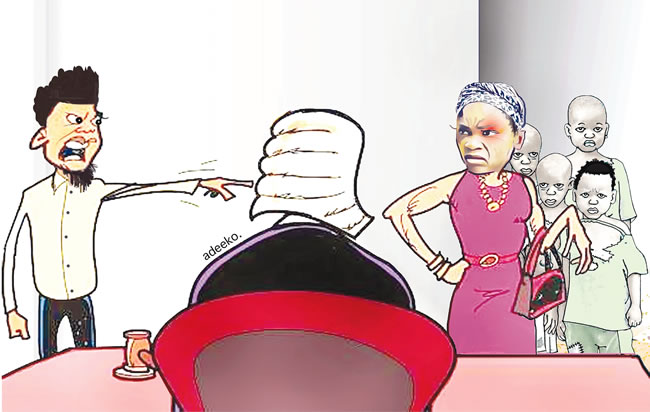 An interior decorator, Ibrahim Kuku, recently told a Customary Court sitting in Ile-Tuntun, Ibadan, Oyo State, that his wife, Fatima, was ill-bred, when he married her.
According to the News Agency of Nigeria (NAN), Kuku, who resides in Odo-ona Kekere, Ibadan, Oyo State, made this known while responding to the allegation of hatred filed against him by Fatima.
"She is a spoilt child who has no regards for anybody including her parents and other relatives.
"She was disrespectful. I made her to be humble and taught her how to respect her father," he said.
He also said he taught Fatima how to cook and take care of the home.
Kuku told the court that he paid Fatima's school fees.
"Our problems started when I started having financial problem. Now, I am no longer attractive to her as a husband.
"Fatima is biting the finger that fed her," Ibrahim said.
Earlier, Fatima, told the court that Ibrahim and his entire family members dislike her, judging by their attitude towards her.
"Ibrahim and his relatives hate me," she alleged.
The court president, Chief Olasunkanmi Agbaje, requested the couple to provide more evidence to substantiate their claims.
Agbaje thereafter adjourned the case.
YOU SHOULD NOT MISS THESE HEADLINES FROM NIGERIAN TRIBUNE
Battle For First Bank: The Untold Story
Last week was one of twists and turns for First Bank of Nigeria Limited, the nation's oldest banking institution. It was a week that saw the bank's MD sacked and reinstated, as major shareholders struggled for control of the financial powerhouse. SULAIMON OLANREWAJU reports…
#EndSARS Panel: Drama As Witness Presents Video Evidence Of Slain Lekki Protesters
A witness of the Lekki tollgate shooting incident, Miss Sarah Ibrahim has presented video evidence of people injured and killed at the scene to the Lagos State Judicial Panel. Tribune Online reports that…
Truck loaded with live bullets falls, spills contents in Onitsha
Onitsha residents are currently in fear, as a truck fully loaded with cartons of live bullets fell into a ditch and spilled its content all around the street, in the commercial city of Anambra State…
After Two Years, Daddy Freeze Apologises To Bishop Oyedepo
Daddy Freeze whose real name is Ifedayo Olarinde has apologised to Bishop Oyedepo who is the presiding bishop and founder of Living Faith Church aka Winners Chapel…