My wife, mother in-law employed herbalist to destroy our marriage —Husband
•He descends on me with punches, damaged our son's ear drum —Wife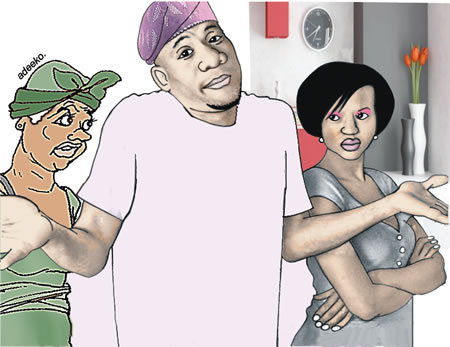 The wedlock between a couple, Latifat Afolabi and Muyideen Afolabi, was recently dissolved by Oja Oba/ Mapo Court C Customary Court, Mapo, Ibadan, Oyo State.
Latifat, who brought a divorce suit against her husband, stated that he showed her and their children no affection or care.
According to Latifat, Muyideen fails to be alive to his responsibilities in the home.
The plaintiff stated that she bore the largest share of the financing of their home.
Latifat added that her husband was cruel and in the habit of beating her and the children.
The plaintiff explained that the defendant often descended on her with punches and also beat their children blue black and would not leave them until they bled.
She stated that her husband once slapped one of their children and almost damaged his ear drum.
The plaintiff stated that she has had enough of her husband's maltreatment of her and their children and therefore begged the court to end their relationship.
She further appealed to the court to grant her custody of their children.
Muyideen agreed that their marriage be dissolved, but denied all that the plaintiff said about him.
He told the court he was a responsible husband and caring father.
The defendant explained that he never failed to give his family money for their upkeep, though sometimes small because his establishment owed him arrears of salary.
Muyideen stated that his wife suddenly changed towards him and that he later discovered she was dating her bosses at her work place.
According to the defendant, the plaintiff stopped eating out of the food she prepared at home with the money he gave her because she now considered the quality of the food too low for her standard.
Muyideen added that both Latifat and her mother were diabolic.
The defendant told the court a man told him that Latifat's mother gave him money to make a concoction which would bring about a separation between him and his wife.
According to Muyideen, a promiscuous and diabolic woman can kill. He thus prayed the court to put an end to their relationship.
Latifat in her evidence said, "My lord, my husband has refused to understand that as the head of the family, he is expected to provide our needs while I contribute whatever amount I can afford.
"Muyideen insisted we both share equally the finance of running the home, but would always fail in contributing his share of the monthly budget.
"My lord, even when he does, it is always a meager amount not sufficient to feed the family for a day. The more I complain, the more the excuses he makes.
"My husband does not have my interest and that of our children at heart. He shows us no affection and is never interested in our welfare.
"My husband is cruel. The only thing he does in the home is beating me and our children. He is brutish in nature and will not stop beating us until we bleed.
"Muyideen damaged one of our children's ear drum when he slapped him after he got angry. I spent a fortune at the hospital while he was receiving treatment.
"My husband is always threatening to deal with me. He never ceases to harrass me.
"My lord, I believe I will be better off without Muyideen. He has made life unbearable for me.
"I no longer want to stay married to him. I, therefore, beg that you dissolve our marriage, "she said.
Muyideen in his response said, "I won't miss Latifat for a minute if she leaves me. As far as I am concerned it is good riddance to bad rubbish.
"Latifat is a liar. She swore by the holy book, but still had the effrontery to say all that was untrue just to nail me. All liars, including Latifat will certainly end in the pit of hell.
"My lord, I wish to make it clear that I never neglected my family. I give my wife feeding allowance on regular basis, although I admit that sometimes it is small due to the delay in the payment of our salary at my work place.
"I explained this to my wife and I felt that as a reasonable human being she would understand, but the reverse was the case.
"Latifat would intentionally present before me unreasonable demands despite knowing my financial strength and would insist I meet all.
"This often led to misunderstandings and fights between us.
"I set her up in a business after a reasonable amount out of the arrears owed me was paid, but she kept insisting on getting a white collar job. I got to know she had incurred a lot of debt on this business after she folded it up. I was left with no other option but to pay back her debtors.
"My lord, my wife later got a job of her dream and then she completely changed.
"Latifat became withdrawn and started treating me with contempt.
"She would prepare our meals out of the money I gave her but would refuse to eat out of this.
"I later understood that she now regarded our food too low in quality for her taste.
"Latifat also started returning home late and would always give excuses which were not tenable.
"My lord, I later got to know that my wife was dating her bosses in the office, although she denied this.
"My lord, Latifat graduated from being a harlot to being diabolic.
"A  man close to me revealed my wife's secret to me. He told me my wife and her mother came to him with money to carry out some diabolic things which would affect our relationship and tear our home apart.
"According to this cleric, my wife was planning to marry another man.
"My lord, I became afraid when I learnt this and decided I was no longer continuing in my marriage to my wife, "he concluded.
Giving his judgment after he had heard both parties, the court president, Chief Ademola Odunade dissolved their wedlock.
He granted custody of their children to the plaintiff and ordered the defendant to be responsible for their upkeep with upmost attention given to their education and health care.
YOU SHOULD NOT MISS THESE HEADLINES FROM NIGERIAN TRIBUNE
We Have Not Had Water Supply In Months ― Abeokuta Residents
In spite of the huge investment in the water sector by the government and international organisations, water scarcity has grown to become a perennial nightmare for residents of Abeokuta, the Ogun State capital. This report x-rays the lives and experiences of residents in getting clean, potable and affordable water amidst the surge of COVID-19 cases in the state…
Selfies, video calls and Chinese documentaries: The things you'll meet onboard Lagos-Ibadan train
The Lagos-Ibadan railway was inaugurated recently for a full paid operation by the Nigerian Railway Corporation after about a year of free test-run. Our reporter joined the train to and fro Lagos from Ibadan and tells his experience in this report…
[ICYMI] Lekki Shootings: Why We Lied About Our Presence — General Taiwo
The Lagos State Judicial Panel of Inquiry probing the killings at Lekki Toll Gate, on Saturday resumed viewing of the 24hrs footage of the October 20, 2020 shooting of #EndSARS protesters by personnel of the Nigerian Army…
ICYMI: How We Carried Out The 1993 Nigerian Airways Hijack —Ogunderu
On Monday, October 25, 1993, in the heat of June 12 annulment agitations, four Nigerian youngsters, Richard Ajibola Ogunderu, Kabir Adenuga, Benneth Oluwadaisi and Kenny Razak-Lawal, did the unthinkable! They hijacked an Abuja-bound aircraft, the Nigerian Airways airbus A310, and diverted it to Niger Republic. How did they so it? Excerpts…