'My wife is adamant, stubborn; I've told her two captains can't be in a ship'
•He rains curses on me, destroyed my goods —Wife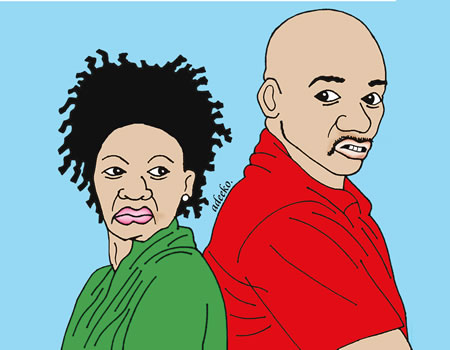 Oja Oba/ Mapo Court C Customary Court, Mapo, Ibadan, Oyo State, has dissolved the 25-year-old wedlock between a couple, Isiaka  Aliu and Sakirat Aliu on accounts of irreconcilable differences between the duo.
Isiaka who dragged his wife to court accused her of irresponsibility, neglect, disregard and stubbornness.
He, therefore, prayed the court to end their relationship and put their seven children in his custody so that he could train them.
Sakirat admitted to claim stating that her husband was unloving and destructive. She added that he had pestered her with his constant beating.
Giving his judgment after he had heard both parties, the court president, Chief Ademola Odunade, ended their wedlock and granted custody of their first five children to the plaintiff while the youngest two, aged 9 years old and 12 years old respectively were put in the defendant's custody.
The plaintiff was ordered to pay the sum of N10, 000 per month as feeding allowance for the two children.
Ezekiel in addition to the above was also mandated to pay the defendant the sum of N5, 000 to pack her belongings from his house and another N12, 000 as one year rent of a new apartment.
"My lord, I have told Sakirat two captains can't be in a ship. She must therefore move out of my house since she is stubborn and has refused to obey my instructions.
"I warned Sakirat against consulting Islamic clerics but she turned a deaf ear to me, damming all consequences.
"My lord, I also warned my wife to desist from coming home late but she remained adamant.
"Sakirat has no time for our children since she's in the habit of staying away from home. I have therefore been the one looking after their welfare.
"She fights me any time I try to call her to order and turns the whole house upside down.
"Our parents have often mediated in our differences but all has been to no avail.
"My lord, I must confess that I'm not enjoying my marriage. I'm tired of the dog and cat lifestyle my wife and I are living. I want a clean cut from her.
"My lord, I pray that you rule that we go our different ways, but I plead with the court to grant me custody of our children, "the plaintiff said.
Sakirat debunked all that her husband had said. According to her, they were all lies.
"Isiaka is a brute. All he knows to do is to harass and beat me, "Sakirat stated.
"My husband has refused that I have rest. He monitors my movement and seeks every opportunity to fight me.
"He will beat me to a pulp for no just cause and would sometimes come to my shop to destroy my goods.
"My lord, Isiaka is in the habit of raining curses on me. I'm now scared of him because these curses have started manifesting in her life.
"My husband has refused that our children give me a helping hand in the home and in my shop. He has warned them not to run any errand on my behalf.
"My lord, it is obvious that there is no more love between us. I, therefore accede to divorce.
"Again, my lord, being a woman and mother, I'm in a better position to take care of our children. I, as a result, entreat the court to put our children in my care, "the defendant concluded.