My wife insists I pay before I can have sex with her, man tells court
•He refused to pay our children's school fees, threatens to set my shop ablaze —Woman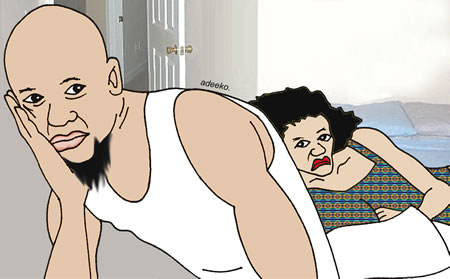 A woman, Adedoyin Agunbiade, has told Oja Oba/ Mapo Court C Customary Court, Mapo, Ibadan, Oyo State, she's no more interested in her wedlock to her husband, Ezekiel Agunbiade.
Adedoyin who dragged her husband to court accused him of irresponsibility, battery and threat.
The plaintiff told the court that her 17-year-old marriage to her husband was filled with crisis. She, therefore, pleaded for it to be dissolved and the custody of their four children granted her so that she could give them adequate care.
Ezekiel admitted to claim stating that Adedoyin's leaving him is good riddance to bad rubbish. According to him, she always insisted I pay before she allows me sex with her.
"My lord, I'm tired of the bondage I walked into 17 years ago called marriage, "Adedoyin told the court.
"Ezekiel turned me into the drum he beats every now and then. Hardly does a day pass without him beating me to a pulp.
"We always fight because he is irresponsible and regularly shirks his responsibilities towards me and our children.
"My lord, my husband is indifferent to our children's welfare. I, therefore, toil day and night to meet their needs.
"Ezekiel has never been interested in our children's education. I'm the one paying their school fees.
"One of them gained an admission into the secondary school and I informed him. I explained to him in details the financial implication of this but he bluntly told me he was not interested in his education.
"Ezekiel goes irate anytime I call his attention to his responsibilities at home. He has often threatened to set my shop ablaze and make me wretched.
"I do report him to his parents and mine but he has refused to listen to their counsel because he has no regard for them.
"My lord, I've stopped loving my husband a long time ago. I no longer want to continue in our marriage.
"I pray this honourable court to please separate us and grant me custody of the four children produced by our marriage in order that I might give them adequate care," she stated.
Ezekiel, giving his evidence said, "My lord, I believe I will fare better without my wife. She has consistently made life difficult for me.  I, therefore, agree to divorce."
He went on: "Adedoyin lacks the virtues expected to be displayed by a dutiful wife and mother.
"My wife comes home late almost every day. She will leave home by 5: 00 p.m. and will not return until it is late.
"I have often complained about this but she has refused to change.
"Adedoyin humiliates me by leaving our home and going to watch video in the house of a man in the neighbourhood who is a pastor. She will abandon our children at home and spend hours in this man's house.
"I once got angry and locked her out. It took pleas from neighbours and the pastor's wife before I let her in," he added.
"My lord, my wife has grown wings and now dictates how we run the home and even when we should have sex.
"Adedoyin starves me of sex. She will insist I must give her money before I have sex with her.
"She went further to divide the house into two. She moved out of my room into another with our female children and asked our male children to sleep with me in my room.
"My lord, Adedoyin gets me mad these days. I can't stick her any longer.
"I appeal to this court to grant her prayer of divorce but grant me custody of our children, "he ended.
Giving his judgment, the court present, Chief Ademola Odunade, observed that their marriage had broken down irretrievably.
Ruling, he dissolved their union and granted the plaintiff custody of their children.
The defendant was asked to be responsible for their welfare- feeding, education and health care most especially.
Ezekiel was asked to give Adedoyin the sum of N20,000 every month for their children's feeding.
This according to Odunade must be done through the court.