My wife eloped with her herbalist-lover for 8 yrs —Man
•I returned to my husband 'cos I don't want our children to suffer —Woman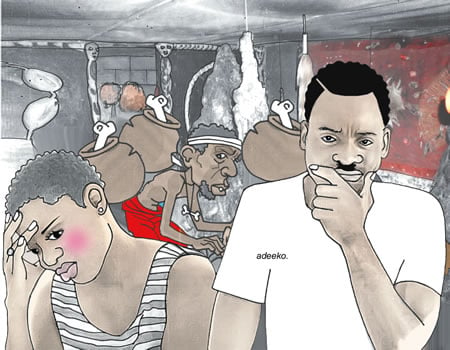 Ile Tuntun Customary Court, Mapo, Ibadan, Oyo State has adjourned till November 2, judgment on the divorce suit brought before it by a man, Musibau Azeez, against his wife, Morufat Azeez.
Musibau alleged that his wife had constantly brought him ill-luck, poverty and sickness since he reconciled with her after she eloped with her lover, who is an herbalist.
The plaintiff prayed for divorce and custody of their two children.
Morufat did not admit to divorce, stating that she returned to Musibau because she did not want their children to suffer.
"My lord, Morufat's return to my home has brought me nothing but sorrow and a setback.
"She got involved in an extra -marital affair with a herbalist and later eloped with him. Morufat deserted me and our children and returned eight years after.
"I usually met the man in her shop and I assumed he was her customer. I never knew they were dating.
"I once came across the label of this man's drugs in her bag. I demanded to know what they were doing there and she fought me.
"I was later informed that Morufat and this herbalist were dating.
"I confronted her with this but she denied it.
"My lord, I went to work one day and while on my job, I received a call from a neighbour that she was packing her belongings.
"I pleaded with the neighbour to restrain her from taking our children with her and she succeeded in doing this.
"Monrufat went with all her belongings and mine and didn't leave any clue as to her whereabouts. I later learnt she eloped with her herbalist-lover.
"My lord, she surfaced eight years after she deserted me looking haggard and famished. She begged that I should take her back and I did after much persuasion from those close to us.
"My lord, I regret ever taking Morufat back. I realised after she moved back to my place that she has been cursed by the herbalist.
"Life has never been the same since her return. I now battle with poverty and diverse sicknesses on daily basis.
"My lord, I don't want Morufat to destroy my life. I want her to go, please separate us and put our children whom she has abandoned for almost 10 years in my care," he pleaded.
The defendant, giving her evidence said: "My lord, I left Musibau because he was maltreating me. He never cared for me nor showed me attention.
"I was the one feeding him and our children and even his family members living with us before I left.
"I have likewise resumed this duty since my return because he cares less about our survival.
"My lord, I don't agree to divorce mainly because of our children. Musibau can't take care of them. If you separate us they will suffer," she concluded.
The court president, Chief Olasunkanmi Agbaje, after he had heard both parties stated that more evidence would be needed.
Ruling, Agbaje ordered both parties to return on adjourned date with their children and parents.
YOU SHOULD NOT MISS THESE HEADLINES FROM NIGERIAN TRIBUNE
COVID-19: Nigeria Recorded 623 New Infections Last Week, Lowest In Six Months
Last week, Nigeria recorded 623 new COVID-19 infections which is the lowest the country has recorded in six months, Tribune Online analysis shows.
The 623 new cases reported between October 18 and 24 is a reduction from the 1,143 recorded the previous week.
Ondo schools resume Monday, November 2
BREAKING: LG Chairman Abducted In Oyo
Kidnappers, on Sunday night, abducted the chairman of Iganna Local Council Development Area of Oyo State, Mr Jacob Olayiwola Adeleke.
Ondo schools resume Monday, November 2
BREAKING: Hoodlums Loot NYSC Camp In Abuja
Hoodlums in their numbers have invaded the National Youth Service Corps (NYSC) camp in Kubwa Abuja looting properties belonging to the camp.
NCDC confirms 170 cases
Looting: Osun Begins House-To-House Search Thursday To Fish Out Perpetrators
As the 72- hour amnesty given by the Osun State government to looters in the state to return all looted properties in their custody expires today, the state government has expressed its intention to commence a house-to-house search on Thursday to fish out the deviants among them.
NCDC confirms 170 cases