My wife brandishes cutlass at me, turned me into hypertensive patient —Man
•The cutlass was meant to shield me from his blows —Wife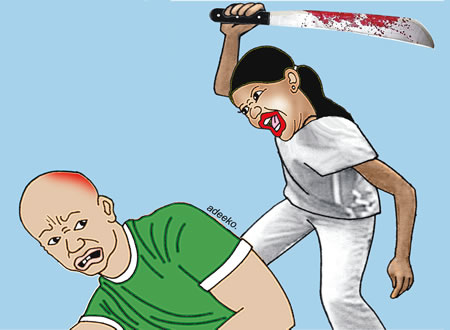 Oja Oba/Mapo Court C Customary Court, Mapo, Ibadan, Oyo State has dissolved the eight-year-old wedlock between a couple, Sunday Adewo and Ayo Adewo.
Sunday, who dragged his wife to court, had prayed for the dissolution of their union on the accounts of violence and threat to his life by his wife.
According to the plaintiff, his wife's irrational behaviour has taken its toll on his health, leading to his being hypertensive.
Sunday further appealed to the court, if his prayer was answered, to grant him custody of the only child in their wedlock, a seven-year-old, in order to give him proper care.
Ayo refused to admit to claim.
Giving his judgment after he had heard both parties, the court president, Chief Ademola Odunade, observed that their relationship had broken down irrevocably.
Ruling, he dissolved their union and handed over their child to the defendant.
The plaintiff was mandated to give the defendant N5,000 monthly as their child's feeding allowance. This, he stated, must be paid through the court.
Contractors deny petitioning EFCC over freezing of Ekiti SUBEB accounts
He was also asked to be responsible for his education and health care.
Sunday was further instructed to give Ayo the sum of N5, 000 to pack her belongings out of his house.
"My lord, I sleep with an eye open every night because of my wife's violent nature. She behaves as if she's possessed or out of her senses whenever she's angry.
"Ayo lacks patience and fights over trivial issues. I have often warned her over this behaviour but rather than change, she gets worse.
"My lord, there's no day she does not fight me. She fights me with dangerous objects and doesn't mind if she maims or kills me.
"The last time we fought, she brandished a sharp cutlass at me. I was scared and took to my heels.
"My lord, Ayo has threatened to set my house which I built with my hard earned money, ablaze. I'm sure she means it. I'm finished if she brings her threat to be.
"My wife has turned me into a hypertensive patient due to her irrational behaviour. She does not give me peace of mind.
"My lord, I don't want her to cut short my life. I pray that you separate us.
"I also plead with this honourable court to grant me custody of our only child so as to raise him as a responsible citizen. If I leave him with his mother he will imbibe her indecent lifestyle."
Ayo in her evidence stated:"My lord, my husband is the one who beats me every day.  He even went to the extent of inviting his friend, who is a police officer, to beat me up.
"I brandished a cutlass at him to hinder him from further hitting me with heavy blows. He would have killed me if I didn't do that on that fateful day.
"My husband is jealous and always suspicious of my movement. He was always accusing me of having extra-marital affair.
"He, of recent, alleged that I was dating a medical practitioner and deleted all the numbers on my phone.
"My lord, I still love my husband and I pray that our union is not dissolved," she pleaded.