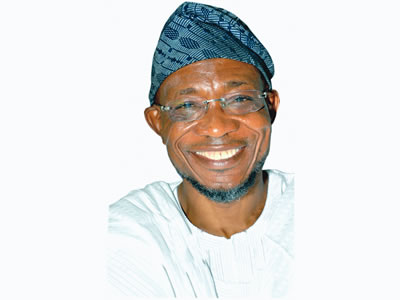 FORMER senatorial candidate of the Peoples Democratic Party (PDP) for
Osun
East Senatorial District, during 2015 polls, Prince Francis Fadahunshi, 
on Saturday
 described as laughable insinuations that he was considering leaving the party.
The development came as Governor Rauf Aregbesola described his visit to Fadahunshi, a PDP chieftain as a "personal visit".
Governor Aregbesola during the visit to Ilase country home of Fadahunshi had declared that he came to pay homage to a senior Ijesa man and brother and urged people never to read unnecessary political undertone to the visit.
In a statement signed by the media aide to Prince Fadahunshi, copies of which were obtained by journalists in Osogbo 
on Saturday
 Fadahunshi affirmed that he was not contemplating dumping PDP as being insinuated by some mischief makers.
According to the statement, "while acknowledging the divisions within
PDP
fold, I express firm believe in the amicable resolution of the whatever issue that is causing rancour in the party."
It reads in parts: "The Peoples Democratic Party Senatorial Candidate in 2015 general election, Prince Adenigba Francis Fadahunsi is not considering dumping his party. 
He urges his supporters to dismiss the rumour of his decamping to the ruling party APC in its entirety. 
This response became necessary following insinuations that the visit of his younger brother and governor of Osun state, Mr Rauf Aregbesola to his residence was to facilitate Fadahunshi's defection to the APC."
"The visit of Mr governor was a private one, and that of a brother paying homage to his elder brother. The governor during the visit also made it clear that his visit was not a political visit but a private one. 
The governor also said the visit to Ilase also afforded him the opportunity to see the community and look at some of its need. Aregbesola also said some of those things identified as needs of Ilase can be fixed before the expiration of his tenure."
Some personalities that received Governor Aregbesola to Fadahunshi's Ilase home includes; Owamiran of Esa-Oke, Oba of Ibokun and Alase of Ilase, among others."