My new album will remind people to hold on to our culture —Singer KCEE
He earned the name Limpopo Master after his song with the same title became a national anthem in 2012 and 2013. But before that time, Kingsely Chinweike Okonkwo was known as KCee, he was the front man of the KC Presh music group, which won the Star Quest Competition of 2009. The now Five Star music boss, whose trajectory in music is replete with awards and recognitions and some downs and brushes with colleagues, is currently touring the South East with a 10-track album known as the Eastern Conference. In this interview, the Pull Over singer speaks to Newton-Ray Ukwuoma about his new album and some of the recollections of his early days in music. Excerpts: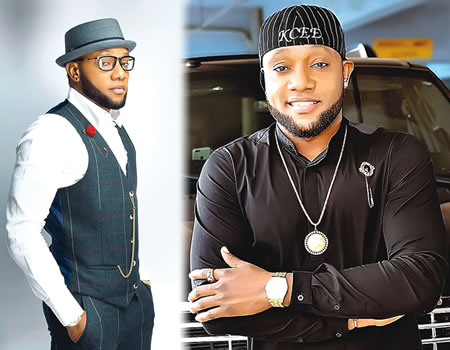 Was it music you wanted to do from the beginning?
No. It was football. For those who know my story, I started with football. I even played professionally. I played for Julius Berger, I played for Puma. I played for the junior team back then and I was making money from it. The first time I travelled out of Nigeria it was soccer that took me there. I went to play Five Aside soccer in South Africa for Puma. I have always been a lover of football. Music was a second choice. I love music because my father was a DJ.
He was selling records back in Ajegunle in those days. And footballers also love music too. Whenever they are not playing the ball, they are either singing or dancing. They party too. When I started soccer, I was doing music by the side. I was in the choir. Then I heard about Star Quest and registered and we won. That started paying me more money than soccer. I followed the saying that "a bird at hand is worth millions in the bush;" so I held onto music.
Do you think you would have been a great football player if you had continued?
I would have been great in soccer, but I would have been retired by now. And it would have been too late to start music. But as I am in music, I can sing until I am very old. I thank God I paid attention to the direction God wanted me to go to, which is music. My brother and I met the legendary Emeka Morroco at an event. He is very old now and he sat and sang all his great hits. When I was in Enugu for the tour, I went to visit an old folk tale musician called Mike Ejeagha. I was so touched when I heard he is still alive. He told me he would be 90 years in June and he still sings. I like to tell people to remember this man now that he is here with us.
You started off as a group. Was it hard making the decision to set out on your own?
There is always disagreement before you agree when you are in a group. They say two heads are better than one. But I disagreed with that. This is because all heads are not good. It's not about the heads. The truth is that when we sleep, God deposits ideas and inspiration into us. The ability to hold on to the idea and put it into practice will give you the result of what God has designed for you. But when you are in a group and you wake up with an idea that God showed you and before you drop the idea, the people around will tell you 'this cannot work'. The idea dies; even you that had the idea may end up killing the idea too.
When I left the group, I told myself that I cannot fail. I was not in competition with anyone but with myself. I was pushing hard, recording, shooting videos. Before I knew it, God gave me the song 'Limpopo' and my story changed. Everything I lost or invested in the 10 years, I recovered it in one year. That is how God can bless you. In the second year, I was securing my future. It's important to listen to the idea God gives you. You must not listen to everybody or share ideas with everybody.
Why did you decide to embark on a musical tour of all the states in the East? 
It has actually been my dream and vision to perform in all the states in the South East and I was excited that I was finally able to achieve it.
You made a whole album just for this tour, Eastern Conference?
Yes, I did a whole album for it. I did 10 songs for that tour. The songs were released few days to the tour.
How long did it take you to put everything together?
I started planning the tour since last year with my team and we were able to deliver. It was not easy, but we did it.
Wasn't it too much to make an entire album just for a particular part of the country?
Well, the Eastern part of Nigeria is where I come from. I don't think there is anything that is too much for my people. I have been doing music for 19 years and I felt it was time to pay attention to my people and that is how the Eastern Conference project came to light.
Do you think "Eastern Conference" album can have other audience outside of Eastern Nigeria?
Music itself is a universal language. I don't understand what Fali Ipupa is singing, but I love his music. The Diamonds are singing in Swahili but I love their music. Highlife music is very sweet and melodious and so I think if you are a music lover you can also enjoy those songs.
There was no gate fee for the tour. People would have thought that your target was the business behind it?
The idea of the tour was not to make money. I wanted to reach out to my people and I also considered the fact that we are losing our culture gradually. I did this to remind people of the need to uphold and promote our culture. Music wise, we are paying more attention to Lagos and we are losing it back home.
Do you think Eastern Conference album will do well like 'Limpopo' or 'Pull Over' songs?
Most of the music you invest a lot of money in cannot give you the result. The least song you expect, that you did not even invest in can turn out to be your biggest hit. No musician can tell you this will be a great song. Only God has the final say. I am only going to be positive and answer your question and say I believe in the album but God is the only one that will say a song will be a hit. Before I got the song 'Limpopo', I featured Flavour, Davido and featured Timaya in one, but the song God used to announce me was Limpopo that I did alone.
Shooting Limpopo video was also divine too. The crew and I were on our way to South Africa to shoot a song I did with Harrysong entitled, 'Totori' but I changed my mind and decided to shoot Limpopo. The director of the video and my crew were not happy. The kicked against it but I stood my ground because I heard it loud and clear, "Shoot Limpopo". Some of them wanted to go back to Nigeria, but I didn't change my mind.  I insisted and after they shot Limpopo, it became a breakthrough for everybody around me.
You and your brother were raised in the ghetto in Lagos. You are now both rich and famous. But have you eaten this season's roast corn and pear? Do you regret that fame deprives people from some things?
Not yet [Laughs].I actually missed those days of being who I am on the streets because I was, as you said, raised in the ghetto. Sometimes, I miss my mama-put but I cannot do it forever. I take oka and ube (corn and pear) when I want to. You know, everybody including those still in the ghetto prays for progress; so that while I miss the life I had in the ghetto, I know it does not mean I want to live that life again. I mean I worked hard to get out of that situation. I won't say I regret, rather I'd give God the praise. God would not be happy with me if I regret it. To be famous is a blessing. Some people have money but they don't have fame.
How do you give back to Ajegungle?
I go there every now and then. In December, I took CNN to where I grew up. Where I was born, my schools and where we fetched water. I do go back there. Some of them do work with us in our other businesses away from music.
 Do you switch off your phones when you want to be alone?
I don't switch off my phone for any reason. I don't run away from people. I don't run away from problems, I face them. The fact that I am famous does not mean that I am different. We are all the same. The God that created A, created B, we are only designed in different ways. I am only favoured by God and I respect everybody around me. When I travel with my aids and people try to get close or take a photo with me, I allow them. I move around with security because the society is bad. Some people may hate you from afar and if they see you are alone, they may want to pick a fight. As a celebrity, you cannot be seen fighting in public no matter how strong you are.
It sounds as though fame is the only reason you can't throw a punch if attacked.
I can throw punch, of course. I am not completely gentle. We are still rough because we were bred in the ghetto. I am still an AJ (Ajegunle) boy. I look Ajebutter but I am not. But you get to point in your life you just know that you don't need violence.
How rich are you? B-Red has a N50m diamond chain. How much is yours?
Mine is not up to N50m, but they are real diamonds and they are very expensive.
Is it another reason you go out with security?
No. I can lose this chain and I won't mind. My life is more important.
How did you feel losing N1m to your manager in a bet?
I was very sad. I don't like betting. It was my second time of trying after many years and I lost. I didn't think I was going to lose. So, I felt so bad losing that bet. Barcelona messed up. I don't know if it was Messi that played that day or our Mercy Aigbe. They made me lose my money. I won't forgive them in a long time.