My mother woke us up with slaps, but I prayed for a wife like her —Ehigiamusoe, LAPO founder
Dr Godwin Esewie Ehigiamusoe is the founder of popular microfinance bank, Lift Above Poverty Organisation (LAPO). SEGUN KASALI makes him to tell his story.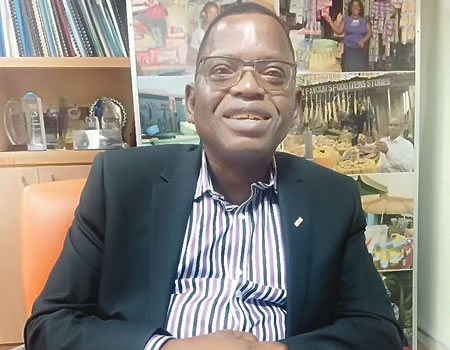 YOUR dad must have influenced you greatly
My early years' memory was around the fact I had a father who was hardworking and also religious. To a large extent, he influenced my outlook to life which is rooted in diligence, compassion for the people and service to God. I picked from these virtues because I believe that having faith in God leads to success. Faith has been a propelling factor in my life. I also believe in diligence and I have compassion for people, especially the underprivileged.  I was under 17 when he died. Everybody in the community knew that my father was not harsh, but was highly respected, even to the point of being feared. He was a preacher at the Christ Chosen Church in the community. I remember that at the end of every service, I would record the penny and shillings. At the end of the month, he was required to submit the collection to the headquarters. I remember he told me an incident when an elder of the church approached him to borrow from the collection promising to, at the end of the month when the collection would be submitted to the headquarters, return the money. My father told him he could not borrow God's money. For me, that was quite profound because it tells me you cannot misappropriate God's money. That was largely because of his high level of discipline.
What was his correction style?
He would just look at you and you got the message. He was a man of few words. At a time, it became clear that he was predictable in the sense that there were things he would expect us to do or not to do. We all looked up to him for guidance, with so much reverence.
Did traditional practices not collide with Christianity in your early years?
We were able to deal with that because we were conscious of the fact that we belonged to the church. When you looked at the community, we were so much at that time, and idol worshiping was common. For instance, towards the end of every year, there was this annual festival in Benin. It was more or less thanksgiving where they used kolanuts, coconuts and other things. There were also lots of prayers around that. They would do it from house to house in one particular evening. When they got to our house, they would pass by our house. We were not allowed to be part of the ceremony.
And your family wasn't punished for this?
Not at all. I am sure it was because they knew how principled and committed my dad was to God.
How would you describe your university days?
University life was interesting and that was when I formed what is LAPO today. Beyond my studies, I was actively involved in the union, not students union politics, but ideological arrangement. I belonged to an organisation that formed patriotic students. When I provided leadership, we organised symposia. I remember the one we had when a new lecturer in the Department of Political Science resumed. He was vibrant and outspoken. We invited him to be the guest speaker. At the end of this symposium, an elderly student from the same community came to me and said congratulations, but it is important to let you know that the problem of Nigeria is not usually put on the head, but on the shoulder.
Was mum also like dad?
They were quite complementary. My father was a person of few words, while my mother talked to us. My mother could also handle you physically. There was a time her grandchildren were around her and some of them were not behaving properly. I told them you are very lucky because I never saw myself behave this way when I was young. She would hold tightly to our ears. But my siblings and I are very proud that we went through that with our parents.
Was she ever physical with you?
So many times. One practice then in the community was you have to wake up early in the morning and go to the stream to fetch water. And you know during the harmattan period, it is always tempting to sleep and not wake up on time. She would give you some slaps for you to get up and do whatever you wanted to. I wished for a wife like my mother and I got it.
How did you meet your wife?
When I was working as a civil servant in the old Bendel State, I was posted to Ogwashi Ukwu, now in Delta State. I was the head of the Cooperative Department in the Ministry of Commerce and Industry. I had the responsibility of making sure that my staff, up to about 10 or so, were paid on a monthly basis. I delegated that responsibility of processing their payments to my immediate subordinate. But when the branch manager of New Nigerian Bank came to my office, she was distressed because they overpaid my colleague who would go to the bank, get the money and then pay the staff. They wanted me to intervene. I called my colleague, who denied the overpayment. It occurred to me then that I should tell him to see me, and so I told him to see me by 7.00 p.m. As he came to my room, I told him, 'go and return that money'. That was the only thing I said and he left. When he came back, he said 'yes. it is true that they overpaid.' Since the bank was close to my office, I went there to give them the news. They were happy because that would have led to someone being sacked. As I was leaving the accountant's office, a young lady passed by and I said hi. She replied with a smile. Then, I saw a brooch on her chest, 'With Jesus'. I asked her if she was a Christian? She said yes and left. In the evening while I was sitting at the front of my house, she was returning from work and we met again. That was how we got  close and later got married.
When did she agree to have a relationship with you?
Every morning, she would pass and we would talk. Then, I was ready to marry and she was equally ready to marry. When I completed my secondary school in 1976, I told my uncle that I would marry 10 years later, after my university education. I graduated in 1981.  It took some time to settle down eventually. So, I missed the mark by two years. I got married in 1988.
Is there anything she is trying to take away from you?
I have one addiction. I am addicted to reading, but what she complains of, and which my father did too, was that I am not very organised as regards where I put things. I remember one day that my father came into the room and saw my books scattered all over the place. The next thing he said was: 'how did they say you always take first position with this type of attitude?' My wife also complains of that.
What is that major ingredient you can point as sustaining your marriage?
My belief is that you should be able to lace your marriage with some sort of humour.
What gets you angry so easily?
Sloppy work. Very early, I used to be very agitated but gradually, I began to show some understanding. I used to be angry when people didn't do some things the way I expected. Later, I understand that people do not really do what you expect, but what you inspect.
In which of your children are you seeing yourself?
Almost all of them, but in different ways. There are some of them who respond to any form of injustice and try to query every situation. Some are also on the calm side. I see myself as an intellectual more than an intellectual businessman.
What do you think people have as a misconception about you?
Initially, people used to think I was arrogant. But that has gone away. I don't think there is a misconception about me anymore.
What is that thing you would have done differently?
If LAPO had not become what it is today, I would have regretted not being a writer because very early in life, I loved school. I remember that one of our teachers, one other person and myself were the first to get to school early. The second thing was that I love books. Wherever I went, you would see books. I do not pass any international airport without going to the bookstores. I read a lot of books. While still in the university, I was already writing for The Observer Newspapers in Benin. Another indicator is the fact that every time my English teacher gave us composition to write, and whenever she returned the marked scripts, she would come to me and say Godwin, I enjoyed your composition. She wanted me to take a career in the letters, but eventually I took another way.
What makes you cry when you remember?
The death of my father. This is because it was quite traumatic in the sense that he was sick and we were young. In December before he died, he called me and said it was clear that he was going to die, but he knew where he was going as a Christian but his agony was that he was leaving his children who were very young. I was under 17. Then I saw the world as tough and discovered that I had to be strong. I was also really afraid of failure.
What gives you joy?
When I put joy in the heart of the people. LAPO is big now. When I set it up, it was from my living room for one year. It was in my living room with about three staff members. Eventually, we increased the staff strength to 10 and the greatest time that gave me joy was the day that I would hand over their salaries to them. Today, we have close to 10,000 staff across the system. For me, it is when I am able to relieve somebody from something that has created much agony.
How do you relax?
By reading. If you give me a good book or magazine, I just read. Recently, I read three biographies at the same time— Segun Osoba, Ambassador Olu Sanu and Chief T.A. Akindele.