My man must share my passion for Nigeria, Africa —  Sandra Ajaja, tech enthusiast
Sandra Ajaja, a technology enthusiast and a social innovator, is the Founder of Fempower Initiative Africa. She was recently selected as a Young Leader at the European Development Days (EDD 2019) to be held in Belgium this month. In this interview by KINGSLEY ALUMONA, she speaks about women in technology and what she would do if she were given a billion naira.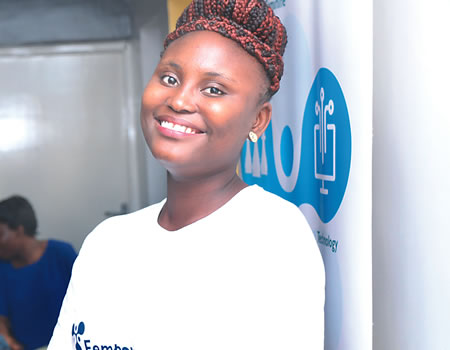 In what ways have your engineering and mini-MBA degree shaped your life and career?
I got an opportunity to study a mini-MBA course at the Lagos Business School. I've also been accepted for an upcoming fellowship program at the Accra Business School. All these have provided me with knowledge. Knowledge is power. The more one knows, the more impact one can make.  They have positioned me to access great opportunities and given me access to exceptional people who are doing amazing things.
How has your employment at Ingressive Capital been so far? And, what is your job description there?
I have actually moved on from Ingressive. My role at Ingressive was community management and development. I was responsible for scaling the Ingressive community and championing the company's women-focused initiatives.
Briefly tell us what a startup is. Can someone who does not have formal education and financial means qualify to build a startup?
A startup is a company in its early stages of development, which capitalising upon a perceived market demand by developing a viable product, service or platform. Well, education is relative. If you are able to grind yourself with the necessary business knowledge and entrepreneurial skills, you are good to go. Also, there are other forms of raising capital as long as you have a viable product. Lack of personal finance should not necessarily be a stumbling block.
How are the startups you helped to develop faring in the Nigerian current economic challenges? And, if you were given a billion naira, in what ways would you use it to boost the economy?
They are faring pretty well. The key to survival in the current market climate, is figuring out a way to operate in the least capital-intensive structure, while you consolidate your products/services and understand your market. If I were given a billion naira, I would invest financially in more startups, particularly women-owned businesses, leveraging on technology. I would also create a fellowship program where people from all over the world can come to learn about building social businesses in Africa.
Do you think patriarchy dominance has done more harm than good in Nigerian corporate space? What do you think women should do to secure more niches in the highly competitive corporate world?
Nigeria is a patriarchal society just like other African countries. There is also gender inequality as a result of our belief system. I think the best way to liberate women from these shackles is to set up a platform, which will reconfirm women's mindset about their place in the society. The way it is now, it looks as if women have accepted the position of 'second-class citizen' allotted to them by the society. The first thing is to educate them on their rights and to expose them to the fact that they have equal opportunities with men. This sensitisation will incorporate confidence in women and give them courage to venture into leadership and technology.
If you were the Minister of Labour and Employment, what would you do to increase women participation in job placement and creation?
l will establish a forum for women to build capacity in their choices of passion and career. I would also create an incubator to support women entrepreneurs, curate programs that will stir women's interest in politics, leadership and technology. I believe diversity in leadership is the way forward.
You seem to be fond of the phrase 'African tech ecosystem.' What does it mean? And, why do you regard yourself as a social innovator?
Technology ecosystem is a fancy name that embraces many different roles and opportunities in the technology space. It embraces key players that include designers, entrepreneurs, investors, digital marketers, consumers… people involved in the technology sector. Social innovation is the process of deploying effective solutions to social challenges. I'm someone who likes using creative problem-solving skills to proffer solutions to societal problems.
What motivated you to found Fempower Initiative Africa?
I started my social enterprise, Fempower Initiative Africa, at age 21. I remember the difficulty I faced as a student of Electrical and Electronics Engineering. I was one of four females in a class of hundred males. The entire system did not favour me and other female students. This cost me my dream of graduating magna cum laude. So, I decided to fight this gender inequality in Science, Technology and Engineering in Nigeria. If there were more women in STEM, maybe the school would have seen the need to provide more opportunities for us. The need to create a platform like Fempower Africa was born in those moments of frustration. Immediately after school, I began by teaching STEM education to girls in secondary schools which has evolved into what it is now—a community of over 20,000 women.
Currently, we are focused on driving conversations and advocacy around gender equality, diversity in workplace and technology, creating more investment opportunities and building capacity for women to ensure that more women become better entrepreneurs and leaders. We provide internship opportunities for women we train, whilst providing female-technical talent for technology startups rising out of the continent. We get funding through grants and partnership with other organisations.
At the recently-concluded 2019 African Women in Tech Conference in Lagos, you were in the panel 'Update your Skills—HR at a Tech Company.' What are the major highlights of the panel?
The highlights are as follows: Do not just go out there and climb the ladder of success. Instead, redefine success because the world desperately needs it. It is not about money. Stay connected to the essence of who you are. Find a problem you are genuinely passionate about and figure out how you can integrate technology into it. Learn to reach out to other people, to pause to wonder, and to connect to that place from which everything is possible. Narrow in on one goal that inspires and challenges you.
What are your greatest challenges in the Nigerian corporate space? And, what do you like doing at your leisure?
In my opinion, Nigeria's problem has always been leadership. Accountable and passionate leaders are scarce. These have been the root cause of the numerous problems hampering the development of our country. For my leisure, I like surfing the internet, reading, applying for opportunities, taking online courses and reading.
What are the three qualities you love in a man? Who is your mentor, and why?
I like a man that pursues his dream fervently, goal-oriented and passionate about God.  I also like a man who shares my passion for Nigeria and Africa. My mentor is Oprah Winfrey. She is an embodiment of all I'm aspiring to become. She has made remarkable impact and touched the lives of people all over the world, inspiring young people to live their dreams—that is my definition of success, that other people should find their way because you worked hard at finding yours.
What advice do you have for young people, especially the female ones, who are aspiring to be like you?
My advice to every young person aspiring to be successful is to work hard at figuring what they are passionate about and channelling it into solving a particular problem and impacting society positively. They should be deliberate about what they want and go for it, rather than accept anything life offers. They should learn how to create opportunities for themselves and also maximise opportunities that come their way.