Bimbo Esho is the Managing Director of Evergreen Music Company, Lagos, the largest collectors of indigenous African music. A collector of music for over 25 years, she speaks in this interview with Deputy Editor, DAPO FALADE, on her interests, ranging from music to branding, design and fashion.
Ariya Eko has come and gone, what is the next thing in the pipeline?
After Ariya Eko, we have some events coming in the year. We want to introduce the concept of Ariya Eko to some of the other states in the country so that it is going to be like a platform for different indigenous musicians, coupled with some other events that we also have in the pipeline for some other individual musicians to celebrate their landmark achievements and all that.
How were you able to gather together the different artistes that performed under one roof at the event?
Well, as one that has been in the background of music promotion and collection over the years, you will find out that you are actually close to most of these artistes. So, it is not all about looking for them and bringing them under a roof. Rather, it is like you are close to them and some of them have been in the background for about 20 years or more and people don't really know them. But for people like us who have taste for good music that have contents and with good lyrics, we are able to know who they are. For a few of them that are not based in Lagos, we had to mobilise them to come down from wherever they are. In all, it is about our relationship over the years with a lot of these musicians. So, having such a relationship made it very easy to sell the idea to them that it is time for us to promote our heritage and to show the world what we really are made of. Of course, a lot of them also appreciate such efforts.
You have been in music promotion for more than 20 years now, what is the motivation?
I will say forever, but I will say it has been over 25 years. The motivation is an innate thing. It is rare for you to have passion for certain things, like we all know. We have people that have passion for different things: some people have passion for music; some for arts; some for medicine and different sectors. For someone like me, the motivation is innate right from my youth but I became more passionate when I have a father that started collecting music at the age of 12. It is strange to have such an enigma doing such thing and when you became an adult and you see such things, you are naturally addicted to the act too. So, for me, the motivation is also my environment which is my father being a music collector and I listened to all the songs and, over time, became more interested in it. I did further researches to understand it. That was where it all started from.
Having got engrossed in music at a very tender age, it means you have never applied for a job anywhere after your tertiary education…
When I left school, I can say I have always been self-reliant. I have always had that mindset way back from school that once I am done, I will go into the creative world and what is creative? I have deep creative instinct and I never saw myself as someone that is going to get a white-collar job. I am someone that is independent and like somebody that was going to create something out of nothing. Looking at that background, I did my own things myself; I didn't look for a job. I do printing, branding, fashion and several things along the creative belt.
Music also is part of it and it is stronger than the other ones I do and it is one of the things that I do effortlessly and I am passionate about it. We also have to look at what we can do out of those passions and that is exactly what we are doing today and that is why I am into music.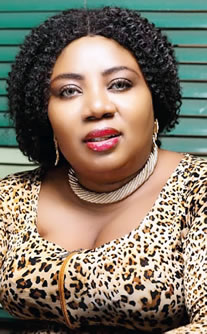 You said you are also into fashion, do you make clothes?
What I mean by being into fashion is that I have a very strong ability to design things as a graphic artist. I can design things and put colours together to match. Looking at that, it is still the same thing that I have been trying to explain. For people that have in-born instincts, you can move in different professions. For the creative part of me, which has to do with fashion, you can easily know what to wear, what can fit some people. I broadened it and do creative for a lot of corporate organisations, like branded uniforms; I mean dressed down uniforms that they want to use for publicity and promotion. This is part of I do as a brand expert. Of course, I also do branded uniforms, fez caps an all other for politicians who go for campaigns. Fashion is part of the general branding that I do.
How are you managing to stay afloat and break even in a hostile economic environment like ours?
Well, in our business, like I said, we are not only doing music promotion. We put events together and when we do that, we get sponsors and people that will support such events. Of course, we also have our music that we sell. Even in the hostile environment, we sell CDs, which is almost fast fading out now, but we have other strategies like going online and also trying to get bands for artistes, among so many other things. When you put all these things together, you will see that it is not all about the song music is so wide: you have music; you have artistes; you have their managers; you have concerts and promotions and a lot of things and these are all-encompassing.
The hostility of the environment cannot affect the art in which we choose because it is an everyday thing; everybody will like to get a band. You can easily get a musician; you can easily get a band for anybody that is doing one activity or the other; you can get artistes for people for campaign purposes; you can get artistes for concerts. So we are always busy and, of course, we can get the resources from all these activities. It is a continuous process. The only thing that the hostile economic environment has affected is the sale of CDs which is now gradually going into extinction. But even at that, we have online platforms where most of the music are being sold and distributed.
There are lots of temptations in the world of entertainment. You are a beautiful woman, how do you resist advances from men?
Like every other lady, you manage male advances. Coming from a Christian background and somebody that has a very strong foundation of a father that is well respected in the society and a family that is hold in a high esteem in the society, you know what is expected of you as a young lady, a beautiful woman and all that. Once your expectations also come into play, naturally everything else works together for good. You do what you have to do.
I don't get easily distracted by advances from men because I am very serious-minded and I know what my target is. I also know the kind of person that can fit into my nature and my private life and also support what I am doing. It is far beyond all the attraction and advances from men. Those are always things that ladies like us will always meet along the line. But like I said, coming from my background, I have to do it with all cautions.
You studied Anthropology at the University of Ibadan, what informed that choice of course of study?
Like every other person that goes to school for a purpose, my choice was not Anthropology. I had interest in Medicine and Law. I had to go through the normal process JAMB. I grew with the Nigerian system. I didn't meet up with the cut-off point but I met up with other medical-related courses but my preference was core Medicine. Later, I decided to do another course that was probably into human nature due to my own nature. Okay, Medicine did not work, I now settled for Anthropology which I later really enjoyed. You know, Medicine is all about taking care of humans and the choice of Anthropology naturally came in and fortunately for me, I found it more interesting.
How far have your passion and job taken you?
It has taken me very far because, though I have not been too much in the public eye, out there, a lot of people have been observing and watching from the corners of their homes. I have not been in the public eye, but a lot of people have been watching over the years. So, I can say that the job which I have been doing over the years, which is music, has been able to touch many hearts. Let me put it into different sectors as it were. In the educational sector, you can say that a lot of students see us as people that they come to for research and all that. So, you can see that some people know that we something they need. Of course, in the music sector, you will find out that many artistes believe that we can do a lot of things for them to put them on a better platform. For example, a lot of artistes come and they want us to do one thing or the other to revive their music career, package and keep their music for posterity and preservation.
Talking about the individuals, you find out that a lot of music lovers all over the world, have been looking for some particular kind of music and they will find out that we seem to be a kind of god they have been looking; the healer that has all they have been looking for all over the years. That means you are on the right track and that you are communicating with people; people appreciate what you are doing. So, I can say my passion has taken me very wide in that regard.
We are in a male-dominated society, have you ever felt threatened by men in the course of your career?
For the kind of nature that I have, I turn challenges to nothing and that is one of my strengths. Nothing comes to me as a threat. Maybe that has to do with the type of course I read while in school. Anthropology has to do with human nature: you will first understand why the person is doing what he or she is doing; you probably reach a consensus with the person and sit down with him or her and ask questions: why are you doing this?; why is it so?
Of course, even in the music industry that one finds oneself, you cannot avoid antagonism; you cannot avoid enmity; you cannot avoid some very deep negative things. But what is key is that you just put your mind on your goals and set a target. All those ones are distractions and I am too strong to be distracted. I don't get distracted easily. All those ones are minor things. Nobody can intimidate me. Rather than do that, I will ask questions that why is it so and what do you want. If you can answer the questions, then I know that we are on course. So, we resolve and that is what an anthropologist does: you study people and know why they are doing some funny and certain things: is it a behavioural or psychological issue? This is what makes human.