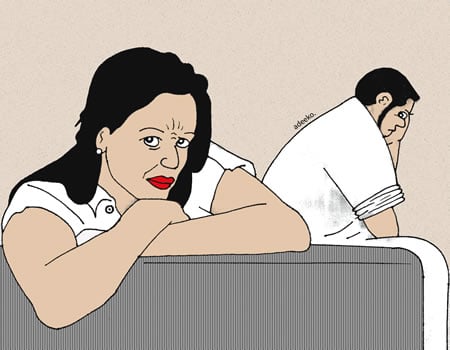 A woman, Ganiyat Lawal,  has dragged her husband, Isiaka Lawal before Oja Oba/Mapo Court C Customary Court, Mapo, Ibadan, Oyo State on the basis of his newly found faith.
Ganiyat in her divorce suit accused her husband of being a Muslim fanatic and that he has subjected her to inhuman treatment .thus making life difficult for her.
She, therefore, prayed the court to put an end to their relationship and grant her custody of their two children.
"I'm tired of my marriage and my husband's absurd lifestyle since he embraced a new faith.
"His belief as a Muslim has changed and he behaves weird since he became a member of a new Islamic sect known as Jabata  AruBeji.
"There has been a strain in our relationship while our marriage is gradually collapsing since he joined this new sect.
"My lord, my husband told me that his new faith forbids that we eat with spoon and thus threw away all the spoons in the house. I've been eating with my hands since then and even drink garri with bare hands.
"He instructed me and our children never to greet anyone again, our parents included.  He added that he must never find us kneeling or prostrating to greet people again.
"Any time he wants to pray, he leaves for a deserted place and can be there for hours.
"He again cancelled every form of celebration in the house and warned us never to join others in such, "she said.
"My lord, he never ceases to beat me. He has nearly succeeded in maiming me as a result of his frequent beatings.  He beats me mercilessly whenever I complain of his irrational ways.
He has also shifted his responsibility as breadwinner to me. I feed and clothe our children and also train them in school.  He's not interested in their education and as such doesn't know what classes they are, how much they are paying as school fees and the kind of textbooks they are using.
"I go in tattered clothes and look wretched because I spend my mearge salary running the home.
"The last time we had a misunderstanding, he threw my belongings out after nearly snuffing life out of me with his beatings.
"My lord, I've had enough of my husband's non conforming lifestyle and inhuman behaviour,   please separate us, "she stated.
"It's true I ordered her and our children never to greet, kneel or prostrate to anyone, but I never instructed her to eat with her bare hands. She exaggerated and magnified the whole issue,   "Isiaka told the court.
"I have told her that she either abides with the rules and regulations of my new faith or leave my home.  She's free to leave if she so wishes, but I want the court to grant me custody of our children. She has been keeping them from me for some time now, "he stated.
Giving his judgment, the court president, Chief Ademola Odunade observed that the relationship between the duo had broken down irretrievably..
Ruling, Odunade dissolved their union and granted custody of their children to the plaintiff.
He mandated the defendant to be responsible for their children's welfare.
He was ordered to pay N10, 000 as their children's feeding allowance on monthly basis and see to their education and health issues.
ALSO READ: 2019: Gana unveils Falae led interim NCW of SDP in Abuja
---
---