My husband tied down my fortune with padlock, made my business nose-dive through black soap, woman tells court
•She's not appreciative of me, I always stand as her guarantor 'cos I love her —Man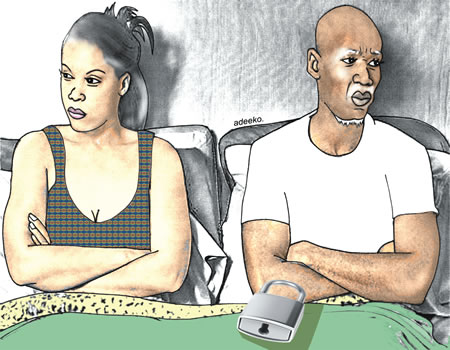 Oja Oba/Mapo Court C Customary Court, Mapo, Ibadan, Oyo State, has put an end to the 14-year-old relationship between a woman, Bose Bella and her husband, Adekola Bella.
Bose who dragged her husband to court accused him of battery. The plaintiff added that he was diabolic and in the habit of threatening him.
Bose prayed the court to dissolve their wedlock in order to save her life.
Adekola denied all the allegations brought against him by his wife and refused to admit to divorce. The defendant told the court he still love his wife.
The court president, Chief Ademola Odunade, after hearing the evidence of both parties stated that it was necessary that their union be dissolved since it involved threat to life.
Giving his judgment, Odunade dissolved their union and ordered the defendant to pay the plaintiff the sum of N3, 000 to pack her belongings from his house.
Both parties were advised to maintain peace.
"My lord, I appeal to this honourable court this day to dissolve my union to my husband. I don't wish to stay under the same roof with him a minute longer, "Bose said.
"I have never met a man as irresponsible as my husband. He doesn't love me and therefore shows no affection towards me. He treats me like a part of the furniture in the house.
"He complains and raises argument over trivial issues and will end up beating me. He will pounce on me and hit me with anything within his reach before descending on me with heavy blows. He will only be satisfied when he sees that I'm soaked in blood.
"I spend my meager income buying drugs and treating wounds as a result of his heavy beatings, "she added.
"Adekola is diabolic. He acts strange and on many occasions looks weird. This puts fear in me.
"Any time we fight, he will bring out different types of charms and threaten to run me mad.
"He gave me black soap to wash my hands and my business immediately nose-dived.
"My lord, he has a padlock he uses in tying down fortune. I discovered this padlock where he kept it and seized it. Here is the padlock. (She presented it before the court as evidence),  "Bose told the court.
She further told the court that, "He forces me to sign an agreement whenever he gives me money to run my business and will constantly hold me in bondage through this.
"My lord, it's wise I leave my husband now before he makes a mess of my life. I'm packing my belongings out of his house today, "she concluded.
Adekola, giving his evidence, said:"My lord, I still love my wife and do care for her. I don't know what else to do to satisfy her.
"I don't agree that she divorces me."
"I go out of my way to please and make her happy but she's never appreciative of all that I do.
"I'm not diabolic as she stated and never gave her black soap to wash her hands.  She lied against me.
"She has failed to tell the court I always stand as her guarantor any time she borrows money. I wouldn't have done that if I don't love her.
"My lord, I know nothing about the padlock she brought before this honourable court. Her plan is to blackmail me, "Adekola told the court.
Ruling after he had heard both parties, the court president, Chief Ademola Odunade dissolved their union.
He was directed to pay the plaintiff the sum of N3, 000 to pack her belongings from his home.