'My husband stopped me from attending church, said he no longer loves me after I fasted, prayed for his breakthrough'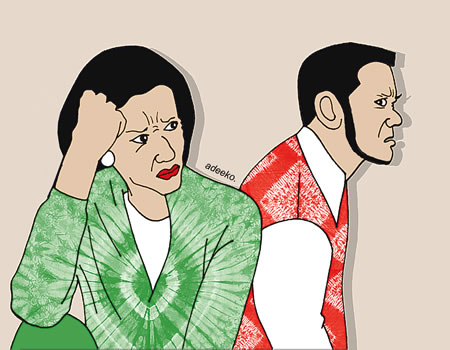 A woman, Hannah Alao, has told  Oja Oba/Mapo Court C Customary Court, Mapo, Ibadan, Oyo State, her mind was made up on walking out of her 26-year-old  marriage.
Hannah alleged that her husband had stopped being passionate about their relationship. She added that he had almost turned her into a pauper because he was always destroying her property.
The plaintiff further prayed the court to grant her custody of all their children.
Olaide did not show up in court after being served a court summon twice.
"My lord, my heart is  shut against my husband, all I'm in court for today is to make our divorce documented and legal.
"For the twenty-six years of our marriage, I stuck to my husband through thick and thin.  I constantly played the role of an obedient and submissive wife and gave my all for our marriage to work.
"For years I fasted and prayed for his breakthrough. I never missed church service and he never for once stood against my attending church service.
"He was a dotting husband throughout all this period until he had a breakthrough, then he started misbehaving.
"He told me early one morning I should cease from attending church but refused to explain his reason for such a decision.
"He started finding fault in all that I do and was always complaining. He will nag all day long and end up beating me.
"He won't stop at beating me, but will also tear my clothes into shreds and leave me naked.
"Not satisfied that he has humiliated and disgraced me, he will go for my property and also my goods and destroy them.
"I've been the one providing the major share of the fund used in running the home, but rather than heave a sigh of relief after his breakthrough, he made life tougher for me.
"He stopped giving the stipend he was initially giving me and never cared to know how the children and I are surviving.
"He likewise showed disinterest in our children's education. I bear the burden of paying their fees.
"My lord, he woke up one day and told me he was no more interested in our marriage and asked me to move out of his house. He became hostile and made life difficult for me and this in addition to the regular beatings.
"I nurse aches and pains as a result of his beatings and have become a regular face at the hospital.
"My lord, it's better living alone and be at peace than living with a man who can snuff life out of me at any moment," she stated.
The court president, Chief Ademola Odunade, reacting to the evidence given by the plaintiff stated that their marriage was obviously void of love. According to him, the non appearance of the defendant in court after having being served court summons showed he was not interested in saving his marriage.
Ruling, Odunade dissolved their marriage.  He ordered that the defendant be served a copy of the court judgment.