My husband refuses to work, lives in my house, destroys my property anytime we fight, woman tells court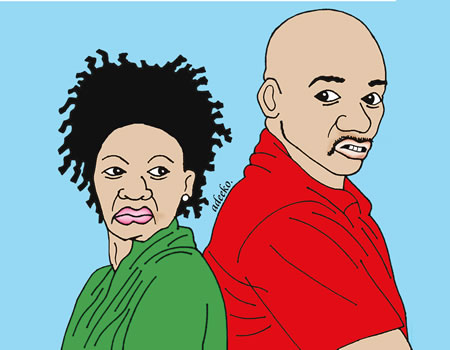 Having heard the plaintiff and since the defendant has failed to come to court despite being served court summons and also a court hearing twice, an attitude which showed he was no longer interested in his marriage and not ready to save it, the court ruled:
"The marriage between Rebecca Owoade and Adetunji Owoade is hereby dissolved.
"The plaintiff is hereby granted custody of the only child in their marriage while the defendant should be responsible for his wellbeing, education and health care given priority.
"He should pay N5, 000 monthly through the court as their child's feeding allowance.
"A copy of the judgment should be served the defendant. Both are advised to maintain peace."
This was the judgment given by the court president, Oja Oba/ Mapo Court C Customary Court, Mapo, Ibadan, Oyo State, Chief Ademola Odunade, on the divorce case brought before it by a woman, Rebecca Owoade against her husband, Adetunji Owoade.
Rebecca who approached the court stated that her husband was lazy, troublesome and destructive. She added that he makes life difficult and unbearable for her.
She, therefore, implored the court to dissolve their union. According to her, she wants to start her life all over again.
Adetunji had thrice rebuffed the court's order to appear before it.
Rebecca in her evidence said:"My lord, my husband woke up one faithful morning and accused me of murder. I was astonished because I have never held a knife or gun against anyone in my whole life. Asking him what prompted such accusation, he told me he dreamt that I killed him.
"Since then, hell has been let loose in our home. He reads meaning into all that I do and raises argument. I have tried hard for long to tolerate him but decided to come to court because my patience is running out.
"My husband goes irate over trivial issues and when he's in this state, he destroys my property.
"I single-handedly built our house; he didn't contribute a dime towards it. This makes it easy for him to destroy items like doors, windows and the furniture inside it.
"My lord, my husband is lazy and has failed to make hay when the sun shone. He's never ready to work. I leave him sleeping when going to work in the morning and meet him still in bed at my return. His normal routine is to wake up, eat whatever I prepare through my hard earned money, loaf around in the neighbourhood and go back to sleep.
"I have complained of his lackadaisical lifestyle time and again, but he has refused to change. I went further to report him to his parents who counseled him, but he has, likewise, turned deaf ears to them.
"He left home a month ago and started sleeping in a nearby church. There, he gave them the impression that I drove him out and thus soiled my name.
"My lord, I'm no more interested in my husband. I'm tired of feeding, clothing and housing a man who has turned himself into a nonentity as a result of his lazy nature.
"I want an end to our wedlock in this court today, "the plaintiff insisted.