'My husband pushed me into gutter, left deep cut on my head for accusing his 10th wife of being fetish'
•I paid N7,000 for her bail after fighting her landlady; told her I no longer love her —Man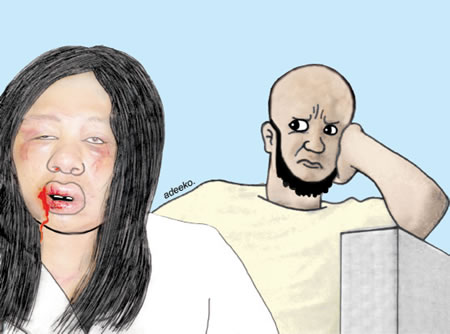 A man, Wasiu Adeyemi has dragged his wife, Rukayat Adeyemi to court seeking that it dissolves their two-year-old union.
Wasiu had sought for divorce on the accounts of stubbornness, disobedience and constant fight by his wife.
The plaintiff further prayed the court if his prayer was answered to instruct the defendant to allow him pack his belongings from her house.
Rukayat, who initially stood against divorce, finally agreed to it.
Wasiu, giving his evidence stated that:"My lord, I have lost my rest since I got married to Rukayat.
"Rukayat is undisciplined and unruly. She comes to my place of work to fight me almost every day. She has turned me into a source of ridicule before all. The last time she came to fight me, she held my cloth and almost tore it. She unfortunately slipped and fell into the gutter while I was trying to release myself from her grip. She had a deep cut on her fore head and upper lip. I had to rush her to the hospital where she had a suture.
"My lord, her landlady arrested her with the police and she was locked up as a result of her troublesome nature. Rukayat has a caustic tongue; she abused her aged landlady who had just lost her only child and spite her with the tragic incident. I got her bail at seven thousand naira.
"Her landlady gave her a quit notice after she was released and I had to source for money for another accommodation for her.
"I spend four days in a week with her in her new apartment and therefore have some of my belongings with her. Despite doing my best to make her happy, all I get from her is stress and unrest.
Sadiya Farouq, Humanitarian minister, disowns fake Twitter account
"I got fed up with her and stopped visiting her. She called to ask if I was still interested in her and I answered no. She told me straightaway she was coming to give me hell at my office and made real her threat. She came, fought me and disrupted my activities for the day.
"This prompted my coming to court to sue for divorce. My lord, she gave the court bailiff who brought the court summon hell. She insulted him. Rukayat pretended to be an illiterate and told the bailiff she couldn't read what was written on the paper. My lord, it took a lot of efforts to make her appear before this honourable court," "Wasiu stated.
"Rukayat has pushed me to the wall. I've had enough of her. I earnestly pray for divorce," he concluded.
"My lord, despite being legally married to Wasiu, he treats me like his concubine. He built two houses but refused that I lived in any of them. He instead rented a house for me and exposed me to constant harassment from my landlady.
"He warned me from the onset of our marriage never to visit him in any of the two houses. According to him, if I wanted his attention I should come to his office and this I adhered to.
"His mother also insisted I mustn't come to her house unless I'm pregnant. She told me Wasiu's lifestyle has become an embarrassment to her. Wasiu, she added brings to her home different women whom he calls his wives.
"My husband insisted I rent another apartment at Joyce B area when my landlord threw me out. The apartments I saw were at the rate of N60, 000 per annum but he gave me just N30, 000. When I explained to him, he told me to source for the balance. I moved to my brother's place since I couldn't provide the balance and I had nowhere to rest my head.
"My lord, Wasiu took another wife who is his tenth and brought her into one of his two houses while he made me face humiliation from a landlady despite being the legal wife.
"I was informed of the attempt made by his new wife to kill me.               She took my name to an alfa for diabolic purpose. This alfa secretly informed me of her mission. I reported her to Wasiu who instead of getting to the root of the matter took sides with her.
"He beat me mercilessly the day I went to present the issue before him. I lost my balance while he was punching me and fell into the gutter. I had a deep cut on my forehead and upper lip and was rushed to the hospital where I was treated.
"My lord, I've not gotten over the incidence. I'm still nursing internal injury till date, "she said.
Giving his judgment, Chief Ademola Odunade observed that their relationship had broken down irrevocably.
Ruling, he dissolved their wedlock.
Odunade ordered the defendant to allow the plaintiff pack his belongings from her house with the aid of a court bailiff.
Both parties were urged to maintain peace.