'My father was suspected to be Hb AS but he refused genotype test till death'
Mrs Atinuke Shittu Adeleye studied Religion and Microbiology from Adventist Seminary of West Africa now Babcock University), Ilishan-Remo. In this interview with the Sickle Cell Foundatiion she speaks about her experience living with Sickle Cell. Excerpts: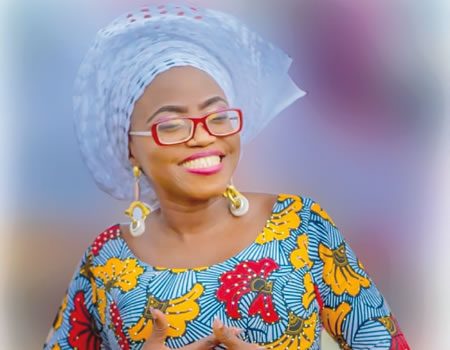 We are aware that you run your own business. Can you tell us about your career and how you came to establish your own company?
I started out in October, 1999 as a Client Service Executive at TDT Colour Laboratories, Kofo Abayomi, Apapa.  The job entailed marketing the services of the digital separation section of the company.  Actually, I functioned in so many capacities.  The owner of the business was my mother's classmate at school and since I needed a job, I was offered one. I left in 2004 to join O' La Kleen, an industrial cleaning outfit, as Head of Department of Marketing.  Two years later, I became Marketing Executive at Ship Shape Cleaners Limited and was promoted to General Manager before leaving the company.  In 2011, I started my own company – Exodus Cleaners Limited.
Marketing is very demanding not to mention running a company.  How have you been able to cope?
I am very mindful of what is happening to my body at any time.  Even when I was a marketer, moving up and down, I was always careful to take my drugs with me.  My hand bag was a medicine box of some sort.  As soon as I felt any weakness, I would take my drugs.  This was the reason I was able to maintain good health; and because of this, many of my bosses were unaware of my HB SS status.
When did you first learn about your status?
I got to know about my status at the age of 10.  Prior to this time, my mother believed I was HB AS.
And what informed that belief?
This was what she was told at the hospital when she gave birth to me.  Circumstances, however, brought my true genotype to light.  When I was 10, I fell from a swing while playing and dislocated my arm. There was a swelling which caused me a lot of pain.  After my arm healed, I continued to be in pain.  Each time I complained, my father was convinced that it was because I had had another fall and would only give me pain killers if I owned up to falling down.  Eventually, it became apparent that there was more to the pains and it was then that I was brought to the National Sickle Cell Centre for a genotype test.  The test revealed my genotype status to be Hb SS!
That must have been a surprise to your parents.  How did they take it?
My mum was not totally surprised because her genotype was Hb SC and my dad's was suspected to be Hb AS.  However, when my test results came out, my dad was asked to do his own test for confirmation.  He stoutly refused until death.
How did having SCD affect you at school and at home while you were growing up?
At school I was stigmatised.  I was seen as weak.  I really wished to be treated like others, but I was always spared beatings even when the whole class was punished for misbehaving.  I didn't like this at all.  I wasn't even allowed to do sports.  I had a friend, Miss Mary Okobiemen, who also had SCD.  She sat next to me in class and we're both exempted from social activities and physical education.  We supported each other, especially when one of us was experiencing a crisis.  My classmates used to call me Headmistress' and 'Old woman'.  I often stood in front of the mirror to look at myself and I would cry.  I recollect that these crises episodes tended to come particularly just before exams.  Anxiety was usually the trigger and because of this I almost always ended up writing exams at a later date, all alone.
How did your family cope?
My siblings had me to thank for ruining many social outings for them.  Sometimes we would be dressed to go to a party and then I would fall ill.  Everyone would have to stay home and take care of me.  This caused a lot of resentment since they had to take turns to stay with me in hospital.  My sisters perceived me as weak and oftentimes tried to usurp my position as first born because they felt that they were bigger and stronger.  In the end, I put a stop to this when I got into fisticuffs with one of my siblings.  I won the fight.  Even my mum approved, although she quickly gave me some pain killers to ward off a crisis.
What was your attitude to your situation?
I wanted to do everything other normal people did.  I was placed on a diet, and beans were regular on my diet. I hated beans, by the way.  And crises occurred mostly at night.  As soon as I was in a crisis the social activity of the family became destabilised.
Being affected by SCD almost caused my father to lose his job.  This was because I was frequently hospitalised at the clinic where he worked.  Luckily, a staff of the clinic defended the costs incurred by making the case that other family members rarely used the facility and so the costs would even out.  Notwithstanding, my mum had to go for some medical training where she was taught how to administer injections and set up drip lines.  The training that she attended meant that my father's job was no longer in jeopardy as I did not need to be admitted as often as before.
You mentioned the fact that you were not allowed to participate in sports at school. What are your hobbies?
My hobbies are counselling, cooking and listening to music.
How did you meet your husband and did you have a long courtship?
I was already working at TDT when I met the man who would become my husband: Apostle Jide Adeleye.  I was 23 years old then and we met at a fellowship tagged 'The Professionals'.  At the time, I lived with a friend, Marcella, at 1004 Housing Estate, Victoria Island.  This was in 1999.  My future husband told me that the first time that he set his eyes on me the Holy Spirit told him that I was to become his wife.  Within a fortnight of meeting me, he made me Treasurer of the Fellowship.  I realised much later that it was a pretext for him to come over to the house to see me every week.
Any children and how did you cope with pregnancy?
It was after we got married on my 25th birthday and I became pregnant that I started having crisis episodes.  It was then that my husband was compelled to tell his family.  His mother threw herself on the floor.  "Jide ti pa mi o!" (Jide has killed me o!), she wailed.
Fortunately, I was able to carry four pregnancies to term. However, sadly, my first child, Daniel, died on 22nd November, 2003.  Of the three remaining children – Happiness, Tobi and Emmanuel – my most difficult pregnancy was with Tobi.  I had a crisis almost every day until he was born.  I experienced inflammation of my kidneys and spleen.  My PCV was low and I was hospitalised for a month.  It's all written down in my book.
You have written a book? What is the title?
The title is "Died At 25 Will Be Buried At 90 and Beyond".As I mentioned earlier, I used to suffer a lot of crises and I gathered from my doctor that I would not live beyond 25 years.  Then, when I was about 27 or 28, I heard of someone, who was HB SS like me, who had just celebrated his 40th birthday.  It was then that I made a vow to God that if I reached the age of 40, I would write a book to tell my story to encourage others and glorify God.
We hear you have started a Sickle Cell Champions Club.  What made you think of that?
At age 40, I really felt fulfilled about my health status.  On my birthday, I had other HB SS friends, younger and older than me, in attendance.  An inspiration came to me to start this club.  At first, it was for 40 years old people and above but after much consideration we agreed to make it 30 years and above.
But that excludes those who are adults but less than 30 years old.
Not really.  Those who are below 30 years are welcome.  However while those who are over 30 years are called voting members, those from age 18 to 29 are non-voting members with their spouses and relatives.  It is expected to be an elite club.
What are the objectives of the Sickle Cell Champions?
Our main objective is to showcase to the world that we can live a normal life and be successful as well.  It's also an avenue to help other patients where necessary.  We plan to hold Awareness and Solidarity Tours and Retreats periodically.  It's a fully registered organisation now and has a guiding Constitution.  It's a support group to work ourselves through all emotional, psychological and medical lows that bring a disadvantaged feeling vis-a-vis normal people.  We also want to tell the world we can be as successful as anybody.  It's only a disorder that can be managed effectively.  If we've Yoruba Club, Rotary Club, Island Club, Metropolitan Club, then why not Sickle Cell Champions Club?!
What would you say to others like you?
Eni ti Olorun o pa, o ku (If God says it's not time to die, it's not time to die).  All those affected by SCD should stick to the rules. For instance, cover up when it is cold, drink enough water, etc.  Accept your fate and be close to God.