My ex-deputy, others unable to cope with my pace ―Abubakar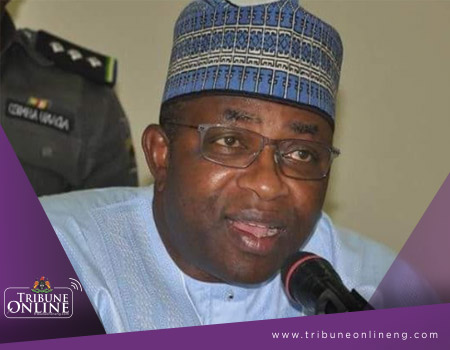 BAUCHI Governor, Mohammed Abubakar, has said that his former deputy, Nuhu Gidado and others who have resigned from his government including former Commissioner of Budget and Planning, Shehu Ningi, could not keep up with his pace of change.
The governor met with President Muhammadu Buhari on Friday after which he told State House correspondents that he had come to engender change in the state but some people had been unable to keep up with it.
Gidado resigned from his post on Wednesday while Ningi resigned as a commissioner at the end of last year.
Asked why people were leaving his cabinet, Governor Abubakar said: "Because I have come to Bauchi state to endanger change and change is very very difficult for people to accept.
"People are used to a certain way of doing business and I have come to change that way of doing business.
Because that way was destroying Bauchi State.
"So, we had to put a stop to it, we had to bring Bauchi state out of the dungeon.
"I give people a chance and if you think you can go at my pace you can stay and if you can't go at my pace you resign."
When asked whether the deputy resigned because he couldn't go at his pace and whether there may be more resignations, he responded: "I don't know."
When reminded of the reason given by the spokesman of the former deputy governor, which was that he was not being carried along, Mohammed stated: "I see. I think he is wrong. Go to the House of Assembly and check. I went on official leave twice since I took over and each time I transmitted a letter from to the House of Assembly making him the acting governor of Bauchi.
"Moreover, I gave him the most important ministry, ministry of education where I have been allocating the largest share of the budget of Bauchi state since 2008. That should answer your question."
The governor explained that the letter of resignation written by the former deputy governor indicated that there was nothing wrong between both of them.
He maintained: "What transpired is in the letter of the deputy and I think people should read that letter. Read the entire letter and you will see that there was nothing bad that transpired between.
"His final paragraph is that he remains loyal to his leader and his brother.
ALSO READ: Bauchi Gov accepts resignation of Deputy, wishes him well
"In my response, I eulogised him and wished him the best in his future endeavour and assured him of the support of the good people of Bauchi State. There was no problem whatsoever."
On why it was it easy for him to accept his resignation, Abubakar said: "The word resignation connotes a will on the part of the person who has offered, he offered his letter willingly and there is no way you can force him to accept an employment when the time has come for him to look elsewhere."
Speaking more on their relationship, the governor averred: "We had the most fantastic working relationship, in his words and you can ask him, he has said several times that he is the most pampered deputy governor in Nigeria."