Oba Adedokun Omoniyi Abolarin, teacher, political scientist and lawyer, is the Orangun of Oke-Ila in Ifedayo Local Government Area of Osun State. He told his life story to TUNDE ADELEKE.
WHO is Oba Adedokun Abolarin.
I am Oba Adedokun Omoniyi Abolarin, the Orangun of Oke-Ila Orangun in Osun State. I am from the Aniyunlogba ruling house in Ile-Obasolo, Oke-Ila Orangun. My mother is from Ipoti-Ekiti, Ekiti State, while I was born and raised at Gbenla in Ibadan, Oyo State. In 1965, we moved to Agugu in Ibadan.
How about your education?
I started at Seventh Day Adventist Primary School, Agodi, Ibadan, from 1964 to 1969, and in 1970, I gained admission to Adventist Grammar School, Ede, now in Osun State from 1970 to 1974. Between 1975 and 1976, I was at The Polytechnic, Ibadan, for A' Levels. In 1976, I was admitted to the then University of Ife (now Obafemi Awolowo University), Ile Ife, to study History, but I later changed to Political Science and graduated in 1980. By 1981, I completed my youth corps scheme in Jos, where I was posted to the Nigeria Police Staff College.
What about your professional career?
In 1981, I began my first career in the federal service as Administrative Officer in the then Ministry of Aviation, but it lasted for only three months because I wanted to go back to school for my Master's. When I left the Aviation Ministry, I got employment as a lecturer at the then Oyo State College of Arts and Science (OSCAS), Ile-Ife, where I worked from 1981 to 1989. Then, I was able to study Law at Master's level. I seized the opportunity of living in a university environment to get myself better educated. In 1989, I was at St. Andrew's College of Education where I worked for a year. It was around that time that I finished at the Nigerian Law School. There were a lot of things we did on our own because of the vision we had. To the glory of God, some of us decided to stay in Ife and equip ourselves intellectually. So, I was in Ife for 10 years. I always see that period as my glorious moment, especially when I taught in OSCAS.
Sadiya Farouq, Humanitarian minister, disowns fake Twitter account
It seems you had things going for you smoothly. How would you describe your background?
My father was a primary school headmaster and my mother was a trader. She was a teacher before she went into trading in order to assist her husband. So, I really had it rough. After first degree, I was on my own, teaching and also studying. I was in Ife for a very long time where I taught and I didn't know that OSCAS was a preparatory ground for me for the throne. Agugu, where I grew up too, also prepared me for the throne because Agugu was a mixture of few middle class and a majority of poor people. I shouldn't forget to say that it is in the gene – my grandfather in Ipoti-Ekiti, Elder Olowolayemo Olayomi, was a people's man, a family man. He was also a change agent. But the environment was a preparatory ground for my ascension to the throne which I didn't know. It is now that I am beginning to see the greatness of God. I was called to the Bar in 1991, practised Law in Lagos until 2000 when I moved to Abuja as the Special Adviser, Legal Matters, to the then Senate President, Anyim Pius Anyim. I was with him for about two years. Thereafter, in 2003 – 2006, I concentrated my practice on parliament because of the importance of the National Assembly as regards the governance of Nigeria. My ambition was to create a Washington in Abuja: to bring the executive and the legislature, and possibly, the judiciary together in terms of bringing governance to Nigerians. So, my ambition then was to be a lawyer and I was on that path until 2006 when the call came.
What actually shaped your vision?
My father was political. I grew up in an Action Group environment and Chief Obafemi Awolowo was the all-in-all. I started reading the Tribune compulsorily at six years in 1964 and also Sketch. During the Civil War, from UPGA background, my father's support was for Biafra. So as a young child, I regularly tuned in to the British Broadcasting Corporation (BBC) and Voice of America (VOA), in my quest for information. During the Civil War years, we didn't joke with the Voice of Biafra. So, my Christian background cannot be divorced from my vision of life, my upbringing and my vision about the future.
The late Ooni of Ife, Oba Okunade Sijuwade, once said that when he was in school, he refused to be beaten and pushed around. Did you at any point notice any trait that you would one day ascend the throne?
No, because I didn't wish it for myself. I say it all the time I didn't go to school to be a king. But again, I have an insatiable appetite for service. I love two songs: "God make my life a little light, a little flame that burneth bright wherever I may go. God make my life a little staff whereon the weak may rest. So, whatever help and strength I have may serve my neighbour best." Another one: "Take my life and let it be." The totality of an answered prayer is my becoming the Orangun of Oke-Ila. Service, at whatever level, is service. My ambition was to be in Abuja or New York or Toronto to serve humanity, but the all-knowing God prepared me for this. For me, being the Orangun of Oke-Ila is a missionary work. My ambition was to be a career diplomat. Then, it was not difficult to be a career diplomat in 1980/81, but I didn't go because God didn't see that place as a preparatory ground for my ascension to the throne.
How have you been able to blend with the people here?
I love my people. The best place in the world to be is Oke-Ila Orangun. Anywhere in the world I am, once I am outside Oke-Ila, I'm already missing my people. If you see me in Oke-Ila, you won't even know I'm the king because it's an institution that is meant to serve the people. It's an institution where I have, to the glory of God, the destiny and the future of my people in my hands. I must do my best to lift people up, not only Oke-Ila now, even people around me. I believe it's my duty to promote good neighbourliness. So, my worldview as a scholar, as a diplomat, as a historian, as a student of Political Science, as a lover of Sociology, as a student of International Relations and as a scholar of Law, I know that I have to use my little knowledge to promote peace and total development of our people.
Can you remember any event that involved confrontation with authorities while in school?
I was a students' union leader. I was in the Students Representatives Council (SRC) during the 'Ali must go' crisis and I was part of it. Some of the people in government today: the governor of Ondo State, Akeredolu; the present Minister of State for Health; former governor of Ondo State, Dr. Segun Mimiko and others were activists while in school and we were all together. But that was then and we learnt a lot. I also won't forget the February 13, 1976 coup because many of us saw General Murtala Mohammed as a messiah. We saw the coup as CIA-organised. As students of The Polytechnic, Ibadan then, some of us didn't take kindly to it and we demonstrated in support of General Mohammed.
As a traditional ruler, do you experience conflict between tradition and modernity?
There is no conflict. I am a father to everybody. If you are a Sango worshipper, I must honour you. If you are an Ogun worshipper, I must honour you. If you are a Muslim, I must honour you. If honouring you as a Sango worshipper is going to be in conflict with my belief in God, there is going to be a conflict. That's why I don't play politics. I support any government that has been elected by the people because the ultimate power lies with the people. And for me, my palace is for everybody. All of them (politicians) are my friends. All of them are my children. So, there is no conflict. A good father won't have conflict with any of his children because he must not be partisan. For me, when it comes to culture, I love my culture, I love my history, I love my language. But again, despite my love for my existence, I won't like anything that will make me not to fear God.
As a Christian, how do you handle your position as the custodian of culture where some rituals will be performed?
Culture is not static; it is dynamic. You're looking at me face to face now, but in the past, nobody would dare look at Orangun eyeball to eyeball. A king does not step out of his palace years back. We're talking about development. You want me to stay glued to my throne? There won't be development. For example, Isinro festival is a festival of the Orangun, but Isinro is so beautiful to me because it promotes our culture. It depicts the sovereignty of the people and that power actually lies with the people. When I adorn the crown and I move from the palace to Ile Odo-Ode, I see people behind me, I'm excited. If they are not with me, then you know you're in trouble. For me, this is a period I feel their pulse. This is a period people will move from their farms and come back home to celebrate, to promote tourism. So, is there anything wrong in that?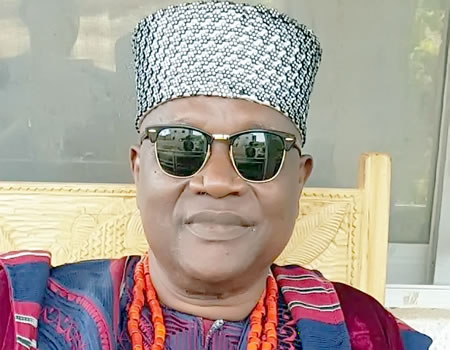 And there is a period, for seven days, the palace talking drummers will be coming to the palace, chanting the history of our people from Orangun Ajagunnla Ifagbamila, our progenitor up to the point where brothers split in Ilayara; Apakimo, up to Orangun Aroyinkeye, myself. So, why won't I like to experience that? Futility of life, the vanity of power. What is wrong in that? And there is a period 'Ka la eka', my people said they were no more interested, I said no, they should not remove it. To 'la eka' is when able-bodied men will take two or three tubers of yam to the elderly members of their families all over Oke-Ila. What is wrong in that? What is fetish in that? I told you I am not going to do anything where I won't fear God. Then to cap it all, because it's the end of the year, you now have the whole community coming to the palace to make laws for the New Year. In other words, power resides with the people; the rule of law must be established yearly. It's a period of affirmation of the authority of the traditional ruler; the same thing with the periodic elections that we experience. Can't you see the beauty in the wisdom of our people? Why don't we tell the world that even before Aristotle, before Plato and the rest of them, our forefathers experienced good governance! John Locke's social contract, that's what I experience during the 'Oro'. But a lot of you would say Kabiyesi, why don't you change the name from Oro? But that was the religion of our people then, so, what's the big deal there? Must we discard the knowledge of our forbears? I won't do that! And to the glory of God, I often tell people, I will see Christ because I'm doing His work – the vulnerable, the poor, the orphans, I minister to their needs.
Education is free in your school here. What brought about the initiative?
I live in the midst of poor people. With my exposure, I left Abuja to come and sit down in Oke-Ila here. Must I just be dancing around? I must be able to have meaningful impact on my environment and the future. So, the need to banish poverty, the need to train leaders of the future informed what we do here. Basically, we try to use the school to fight poverty and promote art and culture. We are trying to use the school to promote peaceful living among neighbours and to promote oneness in Nigeria. To the glory of God, the head boy of the school is from the Niger Delta. I have two students from Igede in Benue State. We can get things done in Nigeria. Let's promote unity. Wherever we find ourselves, let's promote diversity. I have Muslims and Christians here. I don't know if we have traditional worshippers, but they also have a right. I can't choose for anybody.
How about your social life?
I am still my old self, only that there are certain things I can't do any longer. I still mix with my friends. They come around and they support me. To be king is a position of honour, but there are certain things that I used to do in the past that I can't do now. I was a night crawler before I got married. I loved clubbing, but I can't do that again. I can't park and enter a bukateria and eat. Kingship is a position of honour. So, I must be able to protect and enhance the honour of the institution. It's a major institution for the development of our people.
How do you spend your leisure time?
I play with my children (students). We play soccer. I laugh with them. Even, in the palace too, I relax with everybody. Being a king should not alienate you from the people. That's why you don't see me all the time mounting umbrella and what have you. I relax, enjoy myself and, of course, I love to read. There's hardly any bookshop in Lagos, Ife and other places that I don't visit. Presently, I don't joke with my social media handle. I'm a social media person. I don't joke with information. I do a lot with my children here. If you see them poke fun at me, you'll be shocked. They are my children. They are my future.
Can you share your saddest moment with us?
That would be the day I became the Orangun of Oke-Ila. When that crown was placed on my head, it was the saddest moment of my life. The Lord knew that I was going to be the king. It has been grace, grace and grace all the way. The lesson is that you can do anything for development.
Your happiest moment
I married late. The day I got married and the day I had my first child, I was so happy. I didn't believe it because I married at 34, after having graduated at 21 and in my generation, you married at 24, 26 or 30.