My ability to relate with diverse audience paved way for me as an influencer — Adekeye, CEO, Estol media
Esther Adekeye, also known as CuteKimani, is the lead partner of Estol Africa, the Chief Executive Officer (CEO) of Estol Props Media and the Executive Producer of Meets Media. She is a media personality, social media influencer and publicist. In this interview by OLASUNKANMI OSO, she speaks about her career and how she has been coping in a male-dominated field.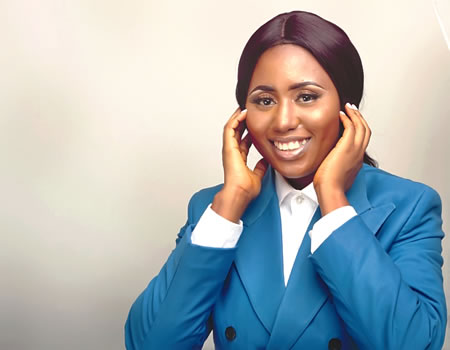 Marketing and Branding is a specialisation that has moved from the mainstream space to social space ruled by the male folks. How were you able to carve a niche for yourself as a woman in the midst men?
I just recently put out an article on personal branding and in it, I talked about understanding your personality. From the start, I knew what I stood for and what I wanted to represent so I did not need to be in a competition with anyone else. I just focused on doing and being the best version of myself, which paid off in the long run.
 How do you feel being a major female contender as regards brand influence on the social space?
I feel highly honoured and this in itself is a major motivation to continue to be better at what I do. It keeps me on my toes and steady in finding ways to improve myself so I can help more brands achieve their goals and also deliver the best return on investment (ROI) for every client I come across.
Have you always thought of having the social media as work space growing up and how has it improved your standard of living?
Growing up, I always wanted to be a news caster with NTA. I loved Abike Dabiri, and thankfully I got admission into the University of Lagos to study Mass Communications. So being in the media space wasn't an accident, I was going to evolve with time eventually, though sometimes I wish I started social media earlier than I did in 2009. In all, social media has been one of my main stay especially with my group of companies.
 You won the MAYA award in 2018 as brand influencer of the year (Digital). How did you feel and what would you say you did differently to merit such?
I am one of the foremost social media influencers in Africa and perhaps the first female to set up an influencer marketing agency. So getting the award was just a cap on my endeavors so far. In 2018, Estol Africa worked on over 70 clients which of course meant higher frequency of activities on my timeline, so I believe that was one of the things that stood me out.
As an influencer, how were you able to keep up with the yearnings of your followers as well as meeting up with target?
Followers are highly underappreciated, because to be honest, without active followers, who then are you influencing? Your value lies in how you can influence a certain segment of people to do certain things they normally would not do; to buy certain products; to cause an attitudinal change or even to subscribe to a service because you said so. These followers are mini gods and keeping them engaged is a more difficult task than gathering the numbers. I study my audience from time to time, know what they like to be fed, and feed them. Treat them as friends and build a relationship with them.
You are popular among celebrities, how were you able to get such connection and swim through the tides of their many controversies without being caught in the web?
I have been a very focused young lady. I started my journey in the media in 2004 with Unilag Fm. I was also a writer for a campus magazine called Bif. As far back as 2005, I had started interviewing celebrities; I was also going for event coverages, so it was only natural for me to connect with celebrities. I was also a tomboy so I was able to relate with most artistes as their "GEE" so as to take their minds off any sexual thought about me. I was also mindful of my relationships with them. This was why at the time I started my PR company, it was easy for me to pitch myself because I hadn't been entangled with any of them, neither did I have a bad record. In fact at the time I started radio, I used to request for upcoming artistes to bring demo CD of their songs, I will take time through the week to listen and play the good ones on my Saturday show, sometimes I even invite them for interviews.
As an influencer, how do you cope with the changing faces of the social space, taking note of some accounts owned by influencers that was blocked by Twitter?
Digital space is a fluid ecosystem with Innovation and new thoughts spurring up at the speed of a tweet. It becomes important for one be at alert and have experts that can help navigate through the tide. The owners of the platforms are in business and will do anything that makes business sense to them. So it's important to maximize it when you can and always have a backup plan.
Apart from brand influence, what other projects are you into?
Aside from being a brand influencer, I am an occasional event compere, conference speaker, new media expert, and a talent business manager.
Where do you anticipate seeing yourself in five years time?
Although I like to take each day as it comes and as it is also good to dream, I do hope that in the next five years, no matter what social platforms are available then, my company Estol Props Media, would have increased in number with more problem-solving innovations, with more sub groups under its umbrella and Estol Africa which is already present in Nigeria, Ghana and Kenya with prospects in other markets.
What was the reaction of your parents to your adopting the social media as your workplace amidst controversies of cybercrime among youths?
My parents have always been used to having an ambitious, working daughter. They know my kind of job and are very in tune.  They are quite accommodating so they just let me flow in my creative space.
Would you say your gender paved way for you as an influencer, since it is a tradition for women to have more followers than their male counterparts?
I think it was more of me creating a stand for myself. My content is diverse and it cuts across both male and female, so I feel my ability to relate with a diverse audience is what paved way for me as an influencer. I totally disagree that gender has anything to do with number of followers, though, there's a huge difference between the quality (value) of followers as opposed to quantity (numbers). Unlike so many others, I gathered a quality of followers from offline (radio) and together we all grew on my social pages, so it's about the types of people that follow you and what they are following for. For instance, what are you offering them? Are you feeding them what they want to be fed? Are they engaging with your content? Are you engaging with them?
For me, social media is more than the numbers also, it's about the actual influence in that space
How do you relax?
I love to dance and listen to music; I listen to music at every opportunity. So when I am not working, I am either on my social pages seeing what's going on, listening to music or dancing. Strange as it may sound, I hate going out.