Mr Vice President is a true statesman and an uncommon leader – Delta Governor Okowa
•VP Osinbajo visits Asaba, commissions two projects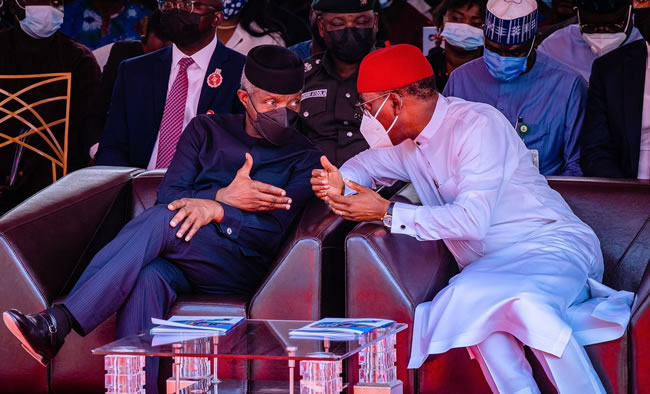 Governor of Delta State, Dr Ifeanyi Okowa has described Vice President Yemi Osinbajo as a true statesman and an uncommon leader.
Governor Okowa was speaking on Monday at the official commissioning of the new ultra-modern Delta State Secretariat complex, named after the Asagba of Asaba, Prof. Chike Edozien.
In his speech at the event, Okowa thanked the Vice President for honouring the State government's invitation to commission two projects in the state, the new secretariat complex named Prof. Chike Edozien Secretariat, and the 8.5 Megawatts Asaba Independent Power Plant, which would provide electricity supply to the secretariat and other government buildings in the State.
Okowa said, "It gladdens my heart that His Excellency, Professor Yemi Osinbajo, SAN, GCON, Vice-President Federal Republic of Nigeria, is here to celebrate this landmark event with us. By now, many people will probably be wondering if the Vice-President has Delta roots. We have lost count of the number of times he has been here on official engagements.
"Mr. Vice-President, let me once again put it on record that you have shown yourself to be a true statesman and an uncommon leader. The Government and good people of Delta State appreciate you today and always; we value your friendship, partnership, and genuine interest in the progress of our state. Thank you, Your Excellency, for always responding when we call upon you."
On his arrival in the State, the Vice President was received at the Asaba airport by the Delta State governor, who accompanied him on a courtesy call to the Palace of the Asagba of Asaba.
"The civil service is the very tip of the spear of governance. Optimal public service delivery requires an efficient civil service. Such a public service requires training, and capacity building but also workspaces that are well equipped, conducive, and inspirational. Public servants require environments that bring out the best in them. This secretariat complex will provide such an environment," VP Osinbajo stated at the commissioning of the new secretariat.
Meanwhile, Governor Okowa said the new complex was named after the Asagba of Asaba, in recognition of his achievement in the medical field.
"Perhaps unknown to many, Professor Edozien, the Asagba of Asaba, is a notable scholar in the field of medicine. It is in recognition of his accomplishments in the medical profession and his disposition to peace building and peaceful coexistence among the different ethnic nationalities of the state that we decided to name this secretariat in his honour," said the Governor.