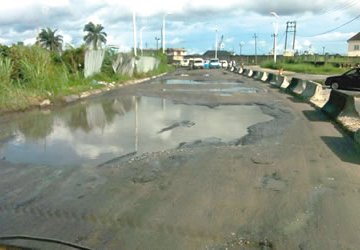 MOTORISTS and pedestrians within Lagos metropolis have expressed worries over uncovered manholes on some roads in the city, describing the situation as dangerous.
Some of those who spoke to the News Agency of Nigeria (NAN) on Sunday said that they had continuously incurred huge expenses after their vehicles' tyres had entered uncovered manholes while speeding.
NAN reports that a manhole; alternatively called  a utility hole, cable chamber, maintenance hole, inspection chamber, access chamber and sewer hole, or confined space, is the top opening to an underground utility vault.
It is used to house an access point for making connections, inspection, valve adjustments or performing maintenance on underground and buried public utility and other services including water, sewers, telephone, electricity, storm drains, district heating and gas.
NAN also reports that there are 18 open manholes, located between Barracks Bus Stops and Costain Bus Stops on the Apapa Bound Carriageway on Ikorodu Road and 12 manholes without cover on Eko Bridge on the CMS bound carriageway.
Similarly, there are 21 open manholes on the same bridge median.
Also the Apapa-Oshodi Expressway from Oshodi down to Apapa is not left out of uncovered manholes on both carriageways.
The road users, however, said that the situation was usually worse whenever it rains when the roads' surfaces are covered by flood.
They said that it was always difficult for them to notice the uncovered manholes.
Mr Daniel Onwe, a Lagos-based lawyer, told NAN that to allow uncovered manhole on the road was a violation of human rights to free movements.
Onwe added, "it is also a threat to the lives of the blind.'
He called on both the Federal and the Lagos State Governments to ensure that uncovered manholes are covered to save the lives of the residents of the state.
Onwe said that that there was the urgent need for to safeguard the lives of the blind and other pedestrians who risked falling into open manholes.
"Agencies of either the Federal or the state government saddled with the responsibilities of covering the manholes should be alive to their duties always.
"They must not wait for when an accident occur especially when it affects persons with disabilities before acting.
"I appeal to both the Federal and the Lagos State Governments to urgently do something to avert such hazardous situation,'' he said.
Also, Mr Oluwale Omolanke, a commercial bus driver, said he lost two tyres and a wheel damaged when his vehicle entered an open manhole located in Mende area of Maryland.
"On that day, there was another vehicle right ahead of mine; and before I could realise it, I found my tyres hooked inside the manhole and I could not continue.
"Unfortunately, it was raining so I remained at the spot until the rain was over before I pleaded with people to help out,''   the driver said.
Another driver, Mr Moses Coker, said he lost a tyre and its wheel to the open manhole located at Alaka Bus-Stop, describing the situation as bad.
NAN also reports that the Lagos State Ministry of Works and Infrastructure during its 2017 ministerial briefing in May, said that plans were in place to install inner locks on the manhole covers to prevent theft.
The Permanent Secretary in the ministry, Mr Temidayo Erinle, said that the state government had awarded a contract to a contractor aimed at replacing manhole covers in the state with expensive fibre covers that would be useless to vandals.
Erinle said that the project was on and would be executed simultaneously with applying inner locks until the fibre covers were installed on manholes across the state.