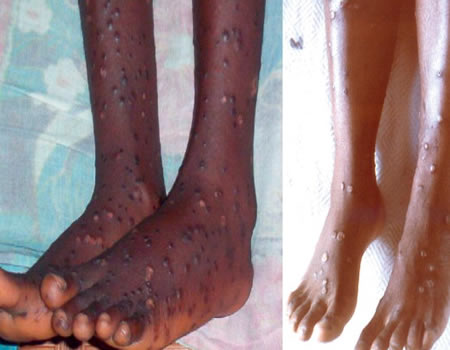 The debunked rumour that the military was injecting people with monkey pox virus in the South East through its free medical services has spread to Sapele and other parts of Delta State.
The army had, few days ago, launched Operation Crocodile Smile in Sapele, backing it up with free medical services for people of the area.
The Delta State government, through the Commissioner for Information, Patrick Ukah had, during the inauguration of the military operation, appealed to parents to allow their children and wards to be immunised by the military through its ongoing free medical services.
But the table turned on Friday morning when a rumour went viral that some faceless uniformed persons were carrying out immunisation on pupils in schools and that soldiers were coercing those who refused the offer to oblige it.
Tribune Online gathered that the rumour was greeted with so much pandemonium as parents, whose wards had earlier resumed school on Friday morning, scampered back to various schools to evacuate their wards.
A resident, Joseph Agboro from Sapele, said the town was in total disarray as parents got phone calls from school authorities requesting them to urgently pick up their kids to avoid the alleged compulsory military free medical services.
The free medical services, it was rumoured, were an alleged deliberate channel by the northern oligarchy to transmit the dreaded monkey pox virus to the South-South, South-East and South-West regions of Nigeria.
Speaking with a resident of Sapele, Mr Onos Onoriode, he described the panic that engulfed the entire town with a measure of spread to Warri and environs as terrifying.
"Nor be small wahala for Sapele since morning oh, they say one rumor come say them dey inject children for schools, everybody even my wife na so them fly go carry children, okada dey jam each other.
"People dey run leave everything when dem dey do, dem nor fit hold their breath, all the schools don close, the schools be like graveyard, everybody don carry their children reach house.
"I never see this kind thing before. Had it been I know dey sapele this morning, I for think say na lie o, a for think say na joke, everywhere tensed up," he disclosed in pidgin.
According to him, rumour also has it that two children died in one of the schools, hence the pandemonium and rush by parents to evacuate their children.
"A rumor just come say two children die for school, everybody dey fly fence. Them say the people wen dey go school go invigilate, say if them nor gree, army go force them give them immunization.
"When navy for Oghara here come dey tell me say the people establish contact with military, military deny am, say dem nor send anybody come sapele o, say na rumour.
"Everybody don reach house. The rumor was that they were injecting people for immunization, if you resist, army go intimidate you, say if you nor do am, dem go beat you, you go take am," he noted.
Meanwhile, Deltans had earlier been called upon to remain calm and go about their daily routines as there's no cause for alarm.
The assurance was made by the Commissioner of Police, Delta State, CP Zanna Ibrahim, on Wednesday, was against the backdrop of a rumour that soldiers were forcefully injecting school children with Monkey Pox virus in the neighbouring Anambra State.
The rumour further has it that the forceful infectious injection was likely to spread to schools in Delta State.
The CP, in a statement signed by the command's image-maker, Mr Andrew Aniamaka, described the rumour as spurious and orchestrated by mischievous elements whose sole aim is to cause unnecessary panic in a state that is both peaceful and calm.
He called on Deltans to disregard the rumour and go about their lawful businesses, assuring that the Command would continually do all within its powers to ensure safety and security of lives and property.
However, the joy of thousands of inhabitants of Oton and Opuama communities in Sapele and Warri North local government areas of Delta State knew no bounds on Thursday as operatives of the 19 Battalion of the Nigerian Army, Koko, stormed the areas with free healthcare outreach as part of the Operation Crocodile Smile Phase 11 exercise.
Residents of the two host communities of 19 Battalion unit of the army were administered free drugs for various ailments, ranging from malaria to typhoid fever, checking of blood pressure, random blood sugar, de-worming for kids, physiotherapy and distribution of insecticide-treated nets.
The Commanding Officer of the 19 Battalion, LT. Col. MA Ma'aji, while flagging off the medical outreach, said the exercise was part of the army's corporate social responsibility to host communities where soldiers operate.
He added that Operation Crocodile Smile was meant to put smiles on the faces of the general public who had in one way or the other assisted, contributed or supported the military to succeed in the discharge of its constitutional responsibilities.
LT. Col. Ma'aji, who thanked Oton and Opuama community leaders for their unalloyed cooperation so far in the areas of information and intelligence gathering, emphasised that the aim of the operation was to rid the society of militancy, kidnapping, armed robbery and other social vices.
He remarked that leaders of the two communities have been helpful in actualising the task of the uniformed men.
"I am here with military doctors and other health personnel to render this free medical service to you as part of the ongoing exercise, operation crocodile smile  11.
"You have been very supportive to stem down crime and criminality in your area, hence the army considers your communities as one of the beneficiaries of the healthcare programme," the army boss averred.
Leader of Opuama community, Julius Loboh, represented by the community's spokesperson, Mr Kinkin Ebiya, expressed satisfaction and appreciation, appealing for cooperation from members of the community for an enduring peace in the area.