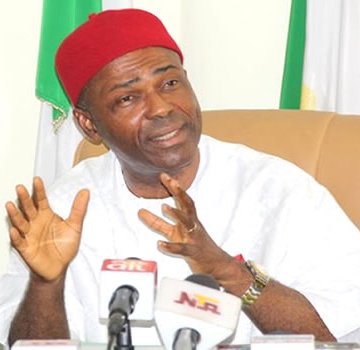 THE Federal Ministry of Science and Technology, on Tuesday, honoured 16 of its staffers with Honourable Minister's Outstanding Performance and Permanent's Secretary's Productive Staff Awards.
Delivering his speech during the ceremony in Abuja, the minister, Dr Ogbonnaya Onu said by recognising excellence through the awards, the productivity of workers would improve, wealth creation would grow and Nigeria would become more prosperous.
This, according to him, remains the surest way to fight and defeat extreme poverty, and be in a situation where the country could feed, shelter and clothe all Nigerians, fight illiteracy and improve the health of all citizens.
He said the awards should spur all the awardees to work harder and be an inspiration to others, as well as contribute more to the success of the ministry and the country at large.
The minister, therefore, charged those who were not selected for the awards not to give up hope, but rather work harder so that they would be recognised in future.
Dr Onu, who observed that the ceremony was significant and marks an important beginning in the rise of the country to true greatness, further admonished the recipients of the awards to also work harder because anybody who is in a race and starts looking behind, can be easily overtaken.
Earlier in his welcome address, the Permanent Secretary, Mr Bitrus Nabasu, said the award was a clarion call for a change of attitude, positive upward adjustment of workers' habit, deliberate decision to embrace the ideals of diligence, excellence, discipline and consciousness.
He added that collectively, the genuine and assiduous input would culminate in the institutionalisation of the much desired, much promoted Efficient, Productive, Incorruptible and Citizen-centred (EPIC) culture in the civil service which is sure to transform the country.
Responding on behalf of the awardees, Agoro Olayiwola appreciated the minister, permanent secretary and committee members for a great job, and said it was a call to service and challenge to do more, promising not to let them down.
ALSO READ: FG to set up science centres in 6 geopolitical zones
The awardees include, under Honourable Minister's Outstanding Performance Award (Directorate Level) Udoh E. J, Director, first position; Agoro A. 0, Assistant Director, second position; and Ajibola G. O, Assistant Director, third position.
Under Honourable Minister's Outstanding Performance Award (Senior Staff Level) were Ukpem Emmanuel, first position; Ifeobu Ezenwa, second position; while the third position went to Obije Ocheche. Under Junior Staff Level was Sunday John Obot, first position; as well as Mrs Evelyn Ugwu, Photographer (Press Unit) second position and Adegbiyan Oiarotimi came the third position.
Under Permanent Secretary's Productive Staff Award. Lawal M. Sagir, came to the first position; while Nathaniel Ujah, got second; as well as Itsuokor Itsisor Lawrence and Olumide Akindele, came third respectively. Under Permanent Secretary's Innovative Staff Award.
They were Mrs Stella C. Igwilo, Assistant Director, first position; followed by Anpe M. F., Assistant Director, the second position and Mrs Zahara'u Yahaya, got the third position.
---
---