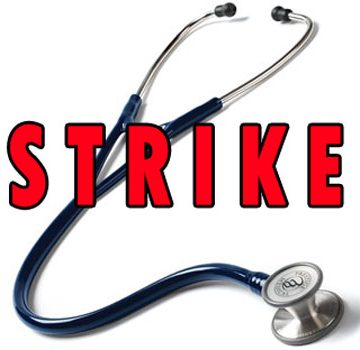 THE Medical and Health Workers' Union of Nigeria (MHWUN), on Monday, said it would join the proposed strike by the National Labour Congress (NLC) and the organised labour on Tuesday 6th November 2018.
The MHWUN, however, directed its members to shut down operations in their various working places by midnight on Monday 5th November 2018 and proceed on an indefinite strike.
Recall that the NLC had announced the commencement of strike on Tuesday 6th November after the government refused to accept the N30,000 minimum wage proposal from the National body of the Workers' Union.
Addressing journalists in Abuja, the action all President of MHWUN, Comrade Biobelemoye Josiah said the government should be held responsible for any hardship that may occur as a result of the strike.
                                             ALSO READ: Aviation unions to join in labour strike Tuesday
According to him, "you may recall our National Body, the Nigeria Labour Congress and the organised labour have called on all workers in Nigeria to gear up for an indefinite nationwide strike which will commence Mid-night today.  This is as a result of the Government's failure to implement the constitutional requirement of the upward review of the national minimum wage which is long overdue.
He explained that the tripartite agreement which arrived at the N30,000.00 minimum wage increment has been jettisoned by the Government, he said it does appear there is no will on the part of the government to review and implement the legitimate demands of the Nigerian workers.
"We call on all our members nation-wide to remain resolute and be committed to the effective and orderly implementation of the nation-wide strike commencing tomorrow except the government has a change of heart before then.
"The government should be held responsible for the economic and socio hardship that might occur during the strike which abinitio should have been avoided if the right thing had been done.
"It's very obvious that the N18,000.00 National Minimum wage is no longer feasible and it is a trivialisation of a living wage.
"Therefore we call on the government to increase the minimum wage to N30,000 which is a compromise figure agreed by the government and labour and we also call on the Nigerian workers to stand firm and be resolute in the struggle until success is achieved," he added.