Miyetti Allah's threats will not stop anti open grazing law ―Gov. Ortom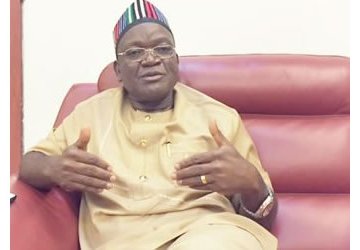 GOVERNOR Samuel Ortom of Benue State has stated that no amount of threat by Miyetti Allah Kautal Hore would stop the anti-open grazing law in the state.
The governor who spoke through his Chief Press Secretary, Mr Terver Akase, while reacting to the group statement claiming that 10,000 herdsmen have been displaced while over 600 cows have died in Benue State since the implementation of the Open Grazing Prohibition and Ranches Establishment Law commenced on November 1 described it as 'unfounded'.
Ortom explained that the allegation by the group contradicted its earlier claim made two weeks ago that Fulani pastoralists decided to voluntarily leave Benue State because.
According to the governor, 'Miyetti Allah Kautal Hore's insinuation that thousands of herders have been driven out of Benue with 600 cows dead is, therefore, a sharp contradiction to their earlier published stand.
"The claim by the group that they are under threat as a result of their stand against the Open Grazing Prohibition Law of Benue State is similarly hypocritical. Miyetti Allah Kautal Hore has in the last couple of months been drumming for war and threatening to mobilize their members to attack the people of Benue State."
"The group's alarm that a Fulani cattle owner in Benue recently jumped into River Benue is another ridiculous fabrication aimed at creating an atmosphere of apprehension in the state."
The governor said his administration had repeatedly called for the arrest of the group's President, Abdullahi Bello Bodejo, and its Secretary, Saleh Alhassan, for making statements capable of causing the breakdown of law and order in Benue State.
"I wish to once more urge security agencies to, as a matter of urgency, apprehend officials of Miyetti Allah Kautal Hore for questioning. Hundreds of Benue people have been killed by herdsmen in the last couple of years. Now that the Miyetti Allah group has openly assumed responsibility as the umbrella body shielding the killer herdsmen, it is pertinent that they are arrested and made to account for the blood of the innocent persons."
"The Benue State Open Grazing Prohibition and Ranches Establishment Law has come to stay and its implementation is ongoing without hitches. The law is here to protect both farmers and herdsmen and it is not enacted to witch hunt any group of persons or individuals."
While insisting that the law was not against any ethnic group, the governor advised livestock owners to obey provisions of the law to enable them to establish ranches for the rearing of their animals.
"This is the best way to end the frequent invasion of Benue communities and killing of innocent people," he concluded.
READ ALSO: Probe activities of herdsmen associations in Delta ―Group